ESSENCE FESTIVAL 2017 PACKAGES-

Friday, June 30, 2017 at 9:00 AM

-

Monday, July 3, 2017 at 10:30 AM (CDT)
Event Details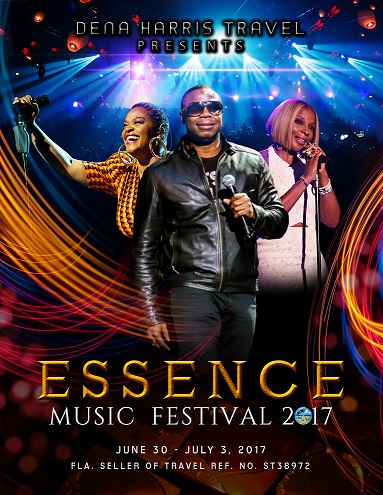 ROUNDTRIP  MOTORCOACH BUS FROM JACKSONVILLE, FLORIDA AVAILABLE!!!
ESSENCE FESTIVAL 2017
June 30 - July 3, 2017
Ladies and Gentlemen,
Have you always wanted to attend the ESSENCE MUSIC FESTIVAL? Well this is your opportunity to participate in the ultimate grown folk's party experience. The Essence Festival is the largest African American music and empowerment event in the country. With more than 500,000 attendees enjoying evening performances, free daytime sponsored activities, empowerment seminars, and celebrity meet-and-greets; ESSENCE Music Festival is three days of unparalleled music, celebration, relaxation, and fun.
Welcome to Pure Happiness Travel, LLC dba  Dena Harris Travel. We are a travel agency in Jacksonville, Florida that specializes in group travel. We are not affiliated with the Essence Magazine,  the Essence Music Festival, or any of  the performing artist. We are just here to help you get there!  However, we do offer accomodations at some fantastic hotels in the French Quarter as well as event package that will optimize your experience. 
If you are looking for a competitive rate that includes a luxury hotel nestled in the heart of all the action, then look no further.
Royal Sonesta Hotel
300 Bourbon Street
New Orleans, LA 70130

 Our Host Hotels:
The Royal Sonesta Hotel is located in the historic French Quarter just one block from Canal Street within easy walking distance to the Superdome, Convention Center, Shops at Canal Place, Harrah's Casino, and French Market. Amenities include pool,  complimentary wifi and fitness center,  and 2 comfortable queen beds. It is surrounded by delightful dining that is sure to tantalize every taste bud. The location, comfort, and service of this French Quarter oasis is perfect for your Essence Festival vacation.
 Royal Sonesta  Hotel Only 3 night  Packages:  (June 30- July 3)
Hotel Only Packages
King Double:         $475  per person
2 Queen Double:  $510 per person
2 Queen Triple:     $410 per person
2 Queen Quad:    $350 per person
King Double Deluxe Party Package:           $710 per person
2 Queen Double Deluxe Party Package:   $745 per person
2 Queen Triple Deluxe Party Package:      $645 per person
2 Queen Quad Deluxe Party Package:      $585 per person
King Double Premium Party Package:            $1010 per person
2 Queen Double Premium Party Package:     $1045 per person
2 Queen Triple Premium Party Package:       $945 per person
2 Queen Quad Premium Party Package:        $885 per person
Roundtrip Transportation from  Jacksonville, Florida to New Orleans:    $200 per person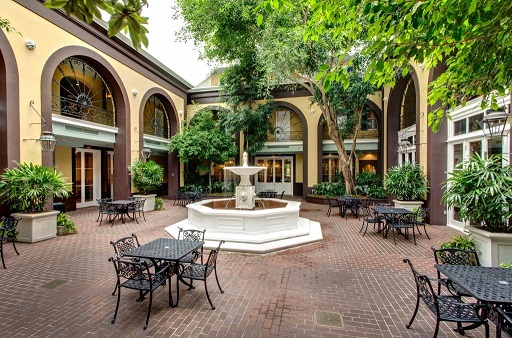 Hotel Address:
Hotel Mazarin New Orlean
730 Bienville Street
New Orleans, LA 70130
Our Host Hotels:
Hotel Mazarin is a luxury boutique hotel with an excellent location in the heart of the French Quarter. The hotel is a half block from Bourbon Street across the way from Royal Sonesta. It offers complimentary amenities such as wireless internet, full hot breakfast, local phone calls, and bottles water.
Hotel Only Package includes:
Hotel Mazarin New Orleans / 3 day Hotel Only Package : (Frid, June 30 - Mon, July 3)
2 Queen Beds
Full Hot Buffet Breakfast Daily
Excellent Location in the French Quarter
Luxury Accomodation 
Fitness and Business Center
Free Wifi
Travel Agent Onsite to Ensure Flawless Check-in
3 Night Hotel Only Queen -Queen Rates*: (June 30 - July 3, 2017)  Fri-Mon
2 Queen Double Occupancy :       $490* per person-

2 Queen Triple Occupancy:           $385* per person-
2 Queen Quad Occupancy:           $325* per person -
2 Queen Double Deluxe Party Package:        $725 per person
2 Queen Triple Deluxe Party Package:           $620 per person
2 Queen Quad Deluxe Party Package:           $560 per person
2 Queen Double Premium Party Package:           $1025 per person
2 Queen Triple Premium Party Package:              $920 per person
2 Queen Quad Premium Party Package:              $860 per person
TRANSPORTATION  
Roundtrip Transportation from Jacksonville, Florida to New Orleans:   $200 per person
Ask us how you can earn free motorcoach transportation to New Orleans! 
Payment Deadlines (per person):
1st deposit  Hotel / Transporation Packages::   $50   - September 2, 2016
1st deposit Deluxe and Premium Packages:    $150  -September 2, 2016

2nd payment:   $150-   October 21, 2016
3rd payment:  $150 -  February 10,  2017
Final Balance:  Due April 7, 2017
DELUXE PARTY PACKAGE Inclusions
3 Nights at the Hotel Mazarin or Royal Sonesta Hotel
Superb Accomodations
Excellent location in the the French Quarter
VIP on the River (Saturday-Midday Party Cruise)
(All Access VIP Party Boat- Unlimited Premium Cocktails-All you can eat Southern Cuisine)
Friday Night Flashback Essence Kickoff Party- Hosted by London Boy Production
3 day Jazzy Pass -  Unlimited Street Car and  City Bus Transportation
Travel Agent onsite to ensure flawless check-in
PREMIUM PARTY PACKAGE Inclusions
ALL OF THE INCLUSION OF THE DELUXE PACKAGE
2 NIGHTS OF YOUR CHOICE CONCERT TICKETS (Plaza or Lodge Section)
Cancellation Deadline and Fees (per person):
Due to contractual agreements with the hotels, airlines, motor coach companies, as well as other vendors, all payment are nonrefundable.. Absolutely no refunds will be granted  for any reason whatsoever!!  you are encourage to protect your investment by purchasing vacation protection insurance.  PLEASE CONTACT US FOR A PERSONALIZE INSURANCE QUOTE. You can not down grade to a lesser package , however, with the exception of transportation, transfers are allowed. If you find someone to take over your reservation you may do so without penalty. We must have written consent from all other travelers currently booked in the room. Concert tickets will be located in the Plaza or Loge Section.  Seats will be selected at event sponsor's discretion.
Choose Your Roommates Carefully!
Please know it is your responsibility to ensure that whomever you choose as roommates are making their scheduled payments.
If a cancellation occurs which alters the room occupancy originally booked by the party, the remaining travelers will be required to pay a revised rate depending on how many people remaining in the room. We are bound by very strict contractual rules and hefty penalties and regret that we cannot make exceptions for personal or medical emergencies. Exceptions to this policy cannot be made for any reason. We can provide roommate account summaries upon your request.
 After making your first deposit, you are required to adhere to the above payment schedule or your booking may be cancelled and all previous payments will be forfeited. If you find yourself in a difficult financial situation and cannot make a schedule payment, please email us immediately. We will do our best to work with you on an extension we deem as reasonable. A $10 late fee will be added to all payments not received by the scheduled due date. The late fee must be paid with late payment and not at the end.
Payment Methods 
WE USE EVENTBRITE TO PROMOTE OUR TRIPS AND PROCESS CREDIT CARD PAYMENTS, HOWEVER, YOU ARE NOT REQUIRED TO BOOK ON THIS WEBSITE.  YOU HAVE SEVERAL PAYMENT OPTIONS.
Eventbrite- Credit card payments only!  Eventbrite service fees apply1
Dena Harris Travel utilizes Eventbrite to promote our trips. Credit and debit card payment can be made through this system. Each payment is accessed a Service Charge from Eventbrite and these fees do not decrease your trip balance. Information needed to register will be available during the payment process.
PAYPAL - 
You payments are welcome via PayPal.  Contact event sponsor for the Booking Form and further instruction.
By Mail-      Cashier's Checks & Money Orders
We welcome your cashier's check and money orders.  Contact event sponsor for Booking Form and payment address..
Bank of America Transfer
Contact event sponsor for booking form and more infomation.
Confirmation
You will receive  confirmation upon completion of your eventbrite registration and a more detailed receipt within 24 hours from Dena Harris Travel.  Official hotel confirmation numbers will be available 2 weeks prior to check-in.
TRAVEL INSURANCE
All payments are 100% non refundable.  We highly recommend purchasing travel insurance.  It's a small price to pay to protect your investment in the event of an unforeseen emergency situation.  The insurance will need to be paid upfront or within 5 day of initial deposit.  Please contact the event sponsor for a personalize quote.
WE REALIZE THIS IS A LOT OF INFORMATION. PLEASE CONTACT EVENT SPONSOR IF YOU HAVE ANY QUESTIONS WHATSOEVER!  WE ARE HERE TO ASSIST YOU!
When & Where

Royal Sonesta Hotel
300 Bourbon Street
French Quarter
New Orleans, LA 70130


Friday, June 30, 2017 at 9:00 AM

-

Monday, July 3, 2017 at 10:30 AM (CDT)
Add to my calendar
Organizer
Dena Harris Travel
Pure Happiness Travel, LLC dba Dena Harris Travel specializes in complete destination planning for any occasion. We strive to build a one on one relationship with every client. Our personalized approach will exceed your expectations.
Our focus is group travel such as,  family reunions, destination weddings, class reunions, fraternity and sorority groups, youth groups, sports groups, girlfriend getaways, faith based groups, and social clubs. We are a licensed and bonded seller of travel located in  Jacksonville, Florida. We are a limited liability Company registered with the Florida Secretary of State office and hold a $1 million Error and Omission insurance.
 Our agents are knowledgeable professionals who take planning your fun times very seriously. You deserve an agency that offers the total package- knowledgeable, confidentiality,  professionalism, courteous, integrity, liscenced, bonded, insured!!! We make vacation planning stress-free while assuring you receive the best value available.
Dena HarrisTravel has partnered with most major cruise lines, hotels chains, and tour operators. The result is the best value, personal attention, and outstanding service for YOU! 
Regardless of your travel needs, contact us to experience that good old fashioned customer service that you deserve.
Helping people experience the joy of relaxation since 2008.
Email:  denaharristravel@bellsouth.net

ESSENCE FESTIVAL 2017 PACKAGES-