Sales Have Ended
Ticket sales have ended
Welcome! We are so glad to have you with Us for Essence Fest 2018. Please be reminded all payments are non-refundable. Should you have any questions please do call us at 478-973-1762
Sales Have Ended
Ticket sales have ended
Welcome! We are so glad to have you with Us for Essence Fest 2018. Please be reminded all payments are non-refundable. Should you have any questions please do call us at 478-973-1762
Description
ESSENCE FEST 2018 | July 5 - 9, 2018 | New Orleans, LA - ESSENCE TRIP PACKAGE - Unbeatable package pricing, includes:
(a) 4 nights hotel accommodations at the New Orleans Marriott Convention Center Downtown - Right Smack in the Center of the Essence Daytime Activities. Walk across the street to the Ernest N Morial Convention Center and enjoy the empowerment and free activities. Then at night just a hop, skip and jump to the Superdome for the Nightly Concerts.
(b) Enjoy our 70's themed Kick off Party on Thursday Night July 5th in the Marriott Ballroom, and
(c) Also, you will not want to miss our Jazz Riverboat Cruise.
Get onboard now before it's too late. Have questions... please call 478-973-1762. We'd love to have you!
SINGLE PARTICIPANT - JUST YOU ALONE $ 1802
DOUBLE OCCUPANCY (2 PERSONS IN YOUR GROUP) $ 1074 PER PERSON
TRIPLE OCCUPANCY (3 PERSONS IN YOUR GROUP) $842 PER PERSON
QUAD OCCUPANCY (4 PERSONS IN YOUR GROUP) $ 758 PER PERSON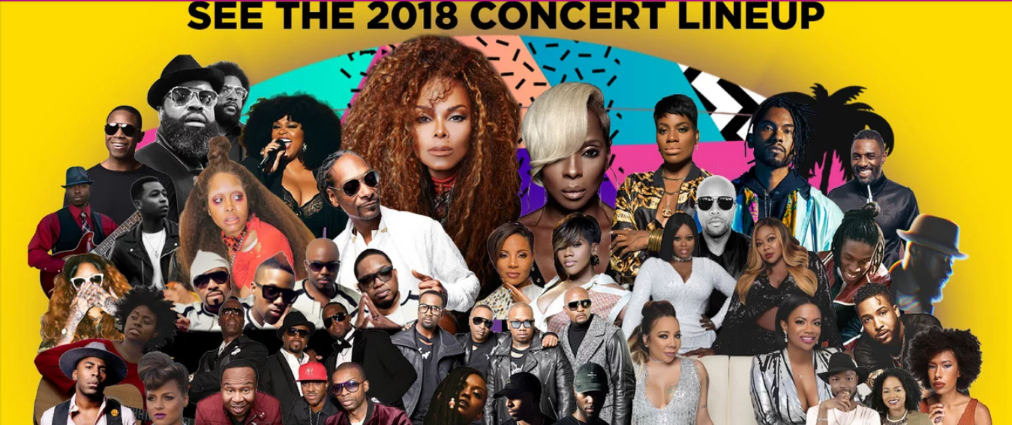 Ready to Join Us? Please note carefully the following information
The serious stuff that you need to know: - Due to contractual obligations ALL payments are nonrefundable. There are absolutely no exceptions to this policy. Refunds will not be made for any reason, including personal emergencies, weather, acts of God, terrorism, civil unrest or government action (deployment). You may, however, resell your package to another person. You CANNOT TRANSFER MONEY to someone else within that group or any other group. It is your responsibility to resell your package and provide us notification in writing with the replacement name no later than May 18th, 2018.
Room Occupancy may be Single (one person) Double (2 persons) Triple(3 persons) Quad (4 persons)
Final Trip Itinerary and confirmations will be provided to all Registered and Paid in full Guests within 15-30 days of the event date.
Our Hotel requires that you present a valid credit/debit card along with your government Photo ID at check-in and for incidentals.
TRAVEL INSURANCE
Travel Insurance is highly recommended. The following names of travel insurers are provided as a courtesy and not as an endorsement: Travel Guard, Allianz Travel Insurance, TravelEx Travel Insurance - You should research, read and select your travel insurance coverage carefully.
PAYMENTS - Online via Credit/Debit Cards OR via cash, CERTIFIED FUNDS, Money Order or Bill Pay.
RESERVATIONS AND PAYMENTS -
Traditional Elegance accepts reservations and payments according to two schedules:
Payment in Full at the time of your reservation (right here on Eventbrite)

Payments over time on Traditional Elegance Billing Plan. After your initial deposit, your Invoice will allow partial payments or payment in full. Instructions will be noted on the invoice. Update (5/22/2018)DUE TO THE CLOSENESS OF THE EVENT THIS OPTION HAS EXPIRED.

Please Note: All credit card payments are assessed a service fee from our online payment vendors e.g Eventbrite payment processing, these charges do NOT deduct from your balance.

CASH, CERTIFIED FUNDS, MONEY ORDERS OR BILL PAY (CALL FOR INFORMATION- 478-973-1762
PAYMENT DEADLINE - ALL payments must be made in full no later than May 18th, 2018. Failure to meet this FINAL payment deadline may result in cancellation of your participation without further notice. (MISSED THE DEADLINE? CALL FOR AVAILABILITY 478-973-1762)
PLEASE NOTE - We are NOT affiliated with ESSENCE MAGAZINE or the producers or event coordinators of the official Essence Music Festival. We strongly recommend that you purchase your concert tickets from reliable ticket sources such as Ticketmaster or the official Essence Music Festival website and/or its distributors.
DISCLAIMER:

Traditional Elegance and any sponsoring institution, is acting only as an intermediary and agent for suppliers in selling services, or in accepting reservations or booking for services which are not directly supplied by Traditional Elegance such as hotel accommodations, ground transportation, meals, tours, event tickets and cruises. Traditional Elegance and any sponsoring institution; therefore, shall not be responsible for breach of contract or any intentional or careless actions or omissions on the part of such suppliers, which result in any loss, damage, delay or injury to you or your travel companions or group members. Traditional Elegance shall not be responsible for any injuries, damages or losses caused to any traveler in connection with terrorist activities, war, insurrection, social or labor unrest, mechanical or construction difficulties, diseases, local laws, climatic conditions, abnormal conditions or developments or any other action, omissions or conditions outside the coverage against them. Your retention of tickets, vouchers or booking after issuance shall constitute consent to the above and an agreement on your part to convey the contents here to your travel companions or group members.

The Clients/Customers, by engaging with Traditional Elegance through paying the deposit and/ or full payment for the package arrangement specified, accepts and acknowledges the foregoing and agrees to hold Traditional Elegance blameless in making the arrangements on his/her behalf, provided the same shall be made through generally acceptable suppliers at the time of engagement, and further agrees that restitution of damages, if any are claimed, shall be sought directly from the suppliers. The Client also agrees to the terms and conditions of the services as set forth by the suppliers. Rates are subject to change without notice. Hotel, tours and event tickets are subject to availability. Payment of deposit or full payment shall constitute consent of all provisions stated herein.

All Clients/Customers, who register their email and/or purchase travel packages or other services from Traditional Elegance through dedicated sites, by phone, or fax will be considered customers of Traditional Elegance

We reserve the right to change times, locations and venues of any event listed. We reserve the right to exchange any option listed without notice; however, any changes in options will be equal to the listed option.


PLEASE CHECK OUR WEBSITE FREQUENTLY FOR UPDATES