Description
Please join us for our OPEN DAY 2019 happening on 23 February 2019, Saturday (11 am to 5 pm) at our Asia-Pacific campus in one-north. Discover the story of ESSEC through student associations showcases and performances, campus tours, info sessions, and master classes!
Register now to receive important updates and $5 Grab Voucher* from our program advisors.
HIGHLIGHTS:

Discover our global campuses in Europe, Asia-Pacific, and Africa
Experience our campus life that is internationally diverse
Explore your academic interest from our range of undergraduate and postgraduate programs
Attend info sessions, master classes and talks by our experts

Meet our

faculty, alumni, students and career services team

Enjoy live music, dance performances, and fun photo booth
Chat with our students and alumni to understand how ESSEC has shaped their global ambitions and careers
Take a campus tour
Find out about available scholarships

Download the Program Schedule for more information about each masterclass and info sessions.
*while stock last.
---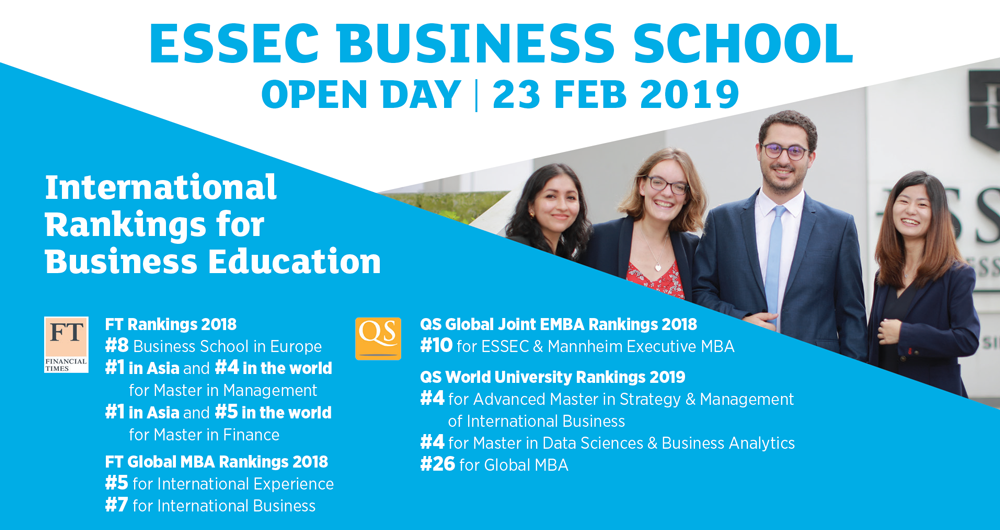 UNDERGRADUATE
POSTGRADUATE
---
PROGRAM AGENDA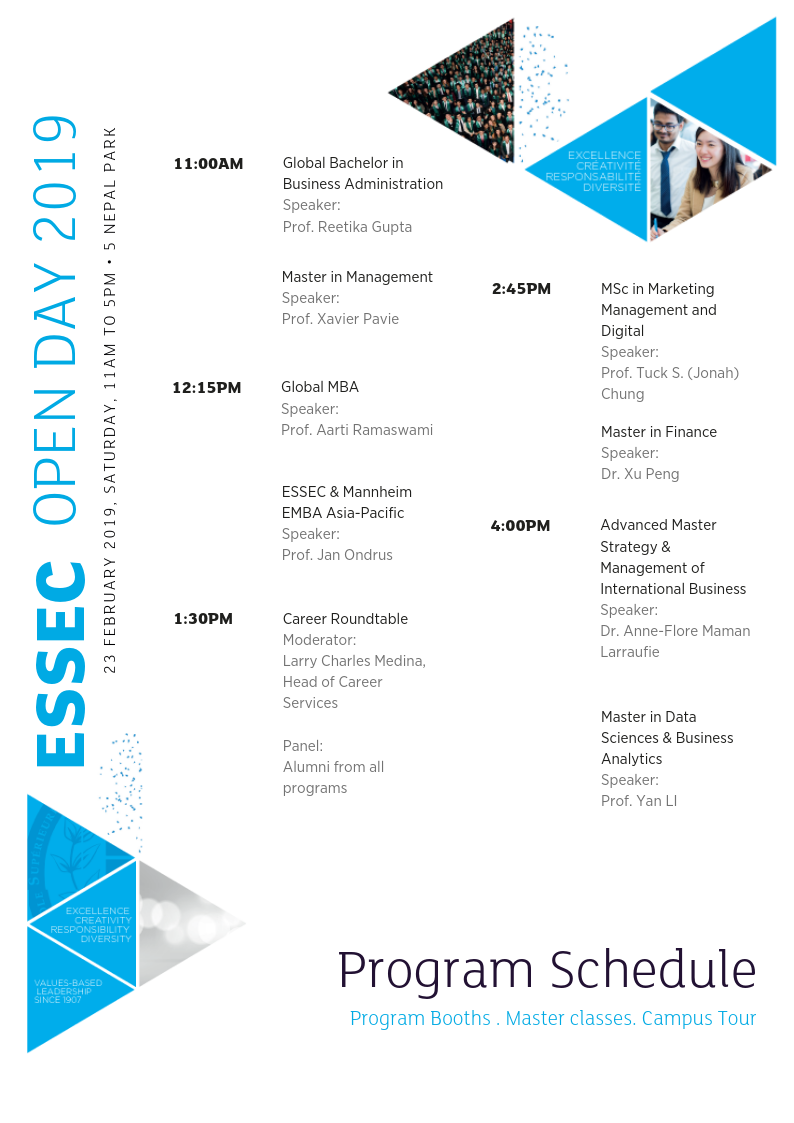 Mobile sensing: Transforming consumer experiences
Global BBA
Speaker: Prof. Reetika Gupta
Associate Academic Director, Global BBA program
Sensors, accelerometers, compass and Bluetooth – only a few of the many high-tech features embedded in every smartphone – give us telling insights into consumer activity, behavior and preferences. Learn how mobile sensing and IoT tech use mobile phone data to present new opportunities for marketers and provide personalized products and immersive experiences to consumers.
Innovation to survive
Master in Management
Speaker: Prof. Xavier Pavie
Associate Academic Director, MSc in Management
Teaching Professor, Operations Management Department
Focusing on understanding and managing innovation in organizations, this master class examines the relationships between organizational structure, group dynamics and individual psychology in problem-solving processes. In this session, we explore the models of innovation, R&D, strategic management, as well as the role of innovation in organizations. Drawing from leading innovators' experiences, the master class examines how firms go about organizing their various sectors and activities for innovation – particularly in the context of complexity, high-level competition anddigital revolution.
Leading complexity: Reframing your leadership
Global MBA
Speaker: Prof. Aarti Ramaswami
Deputy Dean, ESSEC Asia-Pacific
Academic Director, Global MBA
Acknowledging that companies are constantly subjected to destabilizing forces, being vigilant and observant about complex environments and forces is crucial to leaders' effectiveness. As such, leadership teams require not only sufficient diversity in perspectives, but also cognitive agility in managing change. Ultimately, to be effective, inspiring, and innovating they also have to be able to flip leadership frames to get all the information they need from their environment. The goal of this session is to identify participants' dominant leadership frames and how to strategically think about complex organizational situations. Through a self-audit exercise and an interactive approach, participants explore the implications of their leadership frames for their personal and organizational effectiveness.
Driving Purposeful Business through Digital Innovation
ESSEC & Mannheim EMBA Asia-Pacific
Speaker: Prof. Jan Ondrus
Associate Dean of Faculty, ESSEC Asia-Pacific
Associate Professor, Information Systems, Decision Sciences and Statistics Department
Google, Facebook, Apple, Amazon, Uber, Airbnb...... they all have something in common. They successfully operate digital platform business models that scale at an unprecedented pace. These companies conduct business beyond their respective industry boundaries to become ecosystem orchestrators driven by purpose. In an ecosystem strategy, value sharing is bound to be more inclusive, and therefore more sustainable. Meaning that the rules of doing business are radically different from the ones used by traditional companies, classic business concepts such as industry and value chain becoming irrelevant. More than ever, business leaders need to understand the fundamentals of platform and ecosystem strategic thinking to thrive in the digital age.
Marketing in the Age of Big Data: How "Big" Makes A Difference
MSc in Marketing and Digital
Speaker: Prof. Tuck S. (Jonah) Chung
Associate Academic Director, MSc in Marketing Management and Digital
Associate Professor, Marketing Department
Companies are revolutionizing the way sales and marketing are done by tapping into the power of predictive analytics. Learn how Big Data is disrupting the future of sales and marketing, and how predictive analytics is different using big data.
How Investors Can Beat the Market
Master in Finance
Speaker: Prof. Xu Peng
Associate Academic Director, Master in Finance
Do index funds really outperform fund managers? Studies have shown that beating the market turns out to be even harder than we thought. As such, the notion that investors are better off investing in market indexes instead of hiring fund managers to run their portfolios has taken off in recent years. With fund managers charging higher fees than index funds, the returns for active investors can be lower. Smart Beta is a new investment strategy that aims to capture return drivers through transparent and rule-based methodologies to produce better diversification and risk-adjusted returns. In this master class, learn more about these investment strategies and how they have affected investment trends.
Strategic Challenges for Brands Facing Complexity
Advanced Master Strategy & Management of International Business
Speaker: Prof. Anne-Flore MAMAN LARRAUFIE, Ph.D.
Academic Director MS SMIB – ESSEC
Co-academic Director Master MIPC – ESSEC/ISIPCA/UCP
New consumers, new competitive landscape and new geography – these are the 3 key challenges that companies need to address in today's ever-changing world in order to manage their brands successfully. In this master class, learn more about the strategic moves that companies make to achieve the best brand equity.
How will the next digital wave transform our future?
Master in Data Sciences & Business Analytics - ESSEC & CentraleSupélec
Speaker: Prof. Li Yan
Professor, Information Systems, Decision Sciences and Statistics Department
Digital technology is transforming every aspect of our lives and the way we do business. While it is believed that "every business will become a digital business", companies are desperately seeking talents with cutting-edge skills, knowledge and mindset to lead the transformation of their businesses to ride on the digital wave. In this master class, we explore how digital technology-driven products, services, and business models are disrupting industries and fundamentally altering business functions and the landscape of industries.
Thank you for Our Partners and Sponsors