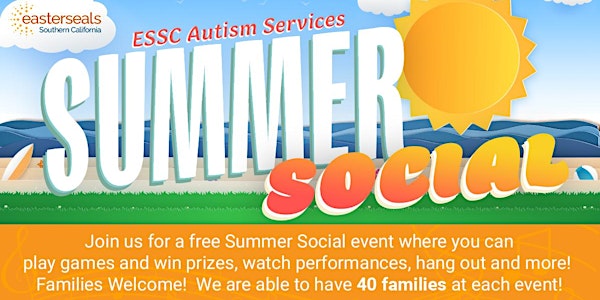 ESSC Autism Services: Summer Social (Families with teens 13+)
Location
Adrian's Place Santa Monica
1806 Lincoln Boulevard
Santa Monica, CA 90404
Join us for a free Summer Social event where you can play games and win prizes, watch performances, hang out and more! Families welcome!
About this event
Come join us for a fun music and arts themed social event. We will have performers and opportunities to engage with different arts and music vendors. There will be games and fun prizes! No cost to attend.
Event location: Adrian's Place Santa Monica: 806 Lincoln Blvd., Santa Monica, CA 90404.
Parking: Lincoln Blvd and surrounding streets, as the parking lot will be used for activities. Drop offs: front of the building or the alley behind the building can be utilized.
If using GPS, please make sure to enter 90404 as the zip code (otherwise, you may be redirected to Venice).
Friday (7/8): for families with teens (13+)
Saturday(7/9): for families with children 12 and under
Questions about the event? Contact Khrystle Montallana at Khrystle.Montallana@essc.org.