Essay Writing Workshop- The Art of Applying
Description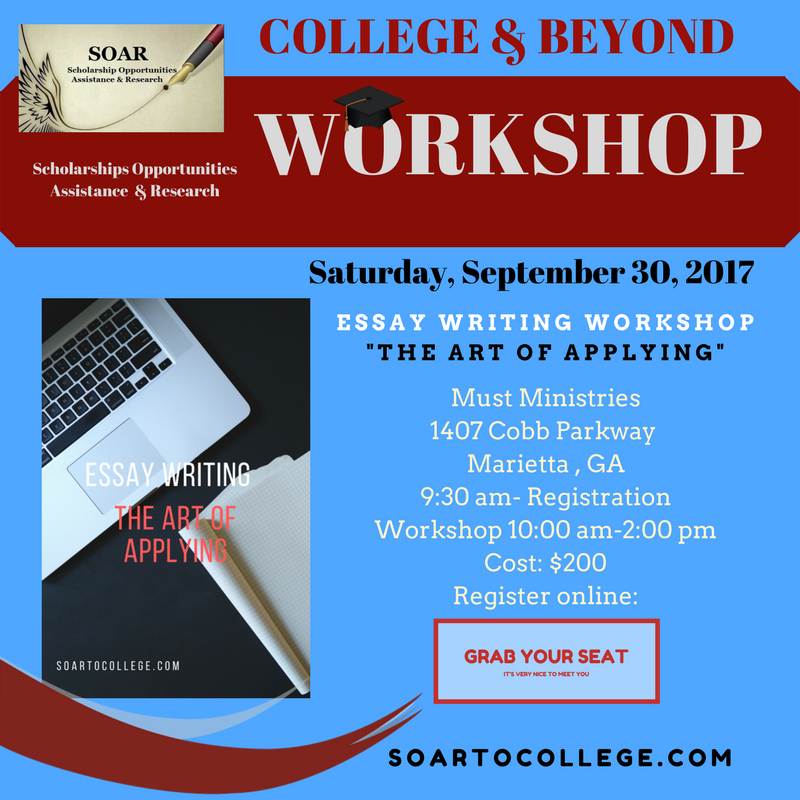 SOAR is offering an Essay Writing Workshop ( The Art of Applying) for High School students. This is a great opportunity to join us on Saturday, September 30, 2017, for a workshop that will help students present a strong compelling and memorable essay for college and scholarship opportunities. ( limited Seating) Get full description at http://www.soartocollege.com/the-art-of-applying-.html
There is a fine art to writing a compelling and insightful essay for college admissions and scholarship applications. This class will cover all of the elements of an effective essay and assist students as they create their own unique creative work.


We will cover:
How to pick the best topic for your essay:

How the Personal Essay is truly a medium through which character, potential, prowess, insight, leadership ability, and passion can be persuasively revealed
How to open with a compelling and engaging intro:
How to construct a strong opening sentence that draws the reader in, and how to create interest and tension to make them want to keep reading.

How to use the right tone, when to use humor (and when not to):
How and when to take risks; the importance of empathy, awareness, and humor.

How to wrap it up in a way that pulls the whole essay together :

Mechanics and usage; grammar, organization and style.
Avoiding cliché, weak phrasing, sentimentality, redundancy, and contradiction.
A thorough review of both successful and unsuccessful essays.
Get full description at http://www.soartocollege.com/the-art-of-applying-.html
FAQ
What can I bring into the event?
Bring printed ticket, laptop if have, pen, pencil. (Workbook provided)