Location
District Architecture Center
421 7th St NW
Washington, DC 20004
Description
Registration is closed. If you'd like to attend the event, please arrive on site. People will be able to enter on a first come first served basis.

Register now to join Esri and GovLoop on Thursday, November 8 from 5:00 p.m. to 8:00 p.m. at the District Architecture Center, 421 7th Street NW Washington, D.C. 20004, for refreshments; a chance to connect with GIS and developer professionals from throughout the Washington, D.C. metro area; and an opportunity to learn more about Esri and the Amazon Web Services (AWS) GovCloud.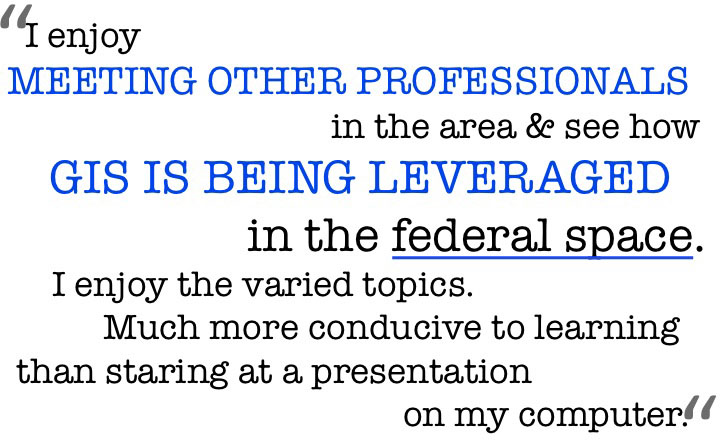 The AWS GovCloud (US) is an AWS Region designed to allow US government agencies and customers to move more sensitive workloads into the cloud by addressing their specific regulatory and compliance requirements.
This event will highlight key features regarding the AWS GovCloud environment and Esri technology.
Federal agencies can now effectively utilize the AWS GovCloud and Esri technology to build and manage geospatial content. As a result, existing Esri federal government users can more easily share their own GIS applications and data with other agencies.
Schedule:
5:00 – 6:00 Registration and Networking
Mix and mingle with fellow D.C. metro area GIS and developer professionals while enjoying complimentary hors d'oeuvres and beverages
6:00 – 6:30 Lightning Talks
ArcGIS Online custom app templates and Story Maps.
6:30 – 7:15 Main Speakers
Join guest speakers Jeff Peters (Director of National Government for Esri) and Carl J. "CJ" Moses (General Manager of Government Cloud Solutions at Amazon Web Services) as they discuss how the GovCloud and Esri technology allow government agencies to effectively manage geo-spatial data while remaining compliant with federal requirements.
7:15 - 8:00 Networking Reception
Mix and mingle a little longer with fellow D.C. metro area GIS and developer professionals while enjoying complimentary hors d'oeuvres and beverages

Click here for Directions to the District Architecture Center.
This event is open to military and government personnel, government contractors, and systems integrators only. Due to limited space, we reserve the right to reject any non-governmental registrations.
The ESRI (Conference) is a private event organized and hosted by ESRI All rights related to this private event are the exclusive property of ESRI. ESRI will be recording the conference. Please be aware that your image may be recorded and possibly used in ESRI marketing or promotional materials. No compensation is provided. You may not record, distribute, or transmit the content of this event or any of its participants in any medium of communication for commercial purposes without obtaining permission.