Live demonstration of Breville espresso machines exploring grind size, dose, espresso extraction, and milk steaming.
About this event
Are you curious about craft coffee?
Join our live demo using Breville espresso machines. Coffee Industry Professionals from Onyx Coffee Lab will cover topics like bean freshness, grind size, dose amount, proper espresso extraction, and basics of milk steaming.
Learn why all these are crucial considerations to pulling a café quality shot of espresso and how to know when you need to make adjustments in order to achieve the perfect results.
Classes are geared towards the novice coffee enthusiast. In this live demonstration, attendees can ask questions in the chat and receive real-time responses.
Experience the full range of Breville Espresso Machines
When it comes to replicating third wave specialty coffee at home, there's no cutting corners. That's why Breville created a range of innovative espresso machines that set out to honor tradition and the techniques that define the very fundamentals required for third wave specialty coffee. We know everyone is different and it doesn't stop with coffee. To learn more, join our demo and learn about the Breville espresso range.
Event Ticket Details
By signing up for this Complimentary event, you are opting in to receive Breville marketing emails. You can unsubscribe from these emails at any time.
Virtual Setup Recommendations
Best viewing is seen via large monitor(s) vs a handheld smartphone. Laptop/Desktop with audio and video capabilities.
High Speed Internet Access
About Onyx Coffee Lab
Our approach to serving coffee begins way before there's a customer in front of us. Teaching the fundamentals of coffee and espresso, from farming to cupping to preparation starts with in depth classes, hands on skillset development, and repetition in our training lab. We are proud of the time and expertise our trainers spend with each of our staff members, and this knowledge extends to our wholesale partners and the coffee enthusiast. We host curriculum for high end cafes and home users alike.
Learn more about Onyx Coffee Lab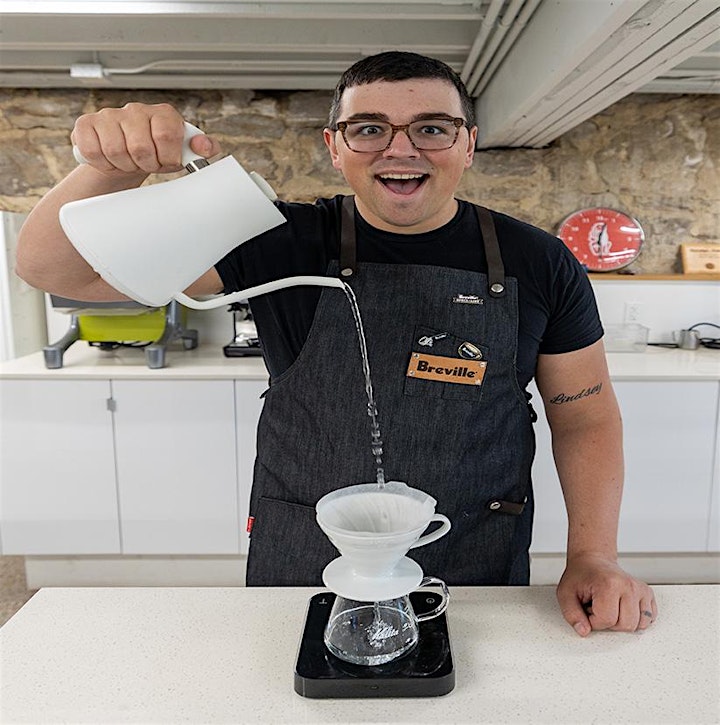 About Lance Hedrick
Although originally pursuing academics, Lance ditched the pen for the portafilter in 2016, and hasn't looked back. Since then, he has won a couple of Latte Art World Championships, placed in the top three twice in the US Brewers Cup Championships, and has trained hundreds of people, from home enthusiasts to coffee professionals, all over the world. His passion is rooted in a desire to equip as many people as possible with the ability to create and enjoy delicious coffee.
FUN FACT: Lance is just as nerdy with tea and bourbon as I am with coffee! Ask him about my thoughts on shou vs. sheng pu'erh, or how their manipulation of yeast strains makes Four Roses, his favorite distillery.