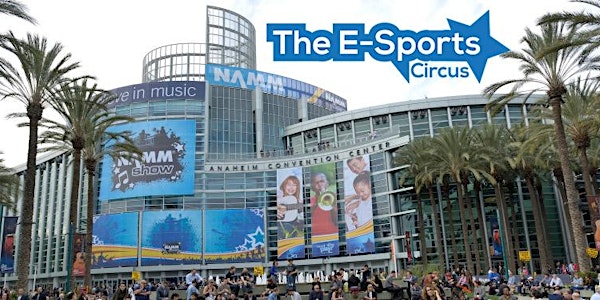 Esports Circus NAMM Esports Grand Slam
Location
Anaheim Convention Center
800 West Katella Avenue
Anaheim, CA 92802
Esports Circus, gaming booth at the NAMM show. Register here to play for free for a chance to win The NAMM 2020 EsportsCircus Championship.
About this event
THIS IS NOT A FREE TICKET TO NAMM. TO PLAY YOU STILL NEED A TICKET TO THE SHOW.
The Esports Circus will host its grand-opening Esports event at The NAMM Show from January 16th to the 19th.
The NAMM Show is the one of the world's largest music, sound and entertainment technology events, gathering more than 115,000 attendees each year in Anaheim, CA.
The Esports Circus will feature its first Esports pavilion at the show. Our large 20 x 30 (600 square foot) booth will be located in the Innovator Showcase, booth number 1116, to run our Esports, Robotics and VR games, and we are coming big to NAMM. It is going to be the greatest NAMM Show yet!
The Esports Circus will feature VR, PC and Mobile games and live stream the action to Twitch and YouTube. To sign up to compete in our NAMM Champion Challenge or to be on our show, please visit www.esportscircus.com today.
Here is our NAMM 2020 Booth Floor Plan. At the North section, we will have a VR station and showcase the very popular action strategy game, Final Assault. Sign up early or come to our booth and enter to win prizes.
On the West and East, we have both popular and new PC and Console games. Play for free for a chance to win The NAMM 2020 EsportsCircus Championship.
On the South end, check out the latest games at our Android and iOS station and win! All the action will be displayed on our large screen TVs and broadcast "live" from the show floor. We will interview Esports Players, Shoutcasters and industry personalities throughout the show. Remember to register at our Eventbright or drop by the booth to play fist come first serve.
The Esports Circus has Roku, Apple TV and Amazon Fire TV channels, and broadcasts to four other content delivery networks with more than 100 channels, reaching over 160 countries around the world. If you would like to join us as a partner, sponsor or just want more information, please email jeff@esportscircus.com today!