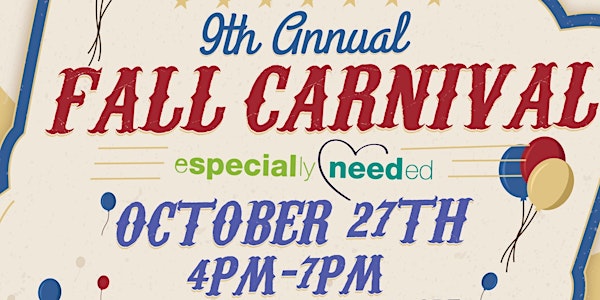 Especially Needed Fall Carnival Resource Fair 2018 - Vendor Registration
When and where
Location
McKinney National Airport 1500 E. Industrial Blvd. McKinney, TX 75069
Description
Especially Needed invites your organization to join us for our 9th Annual Fall Carnival and Resource Fair. Last year, just under 400 families with special needs attended our event, participated in carnival activities and obtained helpful information at our Resource Fair. Vendors that have attended our Resource Fairs have been amazed at how they were able to reach more families in 3 hours at our event than at other fairs they've attended. SO DON'T MISS THIS OPPORTUNITY!
The event will be held on October 27, 2018 from 4:00pm - 7:00pm at:
McKinney National Airport
1500 E. Industrial Blvd.
McKinney, TX 75069
You can participate in our Fall Carnival and Resource Fair by reserving a vendor booth today at https://encarnivalvendor2018.eventbrite.com or via our website. Each vendor booth is $100 (plus a $5.49 card processing fee). Booths are available to businesses that offer a product or service that benefits individuals with special needs. We're asking all booth vendors to offer games, giveaways or toys you think the families and children would enjoy. You will need to bring your own table and chair(s) for this event. We will contact you to confirm what game, giveaway or toy you plan to offer. Please plan to arrive around 3pm and all set-up needs to be complete by 3:45pm. Please reserve your booth no later than October 20th. If you require specific set-up accommodations, please document that in your reservation.
We also invite you to become a Sponsor and support our mission. We have Annual Sponsorships, Event Specific Sponsorships and an Annual Vendor Booth option. All sponsorship options include a vendor booth. Detailed information about our sponsorships is available here https://enannualsponsorship.eventbrite.com or on our website at www.especiallyneeded.org. Please feel free to contact Nechole Whitlock at 972-567-8005 or nechole@especiallyneeded.org or Heather Astuto at 214-499-3439 or heather@especiallyneeded.org if you have any questions about being an Especially Needed sponsor or a vendor in the Fall Carnival and Resource Fair.
We look forward to your participation and continued support of Especially Needed.
In Celebration,
Especially Needed