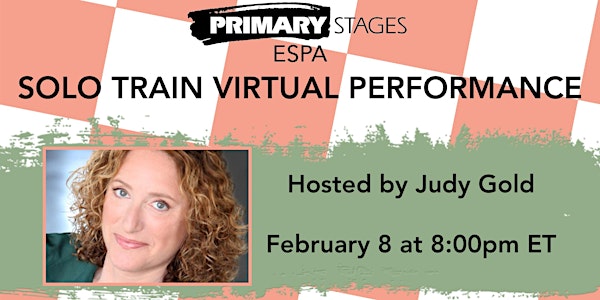 ESPAfest 2021: Solo Train
An intimate evening of solo performances written and performed by Judy Gold's Solo Performance students at Primary Stages ESPA.
About this event
Hosted by Judy Gold
with Heidi Armbruster, Laurie Braun, Beth Broun, Amy Crossman, Sam Given, Nan Hoffman, John Mudd, Gail Payne, and Nicole Soul
Monday, February 8 at 8pm ET
FREE!
To access the performance live stream via YouTube, go to this link: https://youtu.be/KCGMtdrv4_U
What's more exciting in the theater than a performer baring it all? Solo Train is an evening of new work by Solo Performers from the Primary Stages Einhorn School of Performing Arts (ESPA), who've been guided by renowned actress and Emmy Award-winning writer Judy Gold. Inspired by stories from their own life, each writer/performer has honed their performance to its most essential elements. Some stories are hilarious. Some stories are moving. Each story is bracingly fresh.
Solo Train will be presented online! Once you RSVP, you will receive a YouTube link to watch the premiere of this performance.
Want to learn more about our ESPAfest events?
Go to primarystages.org/espa/our-community/espafest to find out about our free Performances, Workshops, and Special Events. All ESPAfest events are FREE and open to the public.