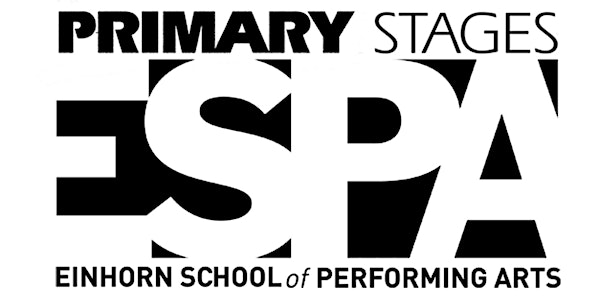 ESPA Fall 2017 Free Workshop: Face the Blank Page
When and where
Location
Primary Stages Studios 307 West 38th Street Suite 1510 New York, NY 10018
Description
Primary Stages ESPA Free Workshop
Face the Blank Page with Kara Lee Corthron
Monday, September 18
8:00pm - 9:00pm
Primary Stages Studio B
This ESPA Workshop is FREE and open to the public.
Before and after the Primary Stages ESPA Mixer, join us for a couple of special workshops to get a real taste of some of the classes ESPA has to offer!
Hang out after the mixer with ESPA instructor Kara Lee Corthron (Writer, AliceGraceAnon at New Georges, "Kings" on NBC) to get your creative juices flowing! This throwback workshop from 2008 will give you a series of writing exercises to kickstart the creative process and silence your inner critics.
Want to learn more about Kara's Fundamentals of Playwriting class at ESPA this Fall? Click here for more information!
To register for our other events, click on the links below:
ESPA FREE WORKSHOP: Alexander Technique with Karen Braga
5:00pm - 6:00pm
Primary Stages Studio B
Learn how to release tension, warm up your instrument, and overcome your nerves in those tense moments before an audition! Karen Braga, ESPA's Alexander Technique expert, will guide you through a few quintessential exercises to give you the freedom to take bigger risks and make stronger choices.
ESPA FREE WORKSHOP: Master Class and Monologue Workshop with Casey Childs
6:00pm - 7:00pm
Primary Stages Studio B
Starting with an in-depth discussion on how to approach monologues and auditions, Casey Childs (Founder, Primary Stages; Emmy-winning Director, "All My Children," "The Young and the Restless," "One Life to Live") will then coach a handful of participants on what's currently in their book or on sides being prepped for an upcoming audition. With feedback that's universally applicable, all attendees with leave with a stronger sense of what to look for in choosing a monologue, how to break up any audition piece into physical beats, and ultimately, how to refine your repertoire and self-coach your monologue or sides prior to any big audition.
ESPA Mixer
7:00pm - 8:00pm
Primary Stages Studio A
We're opening our doors to newcomers and ESPAtriots alike. Come on by our Mixer for an evening of food, fun, and artistic inspiration, and meet some of the many people who call ESPA home! Share a drink, meet our faculty, and join us for a couple of free workshops to get a real tase of some of the classes ESPA has to offer.