ESPA Drills 2017: Moonshine by Liz Appel

Monday, October 2, 2017 at 2:00 PM
Event Details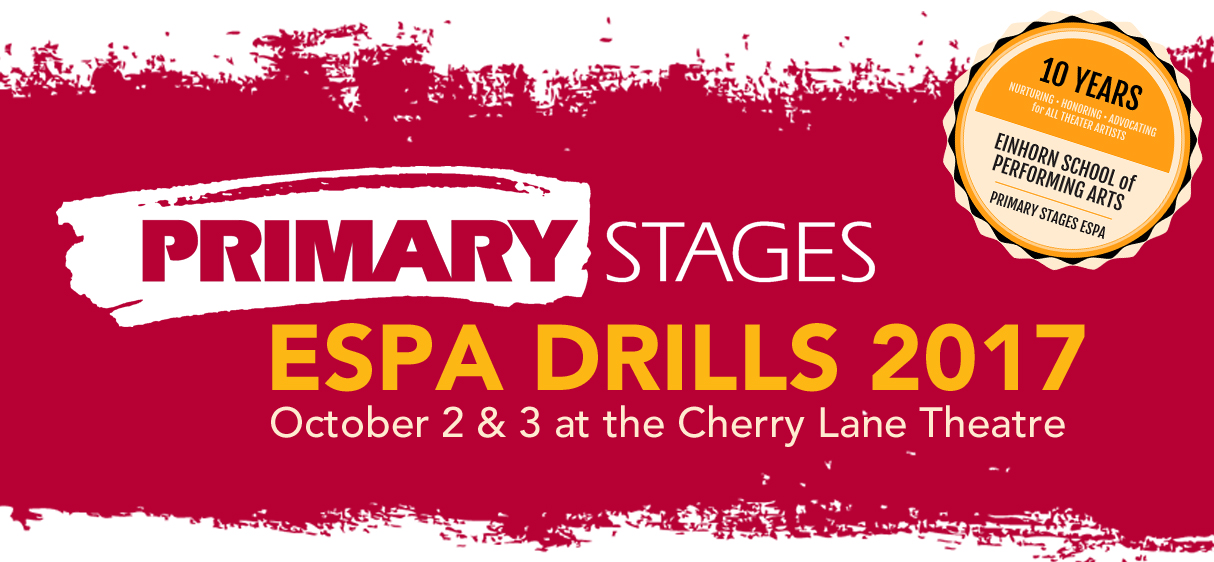 ESPA Drills is an annual new play development program providing extensive workshopping, a public presentation , and advocacy with the theater community for four new plays written at least in part at Primary Stages ESPA.  Each July, these plays are selected from dozens of blind submissions for their ambition, voice, and energy. Over the course of two months, ESPA actors and outside guests lend their talent to these workshops and reading, which are then presented before an audience of industry peer on our Off-Broadway stage. ESPA Drills provides an exclusive opportunity for ESPA writers to receive professional attention through the resources and support of Primary Stages.
These amazing playwrights are being guided through the ESPA Drills process by playwright and ESPA faculty member Crystal Skillman, our ESPA Drills advisor.

Moonshine
by Liz Appel
Monday, October 2
2:00pm
After their world is suddenly cracked open by a moment of violence, Wolf and Rooster are on the run.  Alone in the darkness and desperate to start a fire that will keep away the night, memory becomes a battleground as these brothers struggle to survive in the wilderness of their new world and each other.
All readings are free and open to the public, and will be held at The Cherry Lane Theatre, located at 38 Commerce Street.
For more information about ESPA Drills or to learn more about our writers, please visit our website or call ESPA Administration at 212-840-9705. To RSVP for another ESPA Drills reading, just click on the link below!
October 2 at 6:30pm
Another Revolution by Jacqueline Bircher
RSVP: drills2017-bircher.eventbrite.com
October 3 at 2:00pm
Carl's Not Here by Daniel Loeser
RSVP: drills2017-loeser.eventbrite.com
October 3 at 6:30pm
All My Love, Kate by Joe Breen
RSVP: drills2017-breen.eventbrite.com
When & Where

The Cherry Lane Theatre
38 Commerce Street
New York, NY 10014


Monday, October 2, 2017 at 2:00 PM
Add to my calendar
Organizer
Primary Stages ESPA
Primary Stages Marvin and Anne Einhorn School of Performing Arts (ESPA) is a multidisciplinary school with departments in writing, acting, and directing. Now in its ninth year, ESPA has refined actors who have been seen on and off-Broadway, developed writers whose work has won awards and received workshops and productions, and served as a professional and artistic home for emerging talent. ESPA is defined by its strong commitment to collaboration through programs such as Detention, a monthly series that partners ESPA writers, actors, directors, and a faculty advisor in the creation of highly original performances. Having provided a home to over 2,500 students, ESPA has become a leader in performing arts education through its excellence in training, collaboration and networking opportunities, and strong professional community. ESPA is open to all artists, in all stages of their careers.
ESPA Drills 2017: Moonshine by Liz Appel