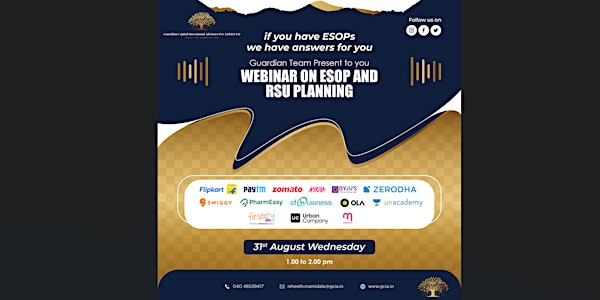 ESOP & RSU Planning Webinar by Guardian
If you are CONFUSED??? on ESOPs & RSUs Lots of queries about whether to hold or sell @right time join us in the webinar on 31st August
About this event
ESOPs and RSUs usually form a big part of investors' net worth. Hence it is important to do a detailed analysis of whether to continue to hold them and other important decisions like when to exercise the options, what is the right time to sell, etc.
We are pleased to host this event to run the audience through a briefing on all possible data points to consider when planning for their ESOPs or RSUs.
Please find below a short intro note on what we do:
Guardian Capital was started in 2016 with the motivation to solve a big problem that we realized, everyone faces - while we invest a lot of time and effort in earning our money, we don't have the time or the know-how when it comes to managing the same in the best possible manner. Hence, we set out to build an entity that is backed by solid research and can help people manage everything related to their finances in the most professional & unbiased manner.
We operate as a multi-family office consolidating every aspect of our client's financial life in one place (financial planning, investing, legacy planning, insurance & taxation).
Every client's family is assigned a dedicated team of certified financial planners. This resonates very well with busy senior professionals who find it extremely difficult to devote time regularly towards managing their finances. In essence, we become our clients' personal CFOs.
We have a value-based investing philosophy - our portfolios are concentrated & high quality with very little churn. We have consistently beaten all benchmarks since we started in 2016.
We were awarded as the Best Registered Investment Advisory Firm in India by CNBC & UTI for 2018-19.