Location
Commerzbank Arena
Mörfelder Landstraße 362
60528 Frankfurt
Germany
Description
ESL One will see a World Cup football stadium, Commerzbank-Arena, host a massive Dota 2 esports event in Frankfurt, Germany. With tens of thousands watching live in the arena and millions more expected to tune in over live streaming platform, Twitch, the event once again promises to be spectacular.
Eight teams will be selected to take part in the event: a select few of the world's most notable teams will have invitations extended to them, whilst the bulk of the group will have to qualify for the event through a set of regional qualifiers operated by joinDOTA. Once in Frankfurt, the teams will face off against one another on centre-stage in the hopes of taking home the lion's share of the US$150,000 prize pool - which will further increase by voluntary contributions from the community. More information on the qualification structure, invites and prize breakdown will follow in the coming weeks on http://www.esl-one.com/dota2/frankfurt-2015/

On the 20th and 21st of June the Commerzbank-Arena will be transformed into a haven for Dota 2 and esports fans from all around the world. Tickets will be available on December 15th, 2014, for the first time. The earlier you buy, the cheaper your ticket!

Minimum age to attend the event is 16 years. If you are not 16 years old yet, you will have to be accompanied by a legal guardian.
There will be three different types of tickets: Weekend, Premium and Day. On top of that, we've prepared something special for those who want to enjoy Dota in style: the Aegis Experience Lounge
Weekend and Day ticket all guarantee a place to sit, but there is no fixed seat allocation. Early bird and Premium tickets give access to a separate seating area each.
Weekend Ticket - €34,90 - reduced price!
Access to the event for both Saturday 20th and Sunday 21st of June.
Premium Ticket - €199,90 - available end of January
Premium Area seating
Free drinks & food
Goodie Bag
Exclusive signing sessions
Dedicated Secret Shop in Premium Area
Special in-game item
Aegis Experience Lounge - €2999
A separate lounge to enjoy the games in for you and 4 friends
Unlimited food and drinks in the lounge
Early access to the venue
Assigned hostess all event
Massage in the lounge
VIP invites to event party
Exclusive hoodie for the whole group
Goodie Bag
Exclusive signing sessions
Dedicated Secret Shop in Premium Area
Special in-game item
Twitch After Show Party - €10
Party with the Pro Players!
moon13 - biggest club in Frankfurt
Buy your pre-sale ticket today at the reduced price of 10€ and pick it up at the ESL Shop in the Arena.
Full price tickets will be available for pruchase at the event.
You must be at least 18 years old to attend the party. Bring your ID!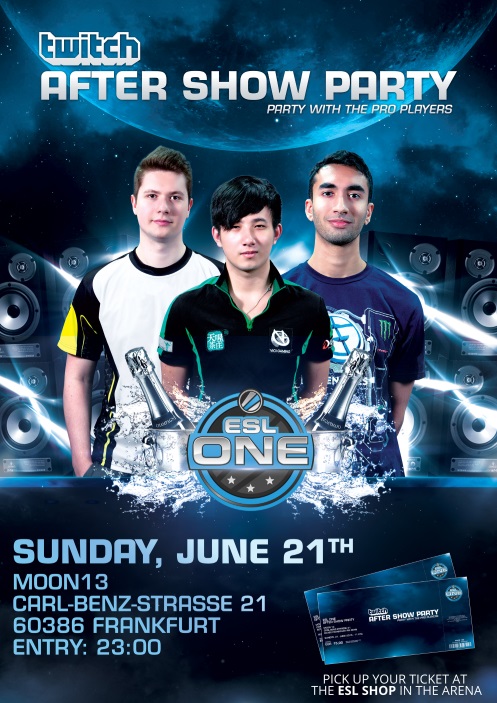 _