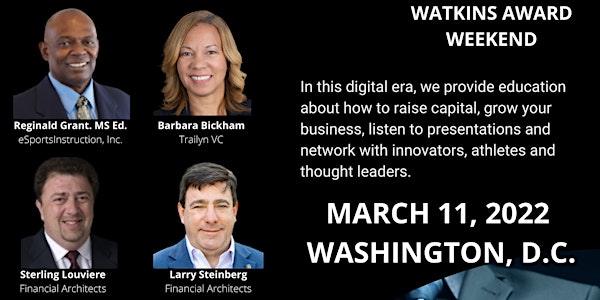 eSiPitch Athletes + Tech + Business + Pitch & Networking Event
An event for networking, meeting, and greeting. Serving as a platform to connect serious-minded. individuals.
When and where
Location
Bethesda Downtown Marriott Address 7707 Woodmont Avenue Bethesda, MD 20814
About this event
An event for Athletes , Executives , Business Professionals, Founders, Investors, and Trendsetters.
Hosted by eSiPitch Athletes +Tech + Business and Trailyn VC & Trailyn Ventures
During the Watkins Award Weekend, March 11th, and 12th, 2022.
eSiPitch Athletes + Business Networking serving as a platform to connect serious minded current and former athletes with celebrities, executives/business leaders, entrepreneurs, investors, philanthropists, and more!
Our mission is to assist attendees in creating opportunities for partnerships, collaboration, and empowerment.
SPONSORSHIP INFORMATION
Reginald Grant, MSEd,, rgrant@esportsinstruction.com, 323 503 5675