About this Event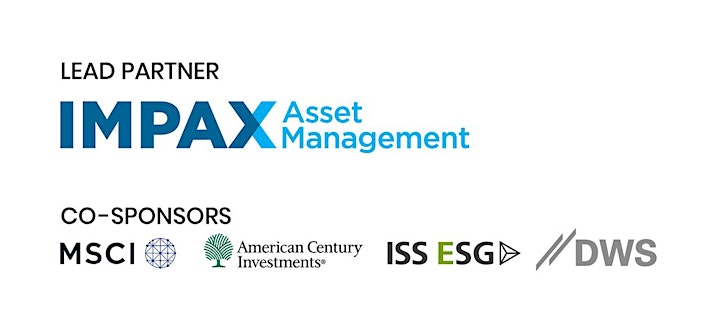 Now in its second year, the ESG-IQ Forum is bringing together 200 leading institutional investors, investment consultants, asset managers, banks, family offices, policy makers and corporates to share best practices and discuss leading strategies around the development of a more sustainable economy.   
Our expert speakers will discuss high-priority sustainable investment themes, manager due diligence, risk management, increased disclosure and shareholder engagement strategies being driven by the growth of sustainable investing across asset classes.
Registration is limited. On-site registration will cost $995.00 per ticket.
Please contact info@cleantechiq.com with any questions about this event.
AGENDA
7:00am Registration & Networking Breakfast
8:15am How Institutional Asset Owners Factor ESG into New Mandates & Monitoring
Asset owners will discuss important ESG issues impacting their fund manager selection and how they are integrating sustainability themes into new mandates, creating standards for fund manager selection, monitoring investments, and incorporating new frameworks including SASB and TCFD.
Brian Rice, Portfolio Manager, Sustainable Investment & Stewardship Strategies, California State Teachers' Retirement System (CalSTRS)
Rodney June, Chief Investment Officer, Los Angeles City Employees' Retirement System (LACERS)
Jodie Gunzberg, CFA, Managing Director, Chief Investment Strategist, Graystone Consulting 
Jeff Cohen, CAIA, Institutional Product Strategist, SASB (moderator)
9:00am Incorporating Climate Risk Scenario Analysis Strategies into Asset Allocation
Investors are moving to understand the long-term portfolio implications of climate change which is driving them to adopt climate-risk management techniques, reduce the carbon risk of their portfolios, develop new reporting techniques and invest in low carbon solutions.
Richard Zimmerman, Senior Advisor, WE Family Offices
David Richardson, CFA, Executive Director, Impax Asset Management
Sean Flannery, Managing Partner, RedBrow, LLC
Max Messervy, Senior Investment Consultant, Responsible Investment, Mercer (moderator)
9:45am Managing ESG Issues Through Shareholder Engagement
A deep dive into at what makes for successful shareholder engagement, top corporate governance themes for the 2020 proxy season and how ESG engagement is driving greater corporate disclosure.
Yumi Narita, Executive Director of Corporate Governance, Office of New York City Comptroller Scott M. Stringer, Bureau of Asset Management
Michelle Edkins, Managing Director, Global Head of BlackRock Investment Stewardship
Catherine Hickey, Vice President, Segal Marco Advisors
Mary Beth Gallagher, Executive Director, Investor Advocates for Social Justice
Ariane de Vienne, Global Head of Asset Owner Strategy, ISS (moderator)
10:35am Coffee Break
10:55am Fireside Chat – Major ESG Trends to Watch in 2020: All eyes on climate change, human capital and stakeholder capitalism 
Linda-Eling Lee , Global Head of ESG Research, MSCI
Robert Eccles, Visiting Professor of Management Practice at Saïd Business School, University of Oxford & Founding Chairman, SASB
11:20am ESG in Fixed Income: Managing Credit Risk & Value Creation
A deep dive into how fixed income managers are increasingly using ESG to manage credit risk and generate alpha, the role of credit rating agencies, bondholder engagement strategies and the growth of green bonds.
Jennifer Leonard, Executive Director, Asset Manager Due Diligence, Co-Portfolio Manager, Cornerstone Capital
Tony Trzcinka, CFA – Portfolio Manager, Impax Asset Management
Guillaume Mascotto, V.P., Head of ESG & Investment Stewardship, American Century Investments
Sonia Ruiz, Manager Research Consultant, RVK (moderator)
12:05pm Fireside Chat: Accelerating the Transition to a More Sustainable Energy System
An insightful discussion highlighting promising clean technologies and the role that large energy corporates play in the energy transition.
Barbara Burger, President, Technology Ventures, Chevron
Peter Fox-Penner, Chief Strategy Officer at Energy Impact Partners (interviewer)
12:30pm Networking Lunch & Optional Lunch & Learn Session
Impact investing in the Healthcare Sector
Michael Li, PhD, V.P., Senior Portfolio Manager, American Century Investments
Guillaume Mascotto, V.P., Head of ESG & Investment Stewardship, American Century Investments
1:30pm New Policy Developments Catalyzing ESG
Investors and policy experts will provide insight into new state & local policies driving the growth of ESG integration and new strategies modeled around the UN SDGs and the Paris Climate Agreement.
Rodrigo Garcia, Chief Investment Officer, Illinois State Treasury
Satyam Khanna, Advisor, UN PRI & Former Senior Legal & Policy Adviser to the U.S. SEC Commissioner
Tim Barron, Chief Investment Officer, Segal Marco Advisors (moderator)
2:10pm Fireside Chat: New York State's Path to 100% Carbon-Free Electricity
An in-depth look into New York State's plan to produce 100% carbon-free electricity by 2040 driven by its Green New Deal and how the state is working with investors, innovators and corporates in the deployment of sustainable technologies.
Alicia Barton, President & CEO, New York State Energy Research and Development Authority (NYSERDA)
Rob Day, General Partner, Spring Lane Capital (interviewer)
2:35pm Integrating Impact Investing & UN SDG Themes
This expert panel will explore opportunities for investors to finance solutions to the world's most pressing problems through public & private market strategies that can attract institutional investment at scale as well as the latest best practices in impact reporting.
Nili Gilbert, Co-Founder, Matarin Capital and Chair, Investment Committee, The David Rockefeller Fund
Trent Sparrow, Senior Analyst, Impact Investments, Wespath Benefits and Investments
Dana K. Bezerra, President, Heron Foundation
Dulari Pancholi, Principal, Co-Head, Impact Investing Committee, NEPC (moderator)
3:20pm Coffee Break
3:45pm ESG Integration & Sustainability in Private Markets
This panel will discus how top private market investors are evolving the discussion from risk management to value creation, collecting data on outcomes, and successfully integrating ESG and sustainability into investment strategies across private equity, real assets, and infrastructure
Jackie Roberts, Managing Director, Operating Executive, The Carlyle Group
Lisa Davis, Executive Director & Portfolio Manager, Impact Investing, PGIM Real Estate
JJ Wilczewski, Managing Director, Head of Americas Institutional, DWS
Robert Lang, Managing Director, Cambridge Associates (moderator)
4:30pm Innovative Finance Driving The Growth of Sustainability Projects
Sadie McKeown, Executive Vice President, Chief Operating Officer, The Community Preservation Corporation
Gregory Bafalis, CEO, Aries Clean Energy
Marc Khouzami, Director, Private Equity, Deutsche Bank (moderator)
5:00pm The Evolution of ESG Data & New Impact Measurement Tools
This panel will discuss the development of methodologies to measure portfolio impact and report on ESG-related outcomes using both financial and non-financial benchmarks.
Bruno Sarda, President, North America, CDP
Neil Gregory, Chief Thought Leadership Officer, International Finance Corporation & Head of the Operating Principles for Impact Management
Erika Karp, Founder and CEO of Cornerstone Capital Inc.
Leah Wood, CFA, Director, Impax Asset Management (moderator)
5:45pm Cocktail Reception, Refreshments & Networking
7:00pm Reception Concludes