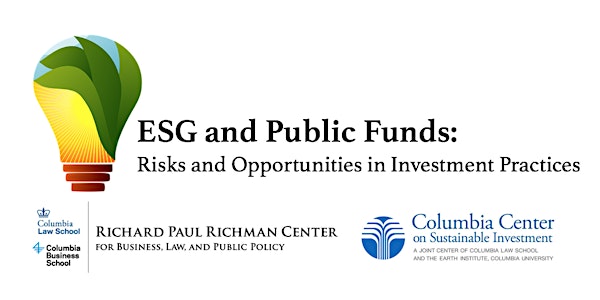 ESG and Public Funds: Risks and Opportunities in Investment Practices
Location
Uris Hall, Room 141
Columbia Business School
3022 Broadway
New York, NY 10027
Description
Investing with environmental, social, and governance (ESG) criteria is growing in popularity and visibility, whether it be "socially responsible" with negative screens or "impact investing" with positive screens. As the movement gains momentum, so do questions about its role in the public sector.
In this public lecture, panelists will discuss whether institutions with a public mandate (e.g. state pension funds, university endowments) should incorporate ESG criteria into their investment practices. Is doing so consistent with their public service mandates, financially sound, and good for society? Or does it muddle objectives, hurt financial returns, and leave society worse off? What benefits and drawbacks are associated with integrating ESG criteria and ethical values into investment policies? How should stakeholders—such as public funds, policy makers, private funds, and individuals—engage with the industry?
The panel will seek to present a diverse range of views, provoke reflection, and deepen attendees' appreciation of the nuances of these questions.
Panel:

Ronald J. Gilson—Marc and Eva Stern Professor of Law and Business, Columbia Law School
Carol Jeppesen—Senior US Network Manager, UN Principles for Responsible Investment
Moderated by Aamir A. Rehman, Senior Fellow at the Richard Paul Richman Center, with remarks by Kathleen Rithisorn, Director of the Richard Paul Richman Center, and Lisa Sachs, Director of the Columbia Center on Sustainable Investment.


---


Food and refreshments will be served.
Kindly Note:
Seating is on a first-come, first-served basis.
This event will be photographed and videorecorded. By attending this event, you consent to appearing in any photos or videos produced by the event organizer or third parties. If you have any questions or concerns, please let us know in advance.


---



This public lecture is cosponsored by the Richard Paul Richman Center and the Columbia Center on Sustainable Investment. Special thanks to the Tamer Center for Social Enterprise for supporting this event.