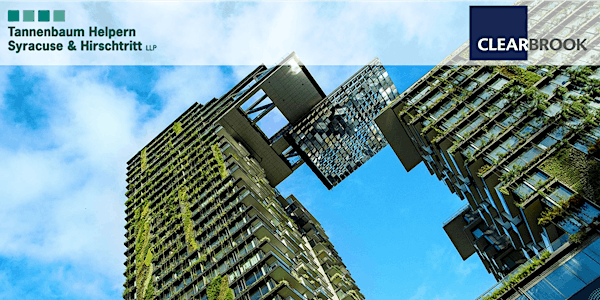 ESG and Impact Investing Mid-Year Outlook
When and where
Location
Tannenbaum Helpern Syracuse & Hirschtritt LLP 900 3rd Avenue 13 Floor New York, NY 10022
Description
Environmental, Social and Governance (ESG) and Impact-focused investment strategies have taken on a significant larger role in the last few years. According to a Morningstar report, the number of sustainable funds jumped to 351 in 2018 and these funds' total AUM reached $161 billion. Join us for an intimate panel discussion on ESG investment trends and related regulation, and on how current events such as climate change, gender diversity and other social issues are impacting investors' investment decisions. As an investor, how do you evaluate and measure such investments?
Speakers:
Wayne Davis
Co-Chair | Tannenbaum Helpern Syracuse & Hirschtritt LLP
Wayne is co-chair of Tannenbaum Helpern's Investment Management Practice and a member of the firm's Executive Committee. Wayne advises U.S. and non-U.S domiciled venture capital, private equity and hedge funds, as well as family offices and private wealth management platforms, on all aspects of their business, including formation, governing regulation, financing arrangements and the investment of underlying capital. Wayne's practice includes advising investment advisory firms with respect to spin-outs and roll-ups, and fund principals with respect to firm governance, operating efficiencies, and dispute resolution. Wayne also represents investment funds and financial institutions in connection with counter-party defaults and stressed, distressed, illiquidity-driven, and U.S. and non-U.S. insolvency matters.
Timothy Ng
Chief Investment Officer | Clearbrook Global Advisors
Tim joined Clearbrook Global Advisors in 2010 and serves as Chief Investment Officer, as well as Head of the Clearbrook Investment Committee. Within this role, Tim with over 35 years of investment experience is involved in global macro and manager research, portfolio analysis and risk management. In his career, Tim has had oversight over billions of dollars of investor capital on behalf of corporations, pension funds, endowments and foundations, banks, investment advisory firms, and family offices. These investors have been located in the US, Europe, Asia and South America. His areas investment expertise span from traditional equities, fixed income, securitized credit, options/derivatives, hedge funds, to real estate, private equity, venture capital and infrastructure. Over the years, Tim has been a Managing Director and/or Partner at firms such as Smith Barney and Oppenheimer & Company. Tim has made guess appearances on CNBC's "Squawk Box", "Power Lunch" and Bloomberg News. He has been a contributor and writer of financial articles published in several publications including the Wall Street Journal, Pensions & Investments, Business Insider and Bloomberg News. Tim's prior and current professional affiliations include Associated Commodities Person (Series 3), Registered Securities Representative (Series 7), Registered Securities Principal (Series 24), Uniform Securities Agent (Series 63), Registered Investment Advisor (Series 65) and Representative Private Securities (Series 82). Tim received a BA in Economics from Stony Brook University and an MBA with honors, Magna Cum Laude, from Long Island University. Tim has primary or secondary coverage responsibilities for 20 clients.
Michael Tannenbaum (Moderator)
Co-Chair | Tannenbaum Helpern Syracuse & Hirschtritt LLP
Michael is a founding partner of Tannenbaum Helpern and co-chairs the firm's Investment Management Practice. With close to 40 years of experience, he regularly advises a global roster of clients on the organizational, structural, compliance and regulatory aspects of US-based and non-US-based private funds, investment managers, hedge, venture and private equity arrangements (including fund formation and the underlying M&A transactions), commodity pools, complex structured arrangements, index products, exchange-traded funds, seeding arrangements, mergers, acquisitions and consolidations, and related tax implications. His clients include investment advisers, funds, fund sponsors, multi-manager and fund-of-fund platforms, principals, global institutions, non-US law firms relating to matters of US law for their clients, and family offices with regard to regulatory, governance and organizational matters. He has served as an arbitrator and private mediator in complex private fund and investment management cases and in National Futures Association disputes and business conduct matters and is active in litigation in the private fund space.
Date:
Tuesday, July 16, 2019
Venue:
Tannenbaum Helpern Syracuse & Hirschtritt LLP
900 Third Avenue, 13th floor
New York, NY 10022
Agenda:
8:00am – 8:30am: Check – In/Breakfast
8:30am – 9:30am: Discussion & Q&A
9:30am – 10:00am: Networking
Contact:
For more information regarding the event, please email events@thsh.com or contact Ellen Lieberman at elieberman@clrbrk.com.