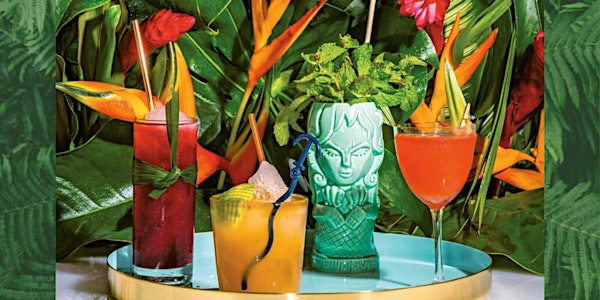 Escape to the Tropics - TIKI Cocktail Webinar!
Learn to make Tropical Cocktails! For cocktail enthusiasts & bartenders alike!
About this event
New York Cocktail Expo Online Week presents...
Escape to the Tropics - TIKI Cocktails FREE Webinar
"The internet's top TIKI Webinar is back!"
This Webinar is based on the best selling book, "TIKI Modern Tropical Cocktails" and Live instructed by the Author!
"TIKI Modern Tropical Cocktails" Is a Top Ten Nominee at Tales of the Cocktail 2020!
LIVE Instructor! Shannon Mustipher, Author: TIKI Modern Tropical Cocktails, Spirits Educator, Former Beverage Director: Glady's Brooklyn
Class Description:
Learn to make tropical cocktails in this exclusive Webinar, instructed by one of the foremost experts on TIKI Cocktails!
What you will Learn & Receive!
Learn to make 3-4 Classic Tropical Cocktails!
Learn about great spirits to add to your collection and use!
Receive a recipe sheet following class for more great Tropical cocktails to make at home, for your friends or at your bar!
You will also learn the origin stories of these classic cocktails that set the stage for Tiki, the building blocks of their flavor combinations, and nuances behind preparation and technique to make them shine in the glass, be it the home or professional bar!
Q&A with Live Instructor Shannon Mustipher!
History of TIKI Cocktails:
In the late 19th century, intrepid world travelers and non Vivants discovered the pleasures of imbibing in tropical locales like Southeast Asia, Cuba, and South America. The cocktails that were born of this cross cultural exchange - The Daiquiri, Planter's Punch, and Singapore Sling, and The Suffering Bastard - swung open the door to a new approach to cocktails that used ingredients that evoked far flung locals where life was fast, loose, and easy.
Join us as we revisit these foundational classics, their origins, and hacks on how to make & improve them for the cocktail enthusiast or bartender of today!
Please note: This is not a follow-along class so ingredients aren't necessary to attend. However you're more than welcome to buy ingredients and make some cocktails during the class and after the class to make what you have learned and more!
Register in advance as we expect a full online class!
Sponsors: Ron Colon Salvadoreno Rum, TEN TO ONE RUM, Montanya Rum, Starward Whiskey
Follow @nycocktailexpo on instagram for more!
Want to learn even more? Get The Book!
Order TIKI Modern Tropical Cocktails on amazon!
Bartenders! Register now to compete in Best Cocktail of the Year and TIKI TO GO DOWN Tropical Cocktail competitions!