Description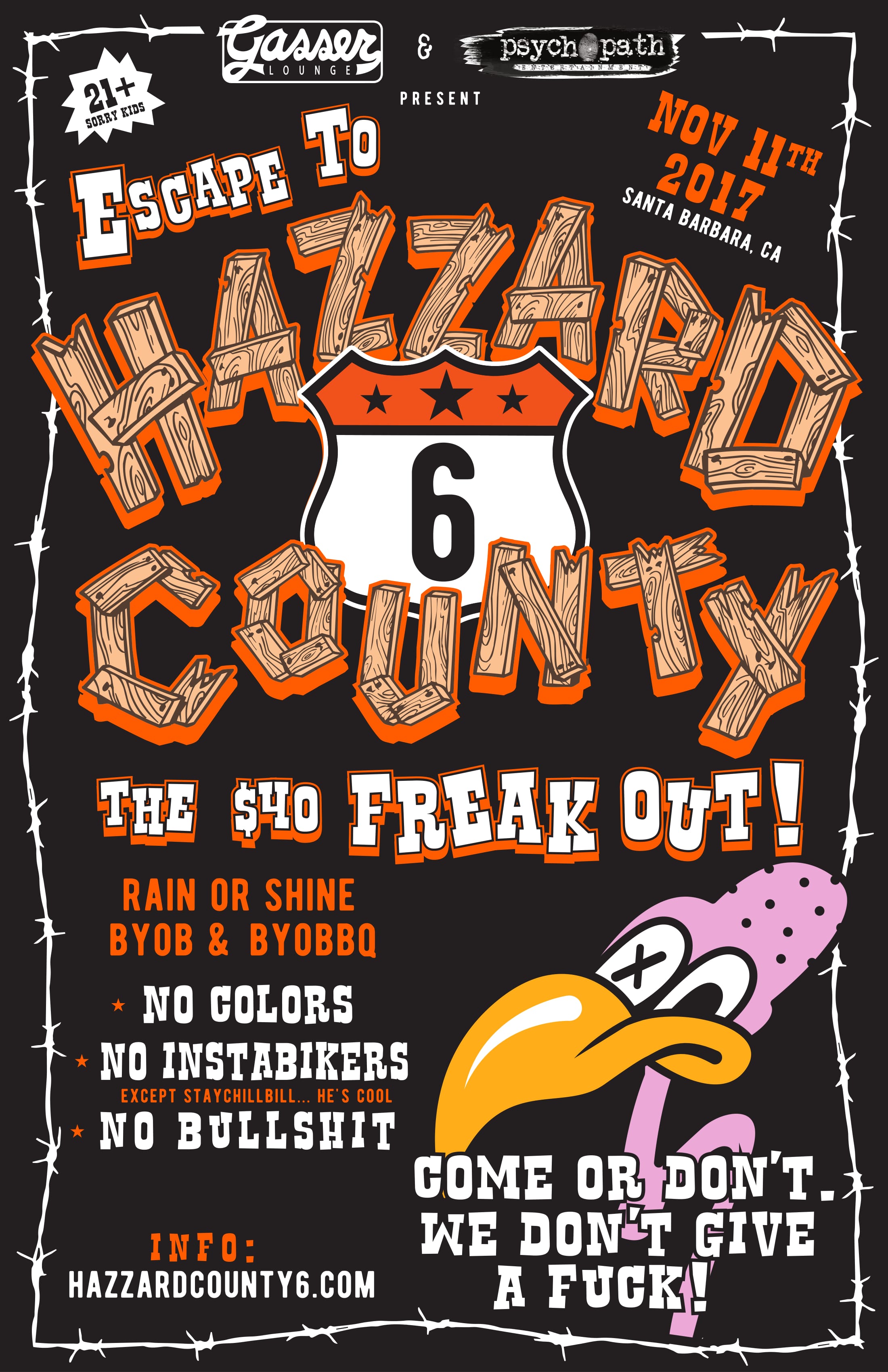 We're going back to our roots on this one. After nearly killing ourselves to make the last few of these happen, we've decided to scale back quite a bit so we can actually enjoy ourselves. We created this event as an excuse to gather all of our favorite people in one place for a good ol' fashioned throw down, but as we added more people and included more shit, the core group of homies turned into staff and we went from hanging with everyone to working the whole time... and not getting paid.
Now this event has never been about money, but after donating COUNTLESS hours of our time to make the last five Hazzards happen, the handful of complaining assholes and trouble makers are something we can do without. So if you're one of those people that thought the beer wasn't cold enough or you didn't like one of the four meals we served, bring your own... or don't come. We don't care. The core Superfriends will all be Escaping up to Hazzard County, and you can just sit home and make memes ya fucking nerd.
So to be clear, we will not be providing food or beer or shirts or patches or tattoos this year. There might be other people giving this stuff out, but not us... (Okay, maybe patches but that depends on if we can afford them.) We will also not be mailing out wristbands. You will need to print your ticket or show us the QR code on your phone to get in.
What we WILL be providing is a bitchin' camp spot, a big ol' campfire, a hot woodfire grill, restrooms, hillbilly games, and surprise performances by some of our favorite bands who have performed over the years. There will also be a couple of pop-up bars throughout the day as well as the moonshine easter egg hunt and whatever other dumb shit we feel like doing.
So if this stripped down version of Escape to Hazzard County sounds like fun to you, then by all means buy a ticket and come party with us. We're pretty sure all the van dudes have been doing it like this the whole time anyway. BUT... If you're one of those hard core Instabikers that needs us to do everything because you can't figure out how to tie one night's worth of shit to your sissy bar, then just stay home... it'll be one less conversation we have to have about why you can't start a forest fire with fireworks and one MORE conversation we get to have with someone about the killer rig they rode in on.