Location
Sanctuary Retreat
72 Holt Rd, Garners Beach
Mission Beach, QLD 4852
Australia
Refund policy
Refunds up to 30 days before event
Eventbrite's fee is nonrefundable.
"Escape the Winter" Yoga and Meditation Retreat
About this event
Enjoy eight days of tranquility and rest at Sanctuary Retreat, nestled amongst the lush tropical rainforest and secluded beaches adjacent to Mission Beach and the Great Barrier Reef.
You'll stay in delightful rainforest canopy cabins or huts, be treated to delicious vegetarian fare (as you look out over the Coral Sea) and enjoy a program of user-friendly meditation, yoga and walks through the rainforest and along the beach.
The retreat provides you with a chance to get away for a week and to relax, recharge and reflect.
If you've never been on a meditation retreat before, this is a great place to start — and if you are new to meditation and mindfulness you'll be gently eased into the practice with simple, user-friendly techniques and expert instruction. The atmosphere will be friendly and light-hearted, and the schedule allows plenty of time for rest, reading, naps, a dip in the salt-water pool or a stroll along secluded beaches.
For more experienced practitioners there will be talks and discussions on a variety of topics customised to your needs.
You will also have the opportunity to join us on short hikes along the beach and through the rainforest and in a variety of practices designed to stretch, loosen and nourish the body.
With secluded beaches meeting the Great Barrier Reef, unique accommodation, a dedicated meditation and yoga space, massage and delicious cuisine, Sanctuary Retreat is an unspoilt paradise and perfect winter escape.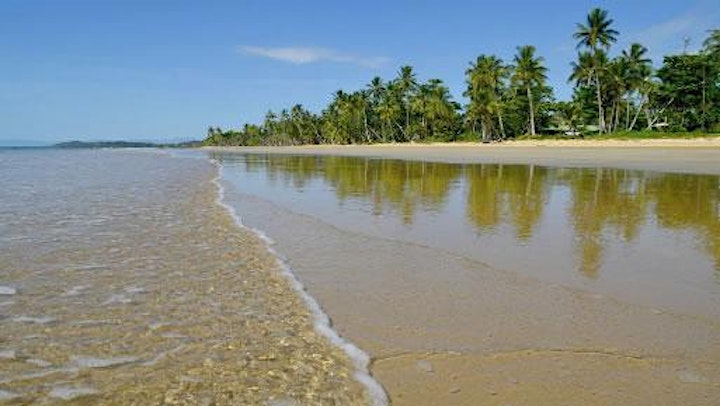 ACCOMMODATION
You can choose between two delightful and unique accommodation options at the Sanctuary Retreat. Each option is available as a single or twin/double share room. View detailed descriptions and photographs.
Rainforest Hut with Alfresco En-Suite
Single: $2100
Twin / Double: $1850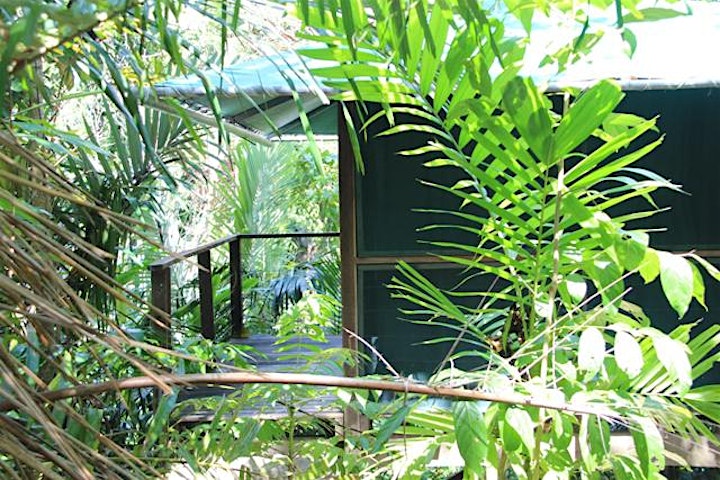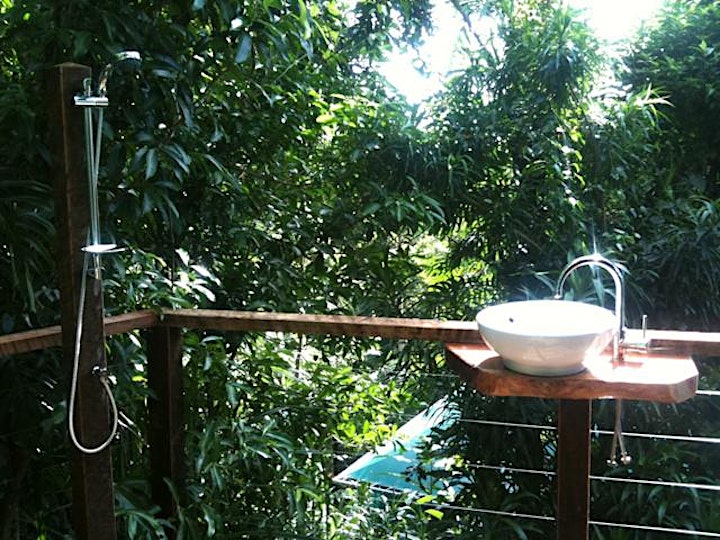 Deluxe Canopy Cabin
Single: $2550
Twin / Double: $2100
IMPORTANT NOTE (updated April 2022): All Deluxe Canopy Cabin are now fully booked.
There are still few spots in the Rainforest Hut with Alfresco En-suite.

MEALS
All meals are provided, including a variety of teas, coffee and snacks. We can cater for those with special dietary needs, including those requiring vegan or gluten, wheat and dairy-free meals. View a sample menu or take a virtual tour of the dining room.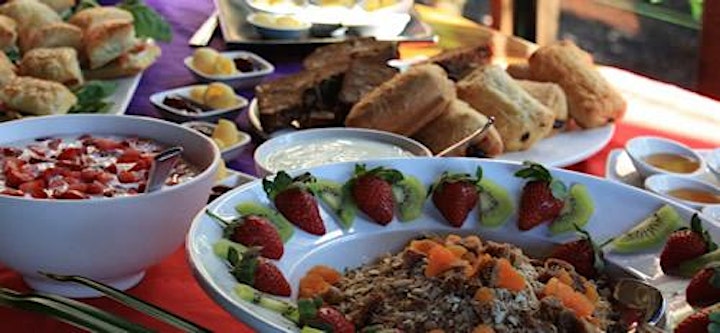 WHAT TO EXPECT
At this retreat there will be periods of meditation, yoga, qigong, talks and group discussion. Free time will be given for participants to walk, swim, read and take time off.
What's included:
7 nights accommodation.
3 healthy and hearty vegetarian meals per day.
Tea and coffee station and a selection of snacks and fruit available all day.
Dinner on the day of arrival and breakfast on the day of departure.
Daily meditation (sitting and moving meditation).
Daily yoga (nourishing yin yoga and slow vinyasa flow with variations to cater for complete beginners as well as for more advanced practitioners).
Integrative Qigong.
Meditation and mindfulness instruction for all levels.
Walks and hikes along the coast and through the rainforest.
Private space to practice meditation and yoga.
Yoga mat and props. You can bring your own if you prefer.
Access to secluded beach and swimming pool.
Charter bus to and from Cairns airport.
Not included:
Flights to and from Cairns.
Extra snacks/drinks.
Travel insurance.
Massage (optional treatment).
Please check Queensland Government travel requirements before booking.
Note: If you wish to spend extra time (before or after the retreat) on location, just let us know and we will organise it for you.
Please note that we encourage participants to engage in 'respectful quiet'. This isn't a demand for silence, but rather, an invitation to take a break from continual chat and to enjoy the relative quiet available on retreat. Accordingly, we invite you to engage in conversation during scheduled meetings and discussions, but to minimise talk at other times. Of course, you are welcome to chat on walks away from the retreat centre.
ACCESS
Sanctuary Retreat is situated on a ridge within the Clump Mountain National Park.
The paths to the meditation/yoga hall, pool and some huts are quite steep.
Access to the retreat centre (from the carpark) is via a steep 600m walking track which is the same track that you will need to walk to go to the beach.
Whilst trips to the beach can be arranged, and the retreat staff will be happy to carry your luggage to your room, participants with injuries or fitness / health issues may like to take these details into consideration before booking.
GETTING THERE
Sanctuary Retreat72 Holt Rd, Garners Beach, Mission Beach.
You will need to arrange flights to and from Cairns.
A shuttle bus to and from Cairns airport has been arranged (at no extra charge to you):
Shuttle bus to the retreat centre will depart Cairns airport at 2pm on Sunday 19 of June 2022.
Shuttle bus will arrive at Cairns airport around 11am for departing flights on Sunday 26 of June 2022.
Please check Queensland Government travel requirements before booking.
REGISTRATION / BOOKINGS
* Prices are per person and include food, accommodation, fees for tuition and charter bus to and from Cairns airport. (Flights not included).
To register for the retreat simply pay the required $250 deposit.
Once the deposit has been received we will email you to arrange the details of your booking, at which time you can choose your accommodation and let us know about your dietary requirements.
If you have any questions please email theyogaexplorer@gmail.com
CANCELLATION POLICY
If YOU have to cancel for any reason:
Cancellation fee = $150 (if we find a replacement) or $200 (if we can't find a replacement).
No cancellations within 21 days of the retreat.
If WE have to cancel, the following cancellation fees apply:
Between 21 and 14 days before the start date: Cancellation fee = 15% of the total retreat cost.
Between 14 and 7 days before the start date: Cancellation fee = 25% of the total retreat cost.
Between 7 and 0 days before the start date: Cancellation fee = 35% of the total retreat cost.
Note: Cancellation fees apply because we have to pay for catering and accommodation whether or not the retreat goes ahead.
Please check Queensland Government travel requirements before booking.