| | |
| --- | --- |
| Escape from the Walled City in New York City - Real Escape Game x Attack on Titan | |
Event Details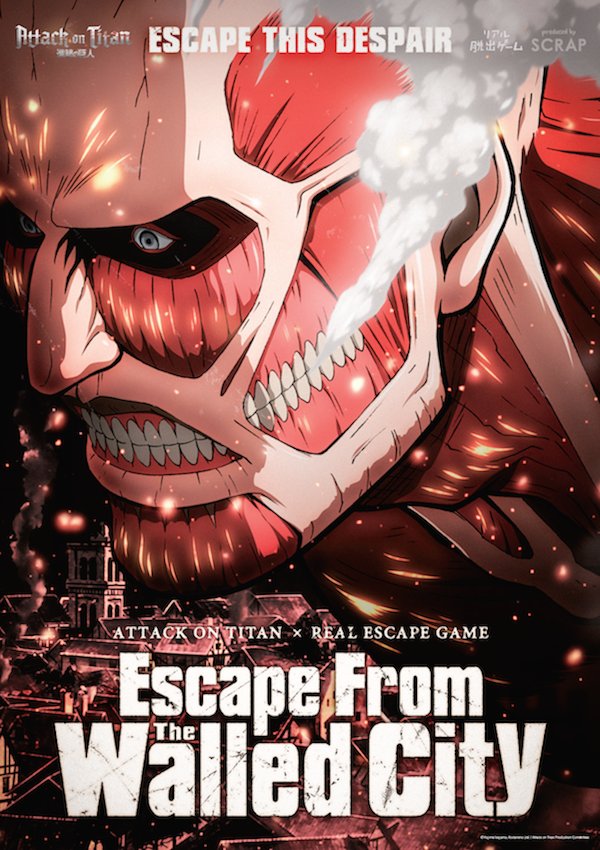 Real Escape Game in New York
Escape from the Walled City
Real Escape Game x Attack on Titan
After training to become a scout in the Survey Regiment, the day of the Initiation Ceremony for the Trainee Squad has arrived. Suddenly, in the middle of the ceremony, the emergency alarm blared out. Titans are invading the city! Screams, hollers, and clamors…The Walled City was instantly turned into hellish chaos.
The gates of the city will be closed in one hour. You have to escape from the Walled City at all costs. Will you be able to solve all the mysteries and escape this despair?

Information
SCRAP'S DREAM COLLABORATION DROPS PLAYERS
IN A STADIUM IN ITS LARGEST GAME YET!
The titans are coming, and they're hungry. Based on the manga megahit, Attack on Titan, the newest Real Escape Game (REG) takes players to a world inhabited by giant, humanoid creatures that live for no other purpose than to make a snack of all of us. The high walls of the stadium are the only thing keeping you safe… for now. Experience the latest edition of SCRAP's interactive storytelling and puzzle-solving games, ¨Escape from the Walled City,¨ on a scale never seen before. Join thousands of other players as you decode clues inside a real stadium! Each REG requires participants to use their best detective skills as they race against the clock. Be warned, though: survival isn't easy, and teamwork will be essential if you hope to survive. Escape or not, the game is going to be killer! This event will be held in stadiums in San Francisco, Los Angeles, and New York. After already hosting over 40,000 players in the US to date, the SCRAP team is excited to present a new project with such a grand scope, keeping them at the forefront of live escape entertainment!
Date & Time(PST)
2015 Saturday, April 11th, 10:30am / 2:30pm / 6:30pm 
* Each event lasts approximately 1.5 hours (Including introduction and solution walkthrough).
* The door will open 60 minutes earlier than the above times. Participants that are late after the game has already started will not be allowed in – due to inconvenience to other players.  
Venue
Richmond County Bank Ballpark
75 Richmond Terrace, Staten Island, NY 10301
Ticket
Advanced $30
Door $35
* Children under 6 years of age are free of admission, but must be accompanied by an adult.
* Children under 13 years of age must be accompanied by an adult to enjoy the game to its fullest.
* Ticket price is per person. All attendees will need a ticket to enter the stadium. 
* All sales are final. Once the booking is confirmed, refunds, cancellations or reschedules are not accepted. Please confirm everything before purchasing the ticket.
About Attack on Titan
Attack on Titan (進撃の巨人 Shingeki no Kyojin) is a Japanese manga written and illustrated by Hajime Isayama. Devastated by insatiable man-eating giants called Titans, the entire human race has retreated to the safety of a single city protected by 164 ft-high walls. But with the appearance of an immense Titan, humanity realizes that its defenses may no longer be enough, and it teeters on the brink of extinction.
©Hajime Isayama,Kodansha/"ATTACK ON TITAN" Production Committee. All Rights.
Notes
-For this game, there is no team size limit. You can play by yourself or feel free to team up. However, playing the game with 3 to 6 people would be suitable for the game experience.
-All aspects of the game will be conducted in English. The puzzles require no special skills or knowledge to solve. Knowledge of Attack on Titan is not necessary to play but will make your game experience more enjoyable. So watch the anime or read the manga and prepare!
-Detective style clothes might help to sharpen your mind. Wear comfortable clothes but refrain from wearing heels. Since you will walk around the filed, heels are stirctly prohibited due to the stadium rule. 
-Cosplay is welcome and a great way to immerse yourself in the Attack on Titan story! Please follow the guidelines below:

Movement around the stadium is required, please wear clothing comfortable for movement.

Weapon props are prohibited.

No high heels or spiked heeled shoes are allowed in the stadium.

      
      Just remember that speed is important for escaping, do not bring or wear anything that will slow you down!
 -The event will take place even in rain. Further announcement will be updated on our website and our official Facebook page, if it is difficult to hold the event due to unexpected circumstances such as a natural disaster.
-All games in San Francisco, Los Angeles, and New York are same. The players can participate in only one game during this period.
-You can take a photo of the clues during the game. However, please do not upload the spoilers to the internet or Social Media or tell other people the answers or puzzles. That is not cool.
-The amount of time you have to escape might be too short. However, failure to do so is nothing to be embarrassed about. Those mysteries are quite tough.
-Do not worry if you are unable to escape within the time limit. We will still allow you to leave, keeping you in the venue against your will is breaking the law.
-The prize is the priceless moment when you finally find the solution and everything falls into place. And you will be honored.  
EVENT DISCLAIMER
I have read and understand the information regarding this event and understand that I participate in this event at my own risk. I hereby attest and verify that my physical condition will allow me to participate in this event. I agree to comply with the rules and directions of event officials and their personnel. I hereby allow the use of my name and image to be used in the media and for marketing purposes, and accept that my details will be added to the total event database. I hereby acknowledge this waiver, release and indemnity discharge all persons, corporations, associations and bodies involved or otherwise engaged in promoting or staging the event and their servants, agents, representatives, officers and employees. This includes but is not limited to SCRAP Entertainment Inc, the various committees, members, and employees of all independent contracted suppliers to the event, local and regional councils, cities and districts and their respective officers, directors, employees, independent contractors, representatives, agents, volunteers, event organizers and sponsors whether or not the loss, injury or damage is attributed to the act or neglect of any or more of them.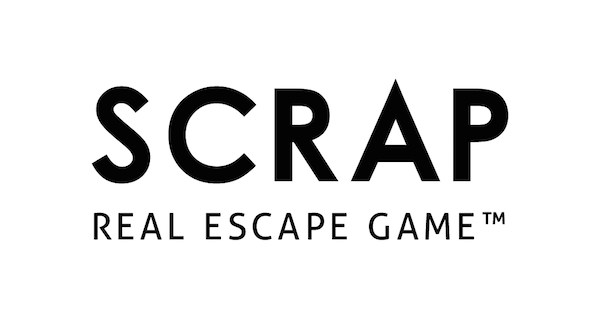 When & Where

Richmond County Bank Ballpark
75 Richmond Terrace
Staten Island, NY 10301


Organizer
SCRAP Entertainment Inc.
Headquarters: San Francisco
Game locations: San Francisco, San Jose, Los Angeles, Toronto.


SCRAP Corp., founded in Kyoto, Japan, has been creating immersive and adventurous puzzle events since 2007. It produced the world's first live action escape game, REAL ESCAPE GAME (REG) in Japan. 
Since then, more than 1,000,000 participants have played in multiple 
cities across Japan, China, Singapore, Spain, France, Canada, and the US. Some of our REGs have been played by several 
thousand participants at massive arena venues including AT&T Park, Tokyo Dome, and Fuji-kyu Highland Amusement 
Park.
SCRAP Entertainment Inc has been bringing unique live entertainment to North America since 2012. Our games revive 

players' childlike desire for adventure through a new kind of experience. The blend of newness 

and nostalgia has a universal appeal, inspiring participants around the world to immerse 

themselves in different worlds, and bring a renewed sense of wonder to their own daily lives.
Real Escape Game Created by SCRAP™ is a registered trademark of SCRAP.
Escape from the Walled City in New York City - Real Escape Game x Attack on Titan