Escape from the Mysterious Room - Real Escape Room SF vol.1

Multiple Dates
Event Details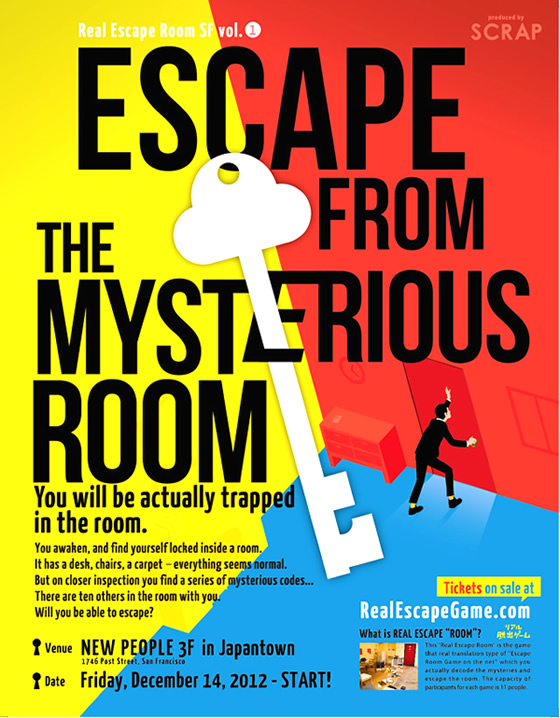 You will be actually trapped in the room.
Real Escape Room SF vol. 1
You awaken, and find yourself locked inside a room.
It has a desk, chairs, a carpet — everything seems normal. But on closer inspection you find a series of mysterious codes… There are ten others in the room with you.
Will you be able to escape?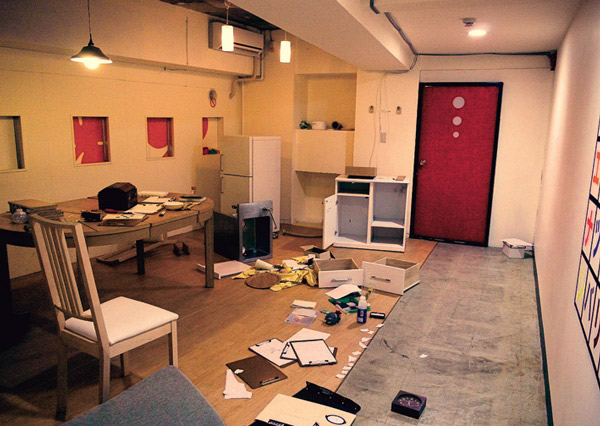 ---
The origin of Real Escape Game from Japan.
The door will actually be locked. After you enter the room, you will start to look for the clues under a table, move a sofa, gather strange items, find cryptic codes, and — if you were able to solve all the mysteries, you will open the last door with your own hands.
The max number of participants for each game are limited to 11 people. Teamwork will definitely be crucial for escape.
As other Real Escape Games, the mystery is challenging. Hopefully, victory at the defining moment when the mystery is solved is your's for the taking!
---
Date & Time
Wednesays
 & 
Thursdays
: 6:30
pm
, 8:30
pm
Fridays
: 4:30
pm
, 6:30
pm
, 8:30
pm
Saturdays: 10:30am, 12:30pm, 3pm, 5pm, 7pm
Sundays: 10:30am, 12:30pm, 3pm, 5pm

*The game will start at the times listed above. Doors will open 15 minutes before the game starts. Participants arriving after the game has already started will not be admitted since it would spoil the fun for other participants. Please try not to come late!

* Event duration is around 1.5 hours (Including the introduction and solution walkthrough).
Tickets
Advanced: $28
Door $33
* Max capacity for each game is 11 people. All participants of the same slot will be one team to solve the mystery. Single players are also welcome. It is not necessary for participants to make a team of 11 people in order to play.
* If you would like to make a team with your friends and do not want other players join you, please purchase all the tickets of a certain time slot, which is 11 tickets. We recommend to purchase 11 tickets at once before other person purchase the ticket for the slot. If you cannot purchase all 11 tickets, it means someone has already purchased 1 or more tickets for that time slot.  You can put your names on all of the tickets. You can also change the names at the Eventbrite after you got the ticket. Check the Eventbrite Help page.
* If you would like to hold a private event for your group or company on the daytime, please contact us. We may be able to accomodate the special slot with extra fee. 
* The ticket price is for 1 participant. Please purchase a ticket for each person.
* All aspects of the game will be conducted in English. The puzzles require no special skills or knowledge to solve. The only thing required is use of intuitive logic and deductive reasoning.
* Players can participate in only one game of this scenario.
* No spoiler, please!
* Children under 18 years of age are required the sign of their parent/guardian to the waiver. 
* Children under 13 years of age must be accompanied by an adult to enjoy the game to its fullest.
* Children under 6 years of age are free of admission.
* All sales are final. Once the booking is confirmed, refunds, cancellations or reschedules are not accepted.
EVENT DISCLAIMER
I have read and understand the information regarding this event and understand that I participate in this event at my own risk. I hereby attest and verify that my physical condition will allow me to participate in this event. I agree to comply with the rules and directions of event officials and their personnel. I hereby allow the use of my name and image to be used in the media and for marketing purposes, and accept that my details will be added to the total event database. I hereby acknowledge this waiver, release and indemnity discharge all persons, corporations, associations and bodies involved or otherwise engaged in promoting or staging the event and their servants, agents, representatives, officers and employees. This includes but is not limited to SCRAP Entertainment Inc, the various committees, members, and employees of all independent contracted suppliers to the event, local and regional councils, cities and districts and their respective officers, directors, employees, independent contractors, representatives, agents, volunteers, event organizers and sponsors whether or not the loss, injury or damage is attributed to the act or neglect of any or more of them. 
Where

Real Escape Room SF I at New People
1746 Post Street
San Francisco, CA 94115


Multiple Dates
Add to my calendar
Organizer
SCRAP Entertainment Inc.
Headquarters: San Francisco
Game locations: San Francisco, San Jose, Los Angeles, Toronto.


SCRAP Corp., founded in Kyoto, Japan, has been creating immersive and adventurous puzzle events since 2007. It produced the world's first live action escape game, REAL ESCAPE GAME (REG) in Japan. 
Since then, more than 1,000,000 participants have played in multiple 
cities across Japan, China, Singapore, Spain, France, Canada, and the US. Some of our REGs have been played by several 
thousand participants at massive arena venues including AT&T Park, Tokyo Dome, and Fuji-kyu Highland Amusement 
Park.
SCRAP Entertainment Inc has been bringing unique live entertainment to North America since 2012. Our games revive 

players' childlike desire for adventure through a new kind of experience. The blend of newness 

and nostalgia has a universal appeal, inspiring participants around the world to immerse 

themselves in different worlds, and bring a renewed sense of wonder to their own daily lives.
Real Escape Game Created by SCRAP™ is a registered trademark of SCRAP.
Escape from the Mysterious Room - Real Escape Room SF vol.1