Description
Crack the Vault.
You, an illustrious band of thieves, crept into the bank. Everything went fine. You broke through the sophisticated security system. Finally, you reached the bank vault where the top-secret document was hidden. As you were about to open the lock, the security alarm blared out through the bank!
Now, the security guards are approaching. The doors are locking one after another. You are trapped in the maximum-security vault. Escape from the Bank before you get caught!
What is this event exactly?
Real Escape Game is a live, puzzle-oriented entertainment event! It is unlike an escape room in that there are many teams, each with six people, all sharing one room. Please arrive early if you want to be placed on a team with your friends. In some cases, we may need to shuffle players around to ensure team fairness. Single players are also welcome. All aspects of the game will be conducted in English. The puzzles require no special skills or knowledge to solve. The only thing required is use of intuitive logic and deductive reasoning.
You have 60 minutes to find the clues, solve the puzzles, and escape not the physical room but the situation instead. Real Escape Games are held in all sorts of fun venues with tons of different themes. Each game can only be played once – don't miss these limited engagements!
Federal Bar Long Beach -
The building used to be the Security Pacific National Bank. After decades, it reopened in 2013 as a restaurant and music venue where still holds an old monumental vault doors.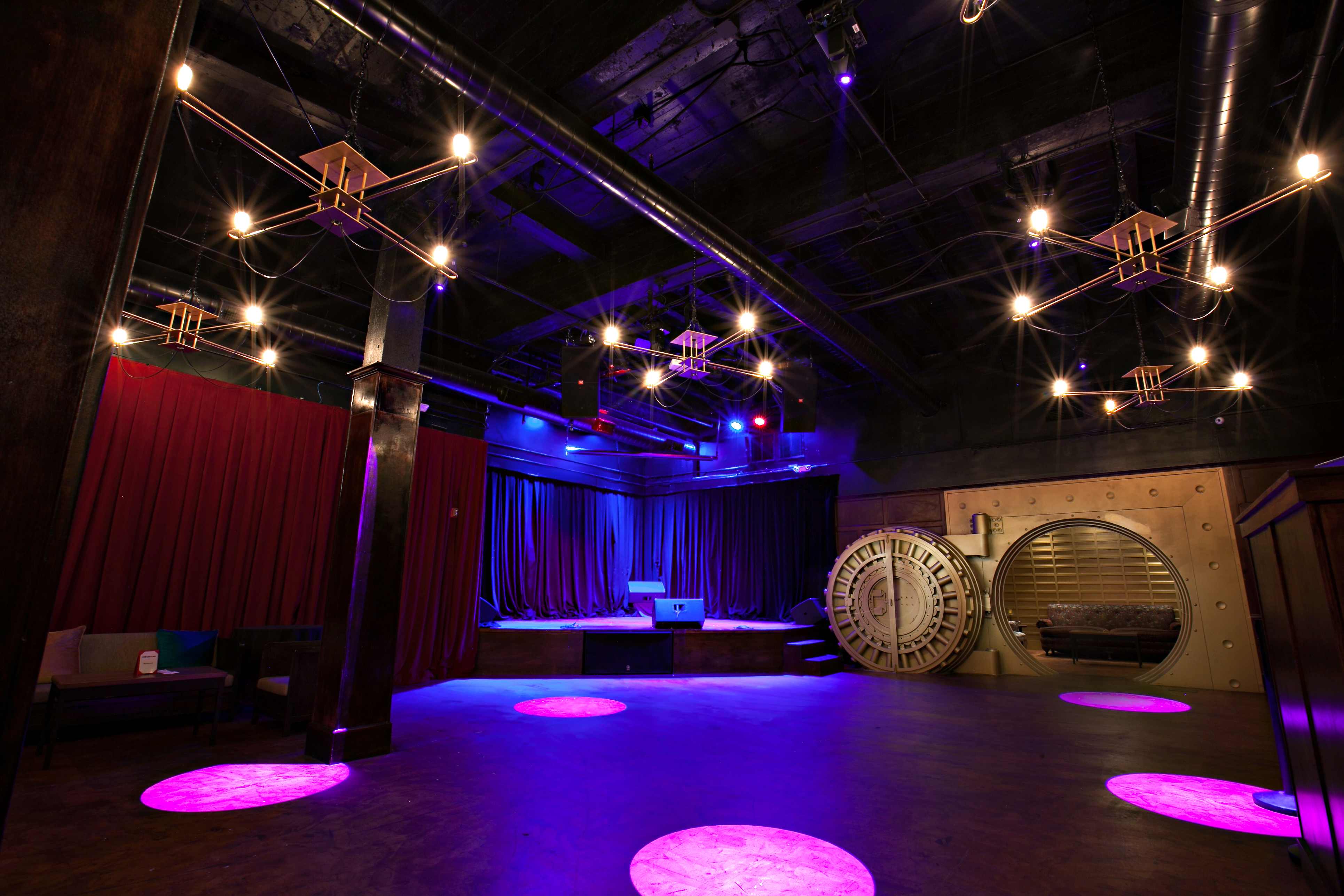 Players
The team size is usually 6 per team.
* Children under 6 years of age are free of admission, but must be accompanied by an adult.
* Children under 13 years of age must be accompanied by an adult to enjoy the game to its fullest.


Event Duration
1.5 hours
*including the introduction and solution walkthrough


Open Dates
Sat, September 17th - 1:00pm / 4:00pm / 7:00pm
Sun, September 18th - 11:00am / 2:00pm / 5:00pm / 7:30pm
*Doors open 30 minutes before above times. You may not be able to play the game if you are late for your start times.
Venue
The Federal Bar Long Beach
102 Pine Ave., Long Beach, CA 90802
Tickets
Advanced - $29
At the Door - $35
* The players can participate in only one game during this period.
* ALL SALES ARE FINAL. Please be aware that our game is a live event, so once the booking is confirmed, refunds, cancellations or reschedules are not accepted.
Notes
1. This is a game event that requires you to use your detective's mind and your powers of deduction to escape.
2. Gather items, find codes, and solve all the puzzles.
3. You can team up with other players. Strategize and cooperate – more heads are definitely better than one.
4. The amount of time you have to escape might be too short. However, failure to do so is nothing to be embarrassed about. The mysteries are quite tough.
5. Do not worry if you are unable to escape within the time limit. We will still allow you to leave, keeping you in the venue against your will is breaking the law.
6. Detective style clothes might help to sharpen your mind. Wear comfortable clothes but refrain from wearing heels or anything else that will slow you down. A wheelchair would not be accessible due to the nature of game structure.
7. If you want training before the actual game, google "Escape Game". There are many Escape games on the internet you can try.
8. Please do not spoil the fun for other participants by telling them the answers to the puzzles. That is not cool.
9. The prize is the priceless moment when you finally find the solution and everything falls into place.
Please click "Going" and let your friends know this special event!
https://www.facebook.com/events/192408137827719/
EVENT DISCLAIMER
I have read and understand the information regarding this event and understand that I participate in this event at my own risk. I hereby attest and verify that my physical condition will allow me to participate in this event. I agree to comply with the rules and directions of event officials and their personnel. I hereby allow the use of my name and image to be used in the media and for marketing purposes, and accept that my details will be added to the total event database. I hereby acknowledge this waiver, release and indemnity discharge all persons, corporations, associations and bodies involved or otherwise engaged in promoting or staging the event and their servants, agents, representatives, officers and employees. This includes but is not limited to SCRAP Entertainment Inc, the various committees, members, and employees of all independent contracted suppliers to the event, local and regional councils, cities and districts and their respective officers, directors, employees, independent contractors, representatives, agents, volunteers, event organizers and sponsors whether or not the loss, injury or damage is attributed to the act or neglect of any or more of them.