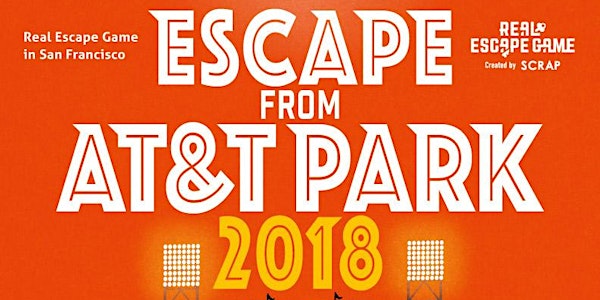 Escape from AT&T Park 2018 - Real Escape Game in San Francisco
When and where
Location
AT&T Park 24 Willie Mays Plaza San Francisco, CA 94107
Description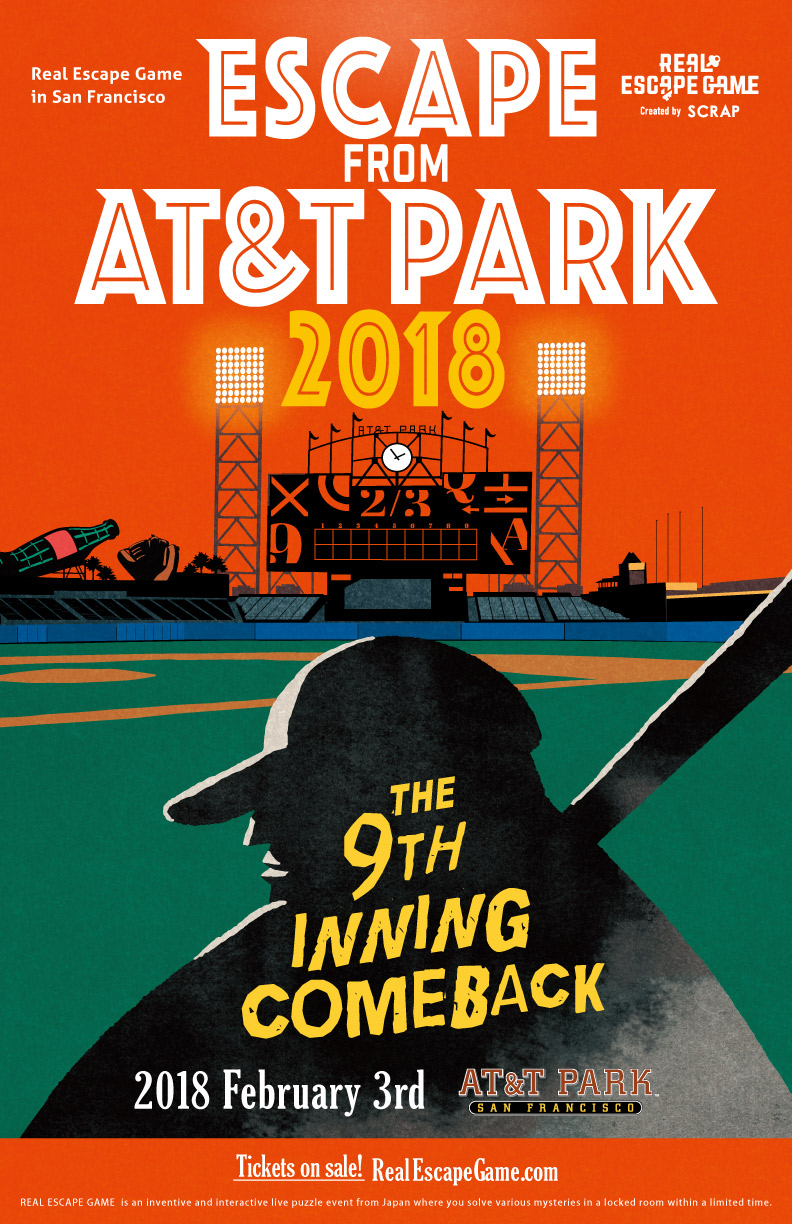 Real Escape Game in San Francisco
Escape from AT&T Park 2018: The 9th Inning Comeback
Information
Real Escape Game is a live, puzzle-oriented entertainment event. Unlike the Real Escape Rooms, in Escape from AT&T Park there is no team limit, feel free to team up with other players. You have 60 minutes to scour the ballpark for clues and solve the puzzles! Escape from AT&T Park is specially designed for AT&T Park and will only be played for this one day - don't miss out!

Date & Time(PST)
2018 Saturday, February 3rd, 11:00am / 3:00pm / 7:00pm
* Each event lasts approximately 1.5 hours (Including introduction and solution walkthrough).
* The doors will open 45 minutes earlier than the above times. Participants that are late after the game has already started will not be allowed in due to inconvenience to other players.
Venue
AT&T Park
24 Willie Mays Plaza, San Francisco, CA 94107
Ticket
Advanced $38
Door $45
* Children under 6 years of age are free of admission, but must be accompanied by an adult.
* Children under 13 years of age must be accompanied by an adult to enjoy the game to its fullest.
* Ticket price is per person. All attendees will need a ticket to enter the stadium.
* All sales are final. Once the booking is confirmed, refunds, cancellations or reschedules are not accepted. Please confirm everything before purchasing the ticket.
Notes
1. For this game, there is no team size limit. You can play with a small group or team up. However, playing the game with 3 to 6 people would be a suitable team size for the game experience.
2. All aspects of the game will be conducted in English. The puzzles require no special skills or knowledge to solve.
3. Wear comfortable clothes suitable to active movement around the stadium, but refrain from wearing heels. Heels are strictly prohibited and will not be granted access inside the stadium due to the ballpark's regulations.
4. Costumes are welcomed but please keep in mind the above rule.
5. The event will take place even in rain. Further announcements will be made on our website and our official Facebook page if it is difficult to hold the event due to unexpected circumstances, such as a natural disaster.
6. You can take photos of the clues during the game. However, please do not upload the spoilers to the internet or on Social Media or tell other people the answers or puzzles. That is not cool.
7. The amount of time you have to escape is only 60 minutes. However, failure to do so is nothing to be embarrassed about. Some of the puzzles and mysteries will be quite tough.
8. Do not worry if you are unable to escape within the time limit. We will still allow you to leave. Keeping you in the venue against your will is breaking the law.
9. The ultimate prize is the priceless moment when you finally find the solution and everything falls into place. This is the greatest honor and achievement in a Real Escape Game.
EVENT DISCLAIMER
I have read and understand the information regarding this event and understand that I participate in this event at my own risk. I hereby attest and verify that my physical condition will allow me to participate in this event. I agree to comply with the rules and directions of event officials and their personnel. I hereby allow the use of my name and image to be used in the media and for marketing purposes, and accept that my details will be added to the total event database. I hereby acknowledge this waiver, release and indemnity discharge all persons, corporations, associations and bodies involved or otherwise engaged in promoting or staging the event and their servants, agents, representatives, officers and employees. This includes but is not limited to SCRAP Entertainment Inc, the various committees, members, and employees of all independent contracted suppliers to the event, local and regional councils, cities and districts and their respective officers, directors, employees, independent contractors, representatives, agents, volunteers, event organizers and sponsors whether or not the loss, injury or damage is attributed to the act or neglect of any or more of them.