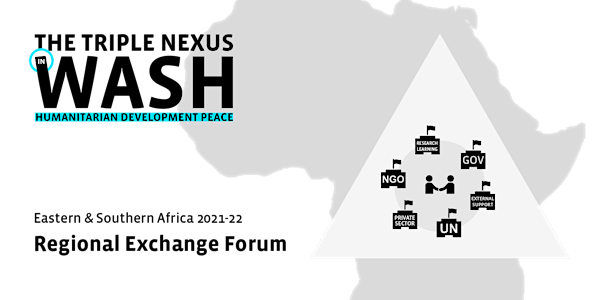 ESA Region - High-level Exchange: Building WASH Resilience & Sustainability
The WASH Hum-Dev-Peace-Nexus in the ESA Region: Learning Event & High-level Roundtable to validate Practice-to-Policy Recommendations
By German WASH Network & GWC & SWA & UNICEF
Date and time
Wed, 2 Mar 2022 02:00 - 05:30 PST
About this event
The global Triple Nexus in WASH - Initiative invites to the Regional Exchange Forum "Building WASH Resilience and Sustainability" for the Eastern & Southern Africa region (ESA).
During the event a high-level multi-stakeholder round table will review policy recommendations identified through a locally led preparatory process and to provide advice on how to operationalise these recommendations. Within the context of fragile and conflict affected settings, the recommendations will enable safe WASH service delivery and safe WASH practices within the community in and out of crisis (sustainability and resilience) and ensure the entire community is captured including vulnerable groups such as IDPs, migrants and refugees (inclusion, leave no one behind).
The multi-stakeholder round table participation will consist of high-level representatives from the East and Southern Africa region, targeting all constituencies (government, external support, financing institutions, CSO, utilities, private sector as well as research and learning).
Programme
13:00 – 13:05 - Introduction
Thilo Panzerbieter - Chair of the German WASH Network, Co-Lead of the Triple Nexus in WASH Initiative
13:05 – 13:10 - Welcome remarks
Sareen Malik – Vice Chair of Steering Committee of SWA, Executive Secretary of the African Civil Society Network for Water and Sanitation (ANEW)
13:10 – 13:20 - WASH triple nexus: what's it all about?
Tim Grieve - Independent Consultant, German WASH Network
13:20 – 14:20 - Challenges and solutions: Case studies from East and Southern Africa
Steven Mudhuviwa – Head of Programme Management Unit, Regional Open WASH Program (R-WASH), UNICEF & UNHCR
Augustin Habimana - Gisenyi Hub & Kigali Hub, Rwanda
Aisha Hamza - North East Nigeria Hubs & Arua Hub, Uganda
Daniel Akudo - Teso Hub & Moroto Hub, Uganda & Northern Kenya Hub
14:20 – 14:45 Break
14:45 – 15:00 - Practice to policy: Key findings of the WASH triple nexus practitioner stream
Andrew Boku Dibo, Project Manager, Sign of Hope, Northern Kenya
Abubakar Garba Ngulde, Director/Program Coordinator, Ngulde Global Foundation, North East Nigeria
Phillip Justine Obaate, District Water Officer, Amuria District (Teso), Uganda
15:00 – 16:15 - Operationalise the WASH triple nexus: High-level Round Table 
Dr. Callist Tindimugaya – Commissioner, Directorate of Water Resources Management, Ministry of Water and Environment, Uganda
Eng. T. Mutazu - Chief Director Water Resources, Irrigation Development and National WASH Coordination, Ministry of Lands, Agriculture, Fisheries, Water and Rural Development, Zimbabwe
Dr. Tanko Yussif Azzika – Senior Policy Advisor, African Ministers` Council on Water (AMCOW)
Neil Cole – Executive Secretary, Collaborative Africa Budget Reform Initiative (CABRI)
Rebecca Jean Gilsdorf - Water & Sanitation Specialist, World Bank (Kinshasa)
Eng. Peter Njaggah Director Licensing, Standards & Advocacy, Water Services Regulatory Board Kenya (WASREB)
Steven Mudhuviwa – Head of Programme Management Unit, Regional Open WASH Program (R-WASH), UNICEF & UNHCR
David Githiri Njoroge - Senior Technical Coordinator for Uganda, UNHCR
Barbara Schreiner – Executive Director, Water Integrity Network
Damien Blanc – Regional WASH and Shelter & Settlements Coordinator, ECHO Nairobi
Tadesse Kebebew – Researcher, University of Geneva, Geneva Water Hub
Dr. Eng Silver Mugisha - Managing Director, National Water & Sewerage Corporation, Uganda, Vice President of the Executive Board of African Water Association (AfWA) (tbc)
Facilitator: Sam Godfrey - Regional Advisor WASH, focal point Climate, Energy and Environment UNICEF, Eastern and Southern Africa Regional Office (ESARO)
16:15 – 16:25 - Final words
Dr. José Schulz - Head of Division of Humanitarian Assistance - Operations, German Federal Foreign Office
Background
The WASH sectors in the ESA region are currently facing multiple crises such as the COVID pandemic, fragility or natural disasters and water scarcity resulting from climate change. There is increasing evidence that shows that a better collaboration between humanitarian, development and peace actors' sectors is required to address these challenges.
The forum led by the region and for the region aims to facilitate cross-country learning and to identify potential solutions to achieve collective WASH outcomes across the humanitarian, development and peace sectors. One of the core elements of the WASH humanitarian-development-peace nexus (Triple Nexus) is to promote coherence among the WASH sector practitioners and policy makers at all levels from regional to community. To promote this coherence, we are convening a regional consultative process, organised by regional host Sign of Hope, to identify those common challenges and recommendations with great potential for successful collaboration on the Triple Nexus.
Purpose
The session aims to:
Based on case studies from the preparatory practitioner stream, demonstrate challenges and solutions for implementing the triple nexus in the WASH sector in the ESA region
Based on policy recommendations from the practitioner stream, a high-level round table will review and provide advice on how to operationalise these recommendations.
Inform the ongoing development of the WASH Joint Operating Framework for the Triple Nexus
Audience
Overall participation in the event will be open to all WASH stakeholders, with a focus of participation of WASH practitioners as well as decision- and policy makers from the East and Southern Africa region.
Registration is open until 01 March 2022.
Date & Duration
02 March 2022 | 13:00 – 16:30 pm EAT
Convener & Sponsors
The event is convened by the German WASH Network, the Global WASH Cluster, Sanitation and Water for All (SWA), UNICEF and financially supported by the German Federal Foreign Office. The participatory preparation process (practitioner stream) was organised and facilitated by the GWN member organisation Sign of Hope.