Erudition and Lightness: Presentation of "Essays on Comparative Philology"...
Description
The Director of the Italian Cultural Institute
Silvio Marchetti
is pleased to invite you to
the presentation of the volume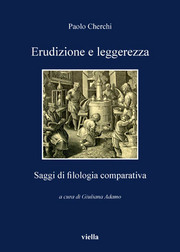 Erudizione e leggerezza
Essays on Comparative Philology by Paolo Cherchi
edited by Giuliana Adamo
Wednesday, November 14th
6pm
Italian Cultural Institute
500 N Michigan Avenue, Suite 1450
Chicago, IL 60611
Both Paolo Cherchi and Giuliana Adamo will participate in this presentation.
The essays gathered together in this volume offer a sample from the broad expanse of Paolo Cherchi's scholarship ranging over classical and contemporary times, Italian and Hispanic studies, examining the cultural realities of Europe and America, and moving between the languages of Latin and English, against the background of Cherchi's work in Romance Languages and Literatures. Avoiding the trap of reducing literary criticism to solely philological considerations, while nevertheless respecting the field when it has something new to say, the author has always kept his distance from literary theory, trusting instead the profound and rare insight that allows him to roam freely – with lightness and humor – through the various fields of the humanities. The thread that ties these essays together is woven from the sheer variety of Cherchi's interests, and constitutes an attempt to encapsulate his particular mode of combining philology and erudite comparative methodology that is at once unique and immensely valuable.

Paolo Cherchi has been Professor of Italian Literature at the University of Chicago and has taught at the University of Ferrara. His publications include: Capitoli di critica cervantina (Bulzoni 1977); Andreas and the Ambiguity of Courtly Love (Toronto University Press 1994); an edition of La piazza universale di tutte le professioni del mondo by Tommaso Garzoni (Einaudi 1996); Polimatia di riuso. Mezzo secolo di plagio (1539-1589) (Bulzoni 1998); La metamorfosi dell'Adone (Longo 1996); L'alambicco in biblioteca: distillati rari (Longo 2000); L'onestade e l'onesto raccontare del Decameron (Cadmo 2004); Le nozze di Filologia e Fortuna (Bagatto 2006); Verso la chiusura. Saggio sul Canzoniere di Petrarca (il Mulino 2008); La rosa dei venti. Una mappa delle teorie letterarie (Carocci 2011). He has also written works of fiction: L'amante ropalico e altri erostrati [1988] (EDES 2000; winner of the Giuseppe Dessì prize); Erostrati e astripeti (Il maestrale 2005).

Reservations kindly suggested. A reception will follow.

Please click here to see all of the Institute's upcoming events.

Special thanks to Acqua Smeraldina