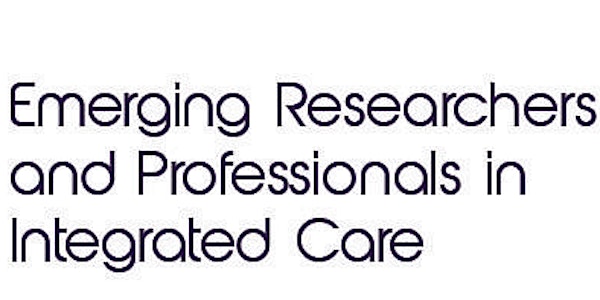 ERPIC Journal Club 2022 #1
The ERPIC Journal Club showcases current research and latest developments in integrated care across the globe.
About this event
The Emerging Researchers and Professionals in Integrated Care Journal Club showcases current research and latest developments in integrated care across the globe.
In ERPIC Journal Club we:
share learning about integrated care
keep updated on the latest developments internationally
connect and network internationally
How it works:
All ERPIC Journal Club meetings will be virtual and held via Microsoft Teams.
Attendees will be required to read and consider the paper prior to the meeting.
During the meeting the presenter will showcase the paper.
Group discussion and reflection will follow.
When is it?
Journal Club meeting 1:
Tuesday 1 Match 2022 | 6am EST; 12pm CET; 9pm AEST
Article presented at Journal Club meeting 1:
Exploring the Quality Paradigms in Integrated Care: The Need for Emergence and Reflection
Presenters: Wilma van der Vlegel
Link to meeting will be sent in tickets.
For more information ERPIC@integratedcarefoundation.org
Presenter bio
Wilma van der Vlegel is a participatory action researcher and trainer. She has been interested in integrated care for older adults as a nurse, senior health service manager and policy advisor on integrated care for many years. After her Master's degree in Integrated Care, at University of Applied Sciences Utrecht she became a professional doctorate student at the Uclan Univeristy of Central Lancashire and is in the final phase of her research on evaluation of a transitional care programme for older adults. As a participatory action researcher she mainly works in deprived neighborhoods in the Netherlands and focuses on health and social care.
Abstract:
Introduction and aim: There are four quality paradigms, of which the Empirical and Reference paradigm fit best in stable circumstances, and the Reflective and Emergence paradigms, which fit best in unstable circumstances. This study aims to explore the use of the four quality paradigms in integrated care, and to shed light on the different paradigmatic commitments and different perspectives on quality.
Methods: Peer-reviewed articles from the International Journal of Integrated care published between January 2015 and December 2019 were included in this study. For each article was determined in which paradigm it belonged. Additionally, the role of the patient and domain of impact in research, policy or practice in relationship to the paradigms were investigated.
Results: In total, 255 articles were assessed based on the four quality paradigms. 55 (21.6%) of the articles were placed in the Empirical paradigm, 147 (57.6%) in the Reference paradigm and 45 (17.6%) in the Reflective paradigm. The Emergence paradigm occurred the least (n = 8, 3.1%).
Discussion and conclusion: Of all reviewed studies, 80% were placed in the Empirical and Reference paradigm. This raises the question if the used research approaches are consistent with the complexity and contexts in the field of integrated care and support a personalised care approach. More awareness of all four paradigms and reflection on the used epistemologies is needed.
Keywords: Quality Paradigms; complexity; context; emergence; person-centred care; quality; values.