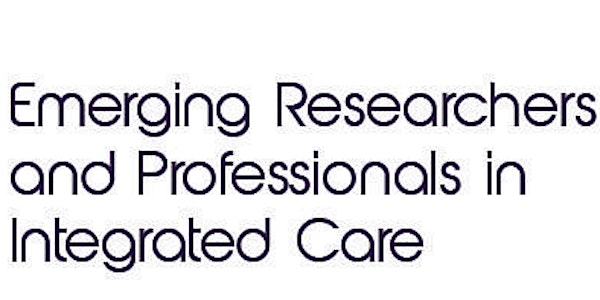 ERPIC Journal Club 1
The ERPIC Journal Club showcases current research and latest developments in integrated care across the globe.
About this event
The Emerging Researchers and Professionals in Integrated Care Journal Club showcases current research and latest developments in integrated care across the globe.
In ERPIC Journal Club we:
share learning about integrated care
keep updated on the latest developments internationally
connect and network internationally
How it works:
You must be an ERPIC member to participate in the Journal Club. Click here to become a member (free to join).
All ERPIC Journal Club meetings will be virtual and held via Microsoft Teams.
Attendees will be required to read and consider the paper prior to the meeting.
During the meeting the presenter will showcase the paper.
Group discussion and reflection will follow.
When is it?
The ERPIC Journal Club will be scheduled the first Tuesday of every second month during 2021 (starting 2 February 2021).
Journal Club meeting 1:
Tuesday 2 February 2021 | 6am EST; 12pm CET; 9pm AEST
Article presented at Journal Club meeting 1:
Miller R., Stein K.V. (2020). The odyssey of integration: Is management its Achilles' heel?. International Journal of Integrated Care. Vol.20(1):7. DOI: http://doi.org/10.5334/ijic.5440
Authors Dr Robin Miller & Asst. Prof Viktoria Stein will present.
Link to meeting will be sent in tickets.
For more information ERPIC@integratedcarefoundation.org
Presenter bios
Dr Robin Miller:
Robin is the Professor of Collaborative Learning at the University of Birmingham. He leads on a variety of applied research projects within health and care, with a particular focus on evaluating and learning from change initiatives. Robin has considerable experience of developing leadership programmes for managers and practitioners within health and social care. He is the Joint Editor in Chief of the International Journal of Integrated Care , an advisory group member of the European Primary Care Network, and a Senior Fellow of the School for Social Care Research. Prior to his academic career Robin was a practitioner, manager and commissioner, and has served as a non-executive director and chair of trustees within housing and charitable sectors.
Asst. Prof Viktoria Stein:
Viktoria is the co-founder and co-CEO of VM Partners Integrating Health and Care, joint editor-in-chief of the International Journal of Integrated Care, and assistant professor for population health management at Leiden University Medical Centre in the Netherlands. Her experience in academia, international organisations, private and third sectors, has given Viktoria a comprehensive understanding of the diversity of stakeholders in integrated care, and the challenges of local, regional and national policy design and project implementation in such diverse settings as Austria, Australia, Brazil, or Malaysia. She has done extensive work as a consultant and expert for international agencies like the World Health Organisation, World Bank, the European Commission, and Accreditation Canada. One of her passions is teaching and creating learning environments, which has been a focus throughout her career.
Abstract:
Title: The odyssey of integration: Is management its Achilles' heel?
Introduction: The importance of management to the implementation of integrated care is recognised in evidence and practice. Despite this recognition, there is a lack of clarity about what 'good' management of integrated care looks like, if the competences are different to management for 'traditional' care, and how such competences can be acquired.
Theory and methods: This exploratory study is based on qualitative interviews with participants with extensive experience of implementing integrated care in senior professional, research, administrative and/or policy roles. It conceptualises management as working at 'strategic' and 'operational' levels.
Results: Management of integrated care was seen to require an ability to create networks across professions and organisations, to be comfortable with distributing responsibilities, and to thoroughly understand the wider system. Competences to support these new ways of working included an understanding of how to implement people-centredness, to have courage to challenge the status quo, and to demonstrate humility to learn from others. Structured development opportunities for managers were lacking, but seen as vital for the sustainability of change.
Discussion and conclusion: Management for integrated care remains an underdeveloped concept and practice. A first formulation of the competences necessary was achieved, but more work is urgently required to understand how to better prepare and support managers to achieve necessary changes in practice and culture.