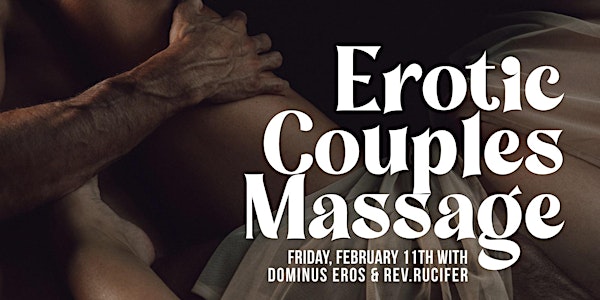 Erotic Couples Massage - Valentine's Edition!
NOTE: This event is for couples only (or triads/quads etc..), no singles. open to all genders, orientations and lifestyles. Hands on class!
When and where
Location
Dawn 1406 38 w 32nd street suite 1406 new york, NY 10001
About this event
Note: Keeping with Eventbrite guidelines, this event is not sex based, hookup style, explicit or pornographic. This an educational workshop and experience with both theory and practical elements as explained in details below.
NOTE: This event is for couples only (or triads/quads etc..), no singles. open to all genders, orientations and lifestyles.
Facilitated by Dominus Eros & Rev Rucifer!
Love is in the air, and what better way to celebrate the intimate bond that you share than with a luxuriously sensual massage!
Learn how to give a delicious massage using both touch from hands and whole body to body gliding with hot oil. Great class for those new to massage and for those wanting to learn a new trick or two. Sensuous Flow is about connecting the body in long strokes and how to tap into the bodies sensory patterns with light touch to leave your partner floating on air. You will be shown how to edge your partner as well as work all the erogenous zones. A must for those wanting to improve their touch with an easy and fun experience touching your partner in sensual and erotic ways.
For a special treat, we will be offering an ELITE PACKAGE: Arrive at 7 pm for a Sensation Play bonus. Stimulate all of the senses before you indulge in your 2 hour erotic massage. Delight and tickle the senses with a selection of tastes, sounds, smells, and scents while you explore each others bodies. This package also includes a bottle of massage oil ($15 value) to take home with you to practice everything you learned on your own time and complimentary champagne(21+ age). Highly recommended for first timers, or anyone who want's more easing into the class.
Elite tickets: arrive by 7:00pm
Classic tickets arrive by 8pm
$15 bottle of massage oil will be offered for purchase at class for you to take home.
What to expect at the workshop:
You will be with your partner the whole class.
Practical demonstrations with time to practice skills & techniques
Class is nude inspired while receiving massage, but givers can be in underwear if you so choose, we do encourage a body positive environment so full nudity the entire time is welcomed if you are comfortable.
We will provide area to practice on, oils and other supplies
What to bring?
Proof of vaccination
You can bring a towel, sarong and shorts that you can wear when you need to use the restroom. 
open curious minds
NOTE :: If you are a triad contact the organizer for an extra single ticket
This event is perfect for all experience levels. To comply with Covid-19 safety precautions, proof of vaccination is required to enter the space. Please bring your vaccination card or Excelsior pass. Note: 18+ for workshops.