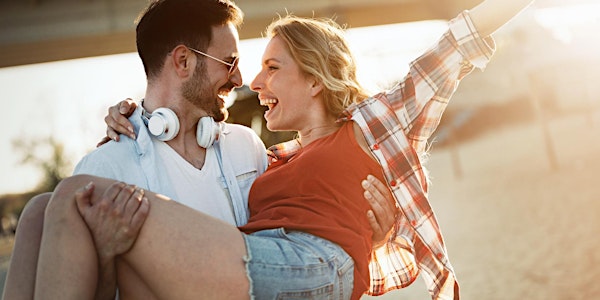 Erotic Blueprints™ Daylong: Inspiring More Erotic Connection And Fulfillmen...
Location
Watertown Center For Healing Arts
22 Mount Auburn Street
## 10
Watertown, MA 02472
Refund policy
Contact the organizer to request a refund.
Eventbrite's fee is nonrefundable.
Description
"Learn The Secrets To Having The Sex Life You've Always Dreamed About… But Didn't Know How To Get!"
Let me ask you something about your sex life…
Does it sometimes feel like you're on autopilot and missing variety and passion?



Do you feel frustrated getting your needs met in bed, but don't know a better way?



Have you ever wished you had a map of your partner's needs so you could be a more confident lover?


If you said yes to any of these questions, you're going to love this.
My name is Elizabeth Carrington, and I'm a Certified Erotic Blueprint™ Coach. I've put together a special daylong experience into the most intimate – and vitally important – part of your relationship…
Your Sex Life!
Many of us fumble around in our intimate relationships, feeling unfulfilled by our lover(s) or lacking confidence that we provide our lover(s) with truly satisfying sexual experiences.
Did you know…
63% of Millennials

69% of Gen X'ers

75% of Boomers
…report having unsatisfying sex lives?
Are You One of These People Too?
I've been there, believe me. I found myself hitting a plateau in sex aftera couple years in a long-term relationship. The original chemistry had cooled off I didn't know how to ask for what I wanted in a precise way that allowed my partner to see how to satisfy me. I didn't know how to create "conscious chemistry". I was getting increasingly frustrated with the way we approached each other in habitual ways. I felt disappointed because I knew there was more, but I had no idea how to create it.
I dreaded continuing on in this relationship without a clear path to more mutually fulfilling outcomes. What if he felt disappointed and frustrated as well?
It makes sense, in hindsight, as I had no 'education' about how to have a great sex life. I had no idea how to ask for what I wanted, because I wasn't even clear myself. In short, I didn't know how to solve the 'plateau problem' and get unstuck.
Then I Discovered Something Called The Erotic Blueprints™, And Almost Overnight, Everything Changed!
The Erotic Blueprints™ offer 5 distinct maps to learning what turns you on and brings you erotic fulfillment. Knowing your primary Blueprint helps you guide your partner in speaking to you, connecting with you, and touching you in specific ways that add to your pleasure and satisfaction.
When I found the Erotic Blueprints, all the stagnancy I had been experiencing disappeared. I suddenly had more creativity, more awareness, and more ideas than ever about how to create a vibrant, juicy sex life. My days of feeling like I had reached an insurmountable roadblock were over. I now knew what I desired and knew my personal pleasure Blueprint. I was able to ask for what I wanted and help my partner win with me by letting him know what I most enjoyed. He was also thrilled with the new ways I approached him and understood him because now I knew his Blueprint as well.
Most people want a sex life that lights them up and creates the possibility of endless adventure and unlimited pleasure. This doesn't have to be a fantasy any longer.
This is possible, and you don't need a PhD in sex education to have it. And you don't have to be some kind of sexual acrobat to drive your partner absolutely crazy/wild in bed.
When you know what really turns you on and how to ask for it…
Your Sex Life Will Automatically Uplevel Itself, Over And Over Again!
And you will continue to expand your palette even more. Just like an athlete who is able to become stronger and faster and more masterful in their sport, you will do this in lovemaking. As a result, you will feel more alive, more fulfilled, and more confident in and out of bed.
Learning about the Erotic Blueprints™ is truly a way to "hack" into your sexuality. A sex educator named Jaiya created this method and I was immediately drawn to learn it. The minute she opened up a certification program for coaches, I signed up. I knew that if a Catholic school girl could awaken, there was hope for anyone.
Here's A Snapshot Of The Program.
Over the course of the day, you will learn each of the 5 Erotic Blueprints: Energetic, Sensual, Sexual, Kinky, and Shapeshifter.
In this class, you will:
Practice with a (or your) partner to fully experience each Blueprint and get feedback about where you get stuck.



Discover where you are starving for more and how to address that (70% of people feel unfed in their primary Blueprint).



Reveal what 'shadow' parts of your primary Blueprint need attention.



Become an Erotic Detective and learn to notice your partner's response to different stimuli and how to feed them.



Learn to ask for what you want and to work with your partner to understand how to satisfy him or her.


Here's How To Join Us.
Date: September 7, 2019
Location: Watertown Center for Healing Arts
Investment: $197 (Early Bird rate until 8/26) $247 after
No Prerequisite to Attend.
Singles and couples are welcome. Come with a partner or we will pair you up with someone with whom you can explore for the series. There is no prerequisite for this class. It is a clothing-on event.
Experiential Learning Is The Most Effective Form of Human Learning.
Jaiya, the inventor of the Erotic Blueprints™, offers an 8 week online class valued at $997. This is the first course of its kind offered anywhere in the world. The difference between an online course and a live course is immense. There is no substitute for being in the same room with a partner and receiving feedback and coaching in real time.
Are You Ready?
What is it worth to you to have a meaningful shift in your intimate life?
Do you want to be at this same place next year, and the year after?
Are you ready to create vibrant sex and increased vitality?
There is so much more for you. And you deserve it.
Yes! You Deserve A Great Sex Life.
I've spent more than $10,000 on training from Jaiya. You can take advantage of this by attending the first course of its kind, right in Watertown, MA.
For an investment of just $197, you can sign up for this course today.
What Past Participants Are Saying:
"Because of this class I am more open and curious about what brings me pleasure and feel more confident and have more detailed language to express my own needs and desires".
–Jenna
"Before this class, I felt a lot of fear, shame and guilt around my sexuality, and now I know it can be slow, fun, and playful. And I can say exactly what I want!"
–Kimberly
"Before this class I felt linear in my approach and understanding of sexuality and intimacy and now I have been opened up to a bigger understanding of how deep sexuality can be and have a better vocabulary to express and explain my needs and desires".
–James
"Before this class I felt inadequate in the arena of sex/intimacy and I didn't know what I liked or how to be pleasured by my husband. Now I feel positive and am looking forward to exploring sexual intimacy and experiencing more creativity in the bedroom and in my life".
–Genevieve
"Before this class I felt sex/intimacy was routine, and now I'm open to new ways of experiencing intimacy".
–Jeffrey
"Before this class I felt I could not experience pleasure because of my fear, guilt, and shame in this area. Now I have more capacity for pleasure than I thought and my shame is no longer running me".
–Shannon
"After 25 years of marriage, the conversations that came out of this event were a gamechanger for us. Thank you so much!"
–Jim and Janice
If you are ready to increase your pleasure and become an inspired lover, don't wait. Sign up today. This course is limited to 16 people. It is expected to sell out.
Come learn, explore, and expand your erotic self!
Your Facilitator:
Elizabeth Carrington is a Certified Erotic Blueprint™ Coach and Master Certified Coach with twenty-two years of working in the personal and professional development field. Elizabeth's purpose is to empower individuals, couples, and teams to strengthen their clarity in articulating what they most want and discovering what brings them authentic fulfillment. A lifelong seeker of her own freedom to fully express herself, she finds great joy in assisting people to discover their unique superpowers and to live their most alive life.