| | |
| --- | --- |
| "Ernie & Joe: Crisis Cops" & "The Dog Doc", MNFF Vermont Tour 2020 | |
Event Details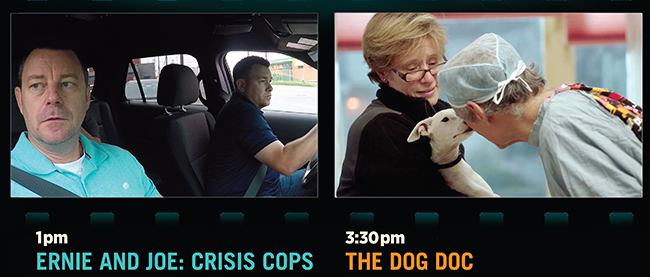 Middlebury New Filmmakers Festival
Presents Two of Its Top Films
at the Vergennes Opera House, Sunday, February 9, 2020

The Middlebury New Filmmakers Festival (MNFF) is bringing two of their top films from the 5th Annual Festival to the Vergennes Opera House on Sunday, February 9. 
The MNFF Vermont Tour at the Vergennes Opera House will feature a screening of Ernie & Joe: Crisis Cops at 1pm and The Dog Doc at 3:30pm. Jenifer McShane, director of Ernie & Joe: Crisis Cops, will appear for a reception at 12noon and an extended introduction of her film at the VOH prior to the screening. The Dog Doc screening will be followed by an audience discussion. Additionally, MNFF artistic director Jay Craven will be attending both screenings.
Tickets are $12 for each film or $20 for both and are available in advance online at VergennesOperaHouse.orgor at the door day of show.
About the Films screening on Sunday, February 9, 2020:
Ernie & Joe: Crisis Cops,1pm with 12noon reception with the film's Director, Jenifer McShane. 95 minutes.
Synopsis: This film is an intimate portrait of two San Antonio, Texas police officers who are helping change the way police respond to mental health calls involving vulnerable individuals. The documentary takes audiences on both a professional and personal journey, weaving together the officers' challenging experiences during their daily encounters with people in crisis. In taking this different path to policing, Ernie and Joe's success is stimulating change in police departments around the country. Ernie & Joe: Crisis Cops was the Closing Night film at MNFF5.
Tickets are $12 for a single screening or $20 for this film as well as The Dog Doc. 
The Dog Doc, 3:30pm with audience discussion after. Directed by Cindy Meehl's. 101 minutes. Synopsis: This film profiles a maverick veterinarian and his dedicated team of doctors who create a mecca for pets and their owners looking for hope and a last chance for animal healing. The Dog Doc poses deep questions about effective treatment, pushing humans to consider the difference between medication and integrative, holistic care. This sharply observed documentary offers an immersive view into a seldom seen world, painting a picture of pure dedication, empathy and joy. The Dog Doc was the Opening Night film at MNFF this past August.  
Tickets are $12 for a single screening or $20 for this film as well as Ernie & Joe: Crisis Cops
The MNFF Vermont Tour is sponsored by Vermont Public Radio, Milne Travel, Vermont PBS and, in part, by Shelburne Vineyard and the Lake Morey Resort. 
Save This Event
When & Where

The Vergennes Opera House
120 Main Street
Vergennes, VT 05491


Organizer
The Vergennes Opera House
A restored 1897 theater in the heart of one of Vermont's most
unique and vibrant downtowns.
The historic Vergennes Opera House, on the second floor of the 1897 Vergennes City Hall, was restored through a major effort by hundreds of individuals, businesses, and foundations beginning in 1993. A grand re-opening in 1997 welcomed the public back into the historic community space. Since then the Opera House has played host to many fine theater productions, concerts by local, national and international performers across the genres, community gatherings, high school dances and weddings and celebrations of all kinds. 

With a full calendar of year-roundr round, the Vergennes Opera House provides entertainment, arts and cultural activities with truly something for everyone.
www.vergennesoperahouse.org
802-877-6737
Photo courtesy of Donna Burke Wilkins