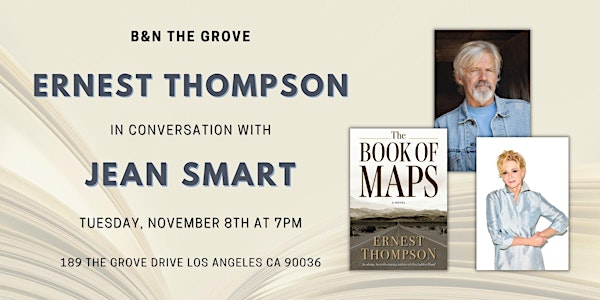 Ernest Thompson discusses THE BOOK OF MAPS with Jean Smart at BN The Grove
B&N The Grove welcomes Ernest Thompson to discuss THE BOOK OF MAPS with Jean Smart on November 8 at 7PM PT!
When and where
Location
Barnes & Noble The Grove 189 The Grove Drive Los Angeles, CA 90036
Refund Policy
Refunds up to 1 day before event
About this event
**PLEASE BE AWARE THAT THESE GUIDELINES ARE SUBJECT TO CHANGE DUE TO CHANGING COVID-19 REQUIREMENTS**
Join Barnes & Noble - The Grove at Farmers Market on November 8, 2022, as we welcome Academy Award-winning creator of On Golden Pond & debut novelist, Ernest Thompson, to the store to discuss and sign THE BOOK OF MAPS
Ernest will be in conversation with Jean Smart, an American film, television, and stage actress best known for her role as Charlene Frazier Stillfield on the CBS sitcom Designing Women and Emmy-Award winner for Hacks.
To make this event safe and enjoyable for all attendees, please read the below guidelines ahead of buying a ticket, so you know what to expect on the day. To avoid disappointment, we must stress that there will be no access to the event for non-ticketholders.
Barnes & Noble reserves the right to make new rules and orders in its sole discretion with regard to COVID-19 at any time and any person not abiding by the Barnes & Noble directives will be refused entry or directed to leave the premises.
TICKET INFORMATION
**A ticket includes:
SEATED Book Admission - $32.84 (Admission + one copy of THE BOOK OF MAPS): **LIMITED QUANTITY AVAILABLE**: A ticket PER PERSON includes:
STANDING ROOM-ONLY Book Admission - $32.84 (Admission + one copy of THE BOOK OF MAPS): **LIMITED QUANTITY AVAILABLE**: A ticket PER PERSON includes:
Admission to the discussion & signing with Ernest Thompson and Jean Smart.
For Seated Tickets: Limited quantity is available and will be provided on a first-come, first-served basis. Purchase of a ticket guarantees entrance to the event for the discussion and signing. However, this ticket may not necessarily guarantee a seat at the event, as later arrivals may be placed in a line behind the seated audience.
For Standing Room-Only Tickets: Limited quantity is available and will be provided on a first-come, first-served basis. Purchase of a ticket guarantees entrance to the event for the discussion and signing. Ticket holders will be granted a standing view from behind the seated audience -- some views may be more limited/obstructed than others.
Ticket holders will be admitted into the event beginning at 6:00 PM on the day of the event. Please have a copy of your ticket available (either printed out or on your phone) for check-in.
GUIDELINES
This is a DISCUSSION, AUDIENCE Q&A, SIGNING, and PHOTO-OP event.
Due to COVID-19, masks are highly required to attend this event.
No large bags will be permitted into the event.
In order to attend this event, ticket holders should:

Have not had any contact in the last 14 days with a confirmed COVID-19 patient.
Not be subject to a quarantine order.
Not travel in the past 14 days to any state or country that California has designated as an area requiring isolation upon returning to the state.
At the time of the event, have not experienced in the last 72 hours any body temperature above 100 degrees Fahrenheit or any new symptoms associated with COVID-19. People with COVID-19 have had a wide range of symptoms reported – ranging from mild symptoms to severe illness. Symptoms may appear 2-14 days after exposure to the virus. People with these symptoms may have COVID-19: fever or chills; cough; shortness of breath or difficulty breathing; fatigue; muscle or body aches; headache; new loss of taste or smell; sore throat; congestion or runny nose; nausea or vomiting; and/or diarrhea.
Barnes & Noble may cancel this event at any time with or without notice to the ticket holders.
ADDITIONAL GUIDELINES
Some outside queuing may be required, so please come dressed appropriately for all weather.
The exact time at which the event ends will be determined on the day.
To avoid disappointment, we strongly advise you to arrive on time for the event. Late arrivals may not have the opportunity to enter the event space.
Due to health and safety and space limitations, those without a ticket will not be permitted to join the queue.
All event guidelines are subject to change.
If you have any additional questions, you can call the store directly at 323-525-0270.
Please note that Eventbrite is the only authorized dealer for this event. Each person must have a ticket to enter.
Refunds:
Attendees can receive refunds up to 1 day before your event start date.
If you are unable to attend the event, Barnes & Noble - The Grove will hold your book for seven days after the event. Please contact the store to arrange your pickup.
Should this event be canceled due to changing COVID-19 concerns, all customers will be refunded their ticket price to the original method of payment per Eventbrite's refund policy.
Event guidelines are subject to change.
ABOUT THE BOOK OF MAPS:
In the summer of 2002, Brendan Tibbet, a filmmaker whose luck has run low, takes his ten-year-old son Brenlyn on a raucous road trip across America. Following a 1930s travel guide Brendan purchased at a yard sale, the two-week trek from LA to New Hampshire covers 16 states, hitting the iconic stops along the way, Yosemite, the Great Salt Lake, Yellowstone and Mt. Rushmore and the Rock and Roll Hall of Fame, replete with wild exploits both hilarious and perilous, but it's the interior journey that is enlightening, deeply poignant and life-changing.
Brendan assures the boy that each state will be an adventure, and on the second day proves it, seeing the kid washed away in fast-moving rapids, then foolishly putting them both in danger by refusing to back down to the massive black bear invading their campsite. That's Brendan, impetuous and foolhardy, inciting trouble wherever he goes, a man with demons and bubbling angst. But neither of those missteps, or the many and scarier ones to follow, can begin to compare to the threatening storm cloud hanging over the expedition: the father's struggle to find the perfect, worst time to reveal to his son the news that will break his heart and affect everything to follow.
Ernest Thompson's debut novel is a skillful, magical piece of 20th-century fin de siècle writing depicting a United States that, even in the aftermath of 9-11, seems almost innocent contrasted to the horrors and divisions, racism and rage challenging us now. The Book of Maps, with its powerful father-son relationship and one man's relentless albeit unintentional quest to evolve into the better angel we all aspire to be, will capture the imagination of readers and leave them wanting to relive this mad, irresistibly moving, ridiculously funny, reflective and inspiring cross-country odyssey again and again.
ABOUT ERNEST THOMPSON:
Ernest Thompson has written numerous films, plays and songs, and has worked extensively as an actor and director. In addition to his Oscar for On Golden Pond, Ernest's work has won two Golden Globes, a Writers Guild Award, a Broadway Drama Guild Award and been nominated for a Tony, an Emmy and a British Academy Award. His plays have been seen in theaters around the world, his most enduring, On Golden Pond, translated into 30 languages and presented in more than 40 countries. He currently is developing Cries of Valor in Defiance, depicting life in the pandemic and, with his writer wife Kerrin Thompson, has established Rescind Recidivism, a prison writing program designed to give inmates a chance to feel creative as well as human, capable and worthy.
ABOUT JEAN SMART:
In the past decade Smart has seen a resurgence acting in television series, such as FX's Fargo (2015) and Legion (2017–2019), both created by Noah Hawley, as well as in the HBO projects Watchmen(2019), Mare of Easttown, and Hacks (both 2021), the latter three earning her Primetime Emmy Award nominations, with Hacks winning her the Primetime Emmy Award for Outstanding Lead Actress in a Comedy Series and the Golden Globe Award for Best Actress - Television Series Musical or Comedy. Smart is only the second actress, after Betty White, to win all three comedy Emmy nominations - comedy lead, supporting, and guest categories.