Description
Erika Moon's Burlesque Avant-Garde
"Seduce your Inner Darkness"
November 9th and 10th @ 9Pm - Doors open at 8.30Pm
More options to purchase tickets on Fillmore's website if your secton is not available in this website.
European Cabaret, Burlesque revue & Variety Show
Prepare to seduce your inner darkness as Erika Moon Productions whisks you away to a world of shadows and desires. Burlesque Avant-Garde will chill and excite you by bringing the alluring dark side of sophisticated burlesque alive!

Our exclusive cast presents a powerful, glamorous, and mystical fantasy to Miami Beach in a way no one has before. This post-Halloween fall event will feature edgy jaw-dropping acts, while tempting the audience with dazzling costumes, and amazing performers!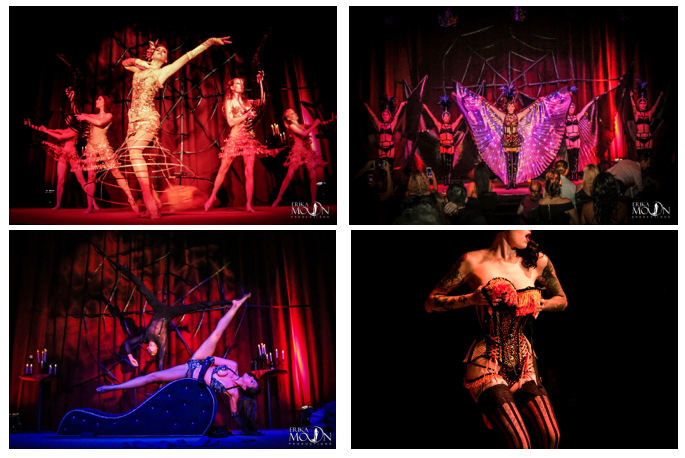 It's no surprise that Erika Moon, the groundbreaking producer of European classic cabaret shows here in South Florida, was recently heralded as one of the best-known producers in South Florida by Miami New Times. While Burlesque Avant-Garde is an "out of the box" concept for Erika Moon compared to her other events, her dedication to entertainment and production value shines brightly with this exciting theme. Burlesque Avant-Garde is a step away from the "burlesque norm" of glittering glamour and is instead an indulgence of the shadowy world that will drive the audience wild. It's sure to leave everyone begging for more!
Be sure to dress to impress for this spectacular event, as you might have an opportunity to be part of the show! As an extra treat, join us on Thursday, November 8th, for a very special burlesque workshop that will teach you some of the seductive tricks of the trade! Details to be announced!

Miami Beach residences will receive a 30% discount on their choice of showtime with proof of residency.
Special Thank you for our Official sponsor: The city of Miami Beach
-With the support of the City of Miami Beach Cultural Affairs Program, Cultural Arts Council, and the Miami Beach Mayor and City Commissioners-
All sales are final.
For more medias material check in: