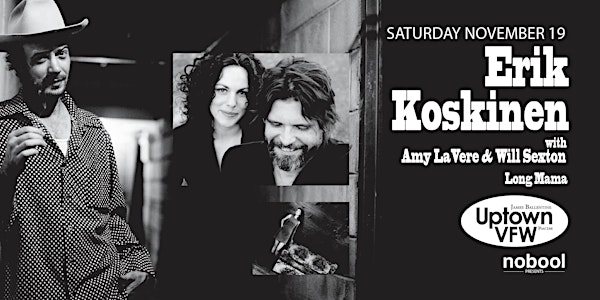 Erik Koskinen with guests Amy LaVere and Will Sexton, and Long Mama
Join us as Erik Koskinen returns to the VFW along with special guests Amy LaVere & Will Sexton and Long Mama.
When and where
Location
James Ballentine "Uptown" VFW Post 246 2916 Lyndale Ave S Minneapolis, MN 55408 United States
Performers
Headliners
More Performers
Amy LaVere
Will Sexton
Long Mama
About this event
Erik Koskinen
with Special Guests: Amy LaVere & Will Sexton, Long Mama
Saturday, November 19
James Ballentine Uptown VFW
Doors 7:00pm :: Live Music 7:30pm :: 21+
Advance $20 / Day of Show $25
Tickets On-Sale Friday, October 14 at 10am
Join us as Erik Koskinen returns to the VFW along with special guests Amy Lavere & Will Sexton and Long Mama.
Sprouted from a blend of American folk, country, rock-n-roll, and blues, Erik Koskinen and his top-shelf band realize a sound that is distinctive and fresh while familiar and classic. Koskinen's albums are a lyrical and musical metaphor of America's theaters of war, history, relationships, and reflections in the mirror. "Burning The Deal" was produced by Koskinen and Bernie Larsen (Melissa Etheridge, Jackson Browne) and recorded by Jason Mariani (Mumford & Sons, Kenny Loggins) at Brotheryn Studios in Ojai, California.
Knowing, but not didactic, Koskinen channels the ways of Whitman and reverently enters the anthology of uniquely crafted wry songs with the likes of Woody Guthrie and Ry Cooder while speaking as plainly as your neighbor. The Minneapolis Star Tribune calls Koskinen "the real deal" and "the best country songwriter in Minnesota."
Amy LaVere & Will Sexton, who are married to each other, are both masters in multiple areas. LaVere, who is from Memphis, is a film actress, an upright bass player and a vocalist who has done time both in punk bands and in Nashville's country/roots scene. Austin native Sexton had a major label contract with his alternative rock band Will and the Kill in late '80s when he was still a teenager, and went on to become a respected songwriter, guitarist and producer who worked with artists like Joe Ely, Doyle Bramhall II, Roky Erickson and Waylon Jennings.
Milwaukee singer-songwriter Kat Wodtke leads Andrew Koenig and Nick Lang (Ryan Necci & the Buffalo Gospel), along with Samual Odin (Horseshoes & Hand Grenades), on a haunting journey of wide-open spaces and tight spots, each song blistering with heart and grit. Poor Pretender, Long Mama's debut LP was engineered by Erik Koskinen and recorded live over a long, snowy weekend in small-town Minnesota.