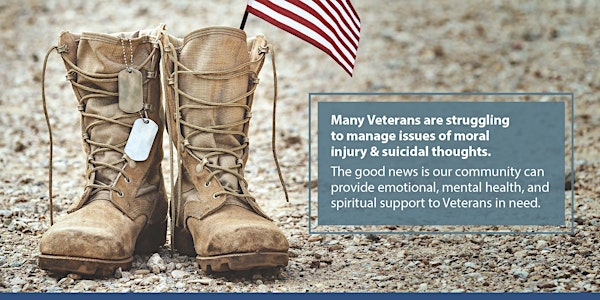 Erie VA Virtual Moral Injury and Suicide Prevention Seminar
Moral Injury & Suicide Prevention Virtual Seminar May 12th
About this event
The Erie VA Medical Center Chaplain Service invites regional clergy, spiritual workers, and lay leaders with a passion for Veterans to participate in its Virtual Moral Injury and Suicide Prevention Seminar.
Presenters Dr. J. Irene Harris (nationally recognized expert in the treatment of Moral Injury) and Brandon Wiley, LPC will aid participants in:
• Understanding suicide prevention and moral injury
• Recognizing traits of suicide risk and spiritual distress
• Identifying paths for wellness and spiritual strengths to help Veterans cope
The Department of Veterans Affairs defines moral injury as:
• In traumatic or unusually stressful circumstances, people may perpetrate, fail to prevent, or witness events that contradict deeply held moral beliefs and expectations
• The distressing psychological, behavioral, social, and sometimes spiritual aftermath of exposure to such events
• Moral injury can occur in response to acting or witnessing behaviors that go against an individual's values and moral beliefs
Please join us for this important first step in providing vital care and support to Veterans.
The first ten registrants who attend the entire seminar will receive a
$25 gift card donated by the Erie VA Behavioral Health Council.
FAQs BEFORE THE EVENT:
What is the cost of the event? The Event is FREE. Registration is required to receive WebEx link to attend.
Why do you need my basic info. & a survey on the registration page? This training is offered in collaboration with the VA National Chaplain Service. Due to this, we are required to report attendees knowledge of moral injury & suicide prevention via a pre/post event survey. We will send a post-event survey to all registrants following the event to confirm your attendance and your responses to the post-program questionnaire.
When will I get the link for attending the event? After successfully registering, you will receive an email confirmation containing the WebEx link to join the event. If you do not receive a confirmation email, please check your junk folders. If you still cannot locate the confirmation email, please contact the event organizer.
What is Building Spiritual Strength (BSS)? Manualized, 8-session, group counseling approach for PTSD and spiritual distress/moral injury. Tested in two funded randomized controlled trials with proven treatment on PTSD symptoms and spiritual distress. For more information see: https://marketplace.va.gov/innovations/building-spiritual-strength
FAQs AFTER THE EVENT:
Why do you need me to complete the post-event survey? This training is offered in collaboration with the VA National Chaplain Service. Following the event, we are required to report certain data items back to the VA National Chaplain Service. We will email or send a post-program survey so that we can crosscheck registrations and measure any changes (pre/post event) in knowledge relative to Moral Injury & suicide prevention.
Moral Injury & Suicide Prevention Virtual Seminar For more details, please call Erie VA Chaplain Services at 814-860-2537