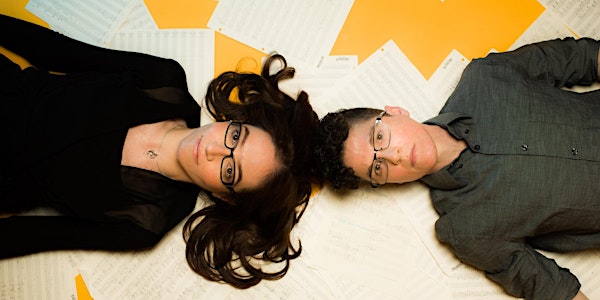 Erica Seguine & Shan Baker Orchestra
Join us for the Erica Seguine and Shan Baker Orchestra performing at Birdland on October 9th at 5:30pm!
When and where
Location
Birdland Jazz Club 315 W 44th St. New York, NY 10036
About this event
"In terms of majestic sweep, cinematic scope and clever outside-the-box humor, it's hard to think of a more interesting group in big band jazz than the Erica Seguine | Shan Baker Orchestra" writes the New York Music Daily. Giovanni Russonello of the New York Times described the Seguine/ Baker Orchestra's music as "Vast, multifaceted, semi-abstract compositions that deal in dissonance and overload but often resolve into major-key resplendence."
Founded in 2011, the Erica Seguine | Shan Baker Orchestra has been performing original music by its co-leaders for over a decade in NYC. Each composition by Erica and Shan immerses the listener into a unique complex sonic world through musical storytelling and through the personal voices of the 21 musicians in their ensemble. Their upcoming debut album, "The New Day Bends Light," which will be released March 31, 2023, was produced by renowned composer and bandleader Darcy James Argue, and deals with psychological themes of mental illness, struggle, and healing.
Erica Seguine is a multiple award-winning composer, including the recipient of the 2013 BMI Foundation Charlie Parker Prize for Jazz Composition/2014 Manny Albam Commission, three ASCAP Young Jazz Composer Awards, the 2014 ASCAP Foundation Johnny Mandel Prize, and a commission from New York Youth Symphony Jazz. Her compositions and arrangements have been performed by ensembles such as the Metropole Orchestra, the Symphonic Jazz Orchestra, the Danish Radio Big Band, the Brilliant Corners Large Ensemble, the J-Orchestra, and many other professional and college jazz ensembles. She has also worked as a conductor with: Meg Okura's Pan Asian Chamber Jazz Ensemble, Remy Le Boeuf's Assembly of Shadows, the D.O.M.E. Experience, the Joel Harrison Big Band, and is a resident conductor and composer with the Meetinghouse Jazz Orchestra.
Courageous, heart-driven, and often immersing the listener into darkness, with moments of light, Shan Baker's music is written from an intuitive awareness of energy and its influences on the human psyche. Feelings of grief, loss, isolation and brokenness emerge to the surface through their music, resulting in clarity, hope, beauty and healing.
(Photo by Desmond White)