Event Information
Location
S/V Mandalay
Saint George's, Saint George's
Grenada
Description
Eric Stone's New Paradise Cruise, Grenada, July 7-13, 2019
Step aboard the S/V Mandalay at 5 PM, Sunday, July 7th, in St. Georges, Grenada and get ready to depart on a 7-day, 6-night sail through the Grenadines where we will visit a selection of islands which may include Grenada, Carriacou, Union Island, Mayreau, Tobago Cays, Bequia and possibly other stops along the way. We disembark at 10 AM, Saturday, July 13th where we began, in St. George's, Grenada.
Since this is our ship, we actually get to pick where we want to go and how long we want to stay. You can't do that on any other cruise.
"We go where the Captain and the wind takes us."
The S/V Mandalay provides a laid-back experience with comfortable air-conditioned cabins and 110 volt power. Each cabin is an ensuite in itself with your own private bathroom, shower, ample wardrobe space, steward service and many other important comforts.
The Ship:
Built in 1923, this 236' sailing ship is the former luxury yacht of financier, EF Hutton. Since then, she has served as a luxury yacht, Coast Guard patrol vessel, Merchant Marine training ship, and Columbia University research vessel. In 2012, after an extensive restoration, including teak decks and original woodwork throughout the ship, she joined the Sail Windjammer family as a cruising yacht where she sails the Windward and Leeward Islands. The S/V Mandalay currently accommodates 58 passengers and about 24 crew.
"We will sail you safe and steady to unspoiled beaches, hidden inlets and sparkling warm waters that conventional cruise ships just can't reach."
What's included with your purchase?
Early morning pastries and Bloody Marys, three sit down meals per day, early evening snacks and Rum Swizzles, 24 hour coffee, tea and water, entry into all the deck games and masquerade party. Port Charges, Entertainment Fee and all Credit Card Fees are also included in your price.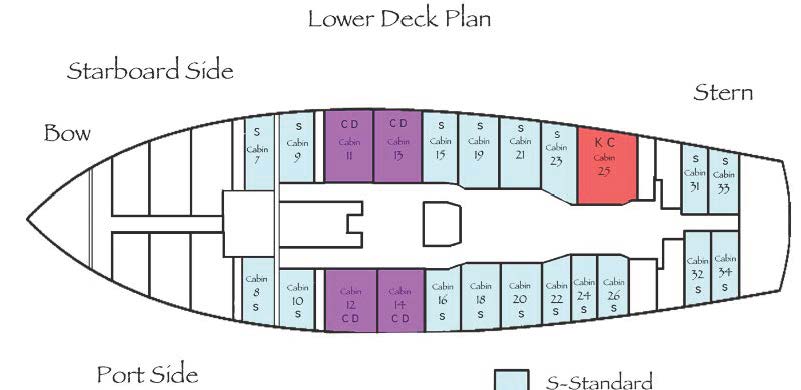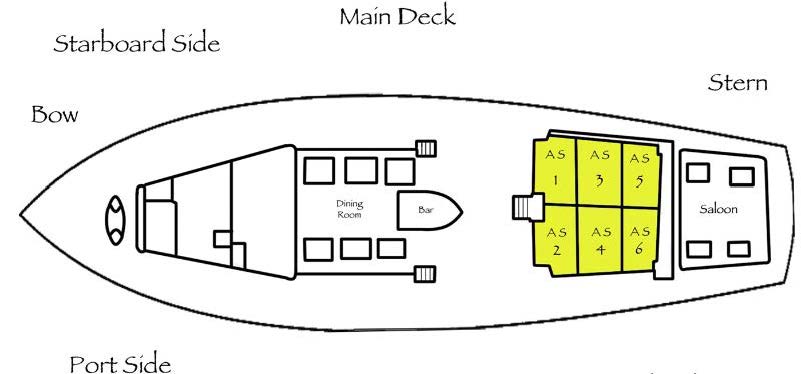 Please note the cabin layout above is not to scale.

Standard Cabins are #7, 8, 9, 10, 15, 16, 19, 26, 31, 32, 33 & 34.
Large Standard Cabins are #21, 23 & 24.
Commodore Deluxe are #11, 12, 13 & 14.
Admiral's Suite is #1, 2, 3, 4, 5 & 6.
King's Cabin is #25.
Limited triple occupancy is available, please email for availability and details.
Refunds: No refunds unless we can re-sell your cabin.
Details on Airfare, Ground Transportation, Hotels, Shore Excursions, Tours, Bon Voyage Party, Post Cruise Party, Trip Insurance and more are posted at https://catamaranconcerts.com/eric-stones-new-paradise-cruise-grenada/
Date and Time
Location
S/V Mandalay
Saint George's, Saint George's
Grenada
Refund Policy