Eric Reiss Workshop: Usable Usability — Lean UX starts right here

Saturday, October 13, 2012 from 8:00 AM to 12:00 PM (PDT)
Event Details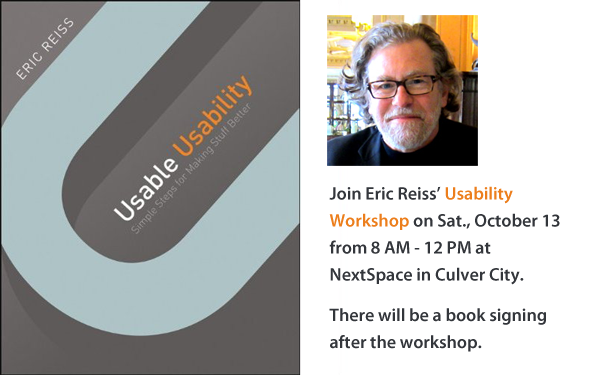 Usable Usability —
Lean UX starts right here
If people cannot use something you make, then you have a serious problem. Usability is the science of ensuring that websites, applications, physical products and even offline services, do what they are supposed to do and that people can succeed with whatever tasks your "stuff" has been designed to help them with.
For Eric, usability builds on three E's – Ease, Elegance, Empathy. This eye-opening half-day workshop will introduce you to an alternative way to cut the usability cake – a method for evaluating and improving products and services in a truly lean and agile way – a way that has proven successful with clients, business students, and seasoned usability professionals alike. It even includes a hands-on technique for individuals within a large organization to carry out guerilla-style usability hacks that show the value of usability to the people in charge of the budgets.
If users shouldn't be expected to think, we, as designers, need to do the thinking for them! We MUST think! Here's a quick rundown of the topics we'll be covering, based on Eric's best-selling book, Usable Usability, from John Wiley & Sons.
Ease of use – the product does what I want it to do. This deals with physical properties. Hence, the interactive elements should be:
Functional (the buttons work, the speed is acceptable)
 
Responsive (the application reacts to your input, the application provides cognitive feedback)
 
Ergonomic (Fitt's Law, keyboard shortcuts, field tabbing, etc.)
 
Convenient (content and interactive objects are there where I need them and elements that are needed simultaneously are visible simultaneously)
 

Foolproof (less risk of error through RAF – Remind, Alert, Force. Less reliance on instructions)
Elegance and clarity – the product does what I expect it to do. This deals with psychological properties. Hence, interactive elements should be:
Visible (controls that can't be seen don't exist. Cut down the visual noise. Think feng shui)
 
Understandable (clear and concise, no unexplained icons, colors and physical groupings for related functions and to improve scent)
 
Logical (don't make me think, build sensible flows)
 
Consistent (always the same name for the same function, no reuse of icons for different functions, no behavioral changes as objects open or close)
 

Predictable (functions and navigation always in same place, elements don't suddenly change behavior)
Empathy – understanding and addressing the needs of the users. After all, you can't practice user-centered or user-driven design if you don't care about these folks.
---

Eric Reiss, the celebrated author three books, including the recently published Usable Usability: Simple Steps for Making Stuff Better -- now available on Amazon. Eric, a world renowned presenter will be sharing his experience of how to understand user's needs, techniques for exceeding user's expectations, and a host of hard won advice for improving the overall quality of a user's experience. After the workshop, there will be a book signing and social time.
Eric Reiss has been meddling with service- and product-design projects for longer than he cares to remember. Today, he is CEO of The FatDUX Group, an international user-experience design company headquartered in Copenhagen, Denmark. Eric has also lectured on design principles at the Bauhaus University in Weimar, is a former Professor of Usability and Design at the IE Business School in Madrid, and serves on the advisory boards of several universities and institutes in both Europe and the United States. His Web Dogma, a design philosophy that transcends both fashion and technology, has been adopted by 1000s of developers and companies around the world.

Please note that a light breakfast and refreshments will be available to attendees. 

This workshop will have a limited number of attendees so be sure to RSVP now.
Aslo see the related workshop, Putting the content into Content Strategy – Effective Writing for Interactive Media on October 14.
We would like to thank our venue sponsor, NextSpace, for their generous donation of the venue space. 

Related topics: User Experience, UX, Usability, Interaction Design, Mobile Design, Startups, Startup, Workshop, Lean UX, Los Angeles, Santa Monica, Culver City
When & Where

NextSpace
9415 Culver Boulevard
Culver City, CA 90232


Saturday, October 13, 2012 from 8:00 AM to 12:00 PM (PDT)
Add to my calendar
Organizer
The Los Angeles User Experience Meetup
The Los Angeles User Experience Meetup group is the largest UX Meetup group in the U.S. The group provides the opportunity for the best thought-leaders in the field to share their groundbreaking ideas with the community. Our programs are must-attend events for the Silicon Beach and SoCal UX communities.
Eric Reiss Workshop: Usable Usability — Lean UX starts right here