Sales Have Ended
Ticket sales have ended
COVID-19 INFORMATION For our indoor shows only: Proof of vaccination is required for entry. Per the county of Alameda, masks will be required regardless of vaccination status while attending events at the Ivy Room. We appreciate everyone's participation in helping us safely enjoy live shows again. Accepted forms of proof of vaccination: -Vaccination Record Card -CA state QR code: https://myvaccinerecord.cdph.ca.gov/ -Picture of vaccination card that matches ID
Sales Have Ended
Ticket sales have ended
COVID-19 INFORMATION For our indoor shows only: Proof of vaccination is required for entry. Per the county of Alameda, masks will be required regardless of vaccination status while attending events at the Ivy Room. We appreciate everyone's participation in helping us safely enjoy live shows again. Accepted forms of proof of vaccination: -Vaccination Record Card -CA state QR code: https://myvaccinerecord.cdph.ca.gov/ -Picture of vaccination card that matches ID
About this event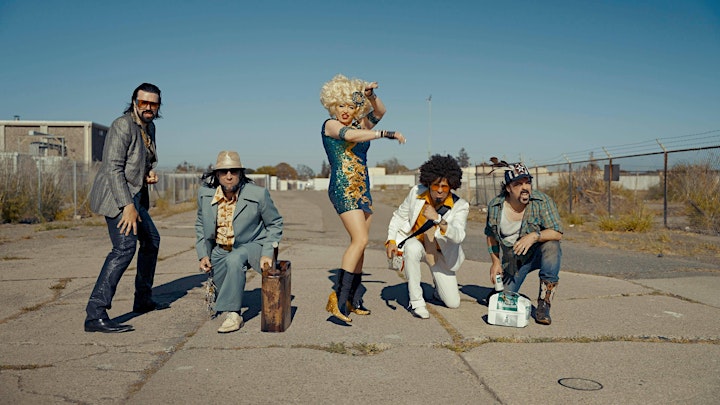 Eric McFadden and Kate Vargas feat. Josh Zee and SHAKE WELL
Eric's Website / Facebook / Instagram
Kate's Website / Facebook / Instagram
Josh Zee's Website / Instagram
Eric McFadden -
Hailing from the crossroads of the Southwest and the heart of New Mexico, Eric McFadden has crafted a rare and enticing brand of high desert blues and gritty, flamenco-infused rock that leaves listeners spellbound. McFadden's sound has not only charmed audiences all over the world, countless musicians have been taken by his inimitable playing and musicianship, with McFadden receiving invitations to tour with the likes of funk legend George Clinton, The Animals' Eric Burdon, and New Orleans sweethearts Anders Osborne and Tab Benoit. Right from the moment Joe Strummer spotted him in San Francisco, nicknamed him 'Lightning,' and gave him a gig opening for Strummer & The Mescaleros, Eric McFadden has claimed his place amongst the greats.
Drawing from his multifarious musical experiences and influences, Eric McFadden has developed his own unique and meaningful voice as a songwriter and 2021 will be hearing much more of that voice. Honing in on a sound that's a rousing mix of Jack White, Django Reinhardt, and Jimi Hendrix, we can expect to witness McFadden as we never have before - as a wild talent harnessing his power, as a man settling into his skin. This is the year for Eric McFadden and every music lover should be watching out and taking notes.
Kate Vargas -
A reformed wild child, in recent years Kate Vargas has traded the party for meditation, yoga, clean eating and a renewed focus on what she values most—her music. The New Mexico-raised, NYC-based artist is building ever more mindfully on her sound, and the music press is taking notice, Vargas receiving praise from a variety of respected outlets including Billboard, NPR, Noisey, and the Huffington Post, the latter assessing, "There is an unlimited amount of potential in this superstar on the rise."
Vargas has dazzled audiences from Santa Fe to Frankfurt, Seattle to Reykjavik with her inimitable songwriting and bewitching sounds, most recently packing rooms at Americanafest, 30A Songwriters Festival, and NPR's Mountain Stage. With songs grounded in a darkly melodic, reverb-washed sonic palette of dreampop, dusty folk and junkyard blues, all carried by Vargas' rough-hewn vocals and guitar playing, she channels a surprising array of artists, from Tom Waits and 16 Horsepower to Lana Del Rey and K. Flay.
Josh Zee -
Josh has recorded 2 major label records on the SONY/Work label as the singer/guitarist and songwriter for the Rock group "Protein". They toured extensively throughout the U.S. on "The Warped Tour" and also toured Europe and Japan as part of MTV Asia Summer Fest. Josh's next original band, "The Mother Truckers", was formed with his talented wife Teal Collins. They moved to Austin, TX where they released 4 albums, and were named "Best Roots-Rock band" at the SXSW Austin Music Awards, toured all over the country and Europe, and have played alongside such acts as Willie Nelson, Hank Williams 3, The Old 97's, The Avett Brothers, Merle Haggard, George Jones, the Supersuckers and many more. Teal later formed the group "The Whiskey Sisters" with Josh on guitar, they recorded an eponymous album, co-produced by Zee, and were named "Best New Band" at the SXSW Austin Music Awards, toured coast to coast and on over to Europe Josh has been written up in many national publications including frequent features in Guitar Player Magazine, Thrasher and Village Voice just to name a few. Josh has many production and arrangement credits on the albums as of other artists as well. He continues his work as a session player on many artists records, and regularly tours with other bands as a guitarist.
COVID-19 INFORMATION For our indoor shows only: Proof of vaccination is required for entry. Per the county of Alameda, masks will be required regardless of vaccination status while attending events at the Ivy Room. We appreciate everyone's participation in helping us safely enjoy live shows again.
Accepted forms of proof of vaccination:
-Vaccination Record Card
-CA state QR code: https://myvaccinerecord.cdph.ca.gov/
-Picture of vaccination card that matches ID
+Policy subject to change. Please check our website for updated information.
Performers
Date and time
Location
Refund policy
Organizer of Eric McFadden and Kate Vargas feat. Josh Zee and SHAKE WELL