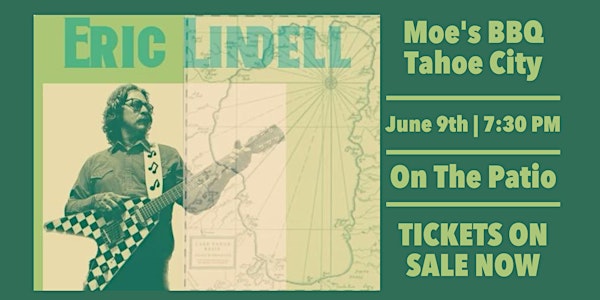 Eric Lindell Live at Moe's BBQ Tahoe
Eric Lindell Returns to play on the patio at Moe's BBQ. Come early for dinner!
By Moe's Original BBQ - Tahoe City
Date and time
Starts on Friday, June 9 · 7:30pm PDT
Location
Moe's Original BBQ - Tahoe City 700 North Lake Boulevard Tahoe City, CA 96145
Refund Policy
Contact the organizer to request a refund.
Eventbrite's fee is nonrefundable.
About this event
All Ages show, bring the family! Kids under 12 and under are free.
Tickets: $20 Or, reserve a whole table for up to 6 people for $120
We are super excited to have Eric Lindell back to play a show at Moe's BBQ in Tahoe City. Our location is right on the lake. We encourage you to grab those tickets ahead of time and consider coming early for some Authentic Alabama "Q".
🎵 Introducing Eric Lindell: A Masterful Mixologist of Musical Genres 🍹🎶
Are you ready for a soulful journey through a sonic cocktail of genres? Look no further than the phenomenal singer-songwriter, Eric Lindell. With his unique blend of blues, roots, rock, funk, and soul, Lindell has captured the hearts of music enthusiasts worldwide. Like a skilled mixologist, he crafts songs that are both refreshing and intoxicating, leaving listeners craving more.
🎵 The Early Melodies 🎶
Born and raised in San Mateo, California, Eric Lindell discovered his love for music at an early age. Inspired by a diverse range of artists such as Stevie Wonder, Al Green, and Bob Marley, he began honing his musical skills and embarked on a path that would lead him to become a true maestro of blending genres.
🎸 A Guitar Guru and Soaring Vocals 🎤
Lindell's mastery of the guitar is evident in every note he plays. With a soulful touch and a remarkable sense of rhythm, he effortlessly weaves intricate melodies that resonate deep within the listener's soul. Whether he's strumming an acoustic ballad or unleashing electrifying solos, Lindell's guitar work is nothing short of captivating.
But it doesn't stop there—Lindell's voice is a force to be reckoned with. From smooth and velvety croons to raw and gritty blues-infused vocals, his singing possesses a remarkable versatility that enhances the impact of his songs. It's as if each word he utters is drenched in genuine emotion, evoking a powerful connection with his audience.
🌟 A Musical Alchemist 🎹
What sets Eric Lindell apart is his ability to seamlessly blend genres, creating a sonic fusion that's uniquely his own. He takes the raw ingredients of blues, roots, rock, funk, and soul and mixes them with extraordinary precision, resulting in a musical concoction that is undeniably addictive.One moment, you'll find yourself swaying to infectious blues grooves that transport you to the heart of New Orleans. The next, you'll be caught up in a funky rhythm that ignites the dance floor. Lindell's music transcends boundaries, embracing the best elements of each genre and delivering them with a refreshing twist.
🎶 Hits That Hit the Spot 🎧
Throughout his illustrious career, Eric Lindell has graced us with a plethora of memorable tunes. From his early releases like "Give It Time" and "Lay Back Down" to later gems like "Love and Compassion" and "It's a Drag," his discography is a testament to his remarkable songwriting skills. Each composition showcases his ability to craft infectious melodies, heartfelt lyrics, and irresistible hooks that leave an indelible mark on our musical palates.
🎤 Live Performances: A Sonic Celebration 🎉
Eric Lindell's talent truly shines when he takes the stage. His live performances are a celebration of music, with Lindell and his band delivering electrifying energy that resonates throughout the venue. From intimate club settings to festival stages, he has enthralled audiences worldwide, leaving them awe-inspired and craving for more.
🎵 Raise Your Glass to Eric Lindell 🍻
So, raise your glass to the musical mixologist extraordinaire, Eric Lindell. With his remarkable ability to blend genres into a seamless concoction of great songs, he continues to captivate music enthusiasts worldwide. Whether you're a blues aficionado, a soul seeker, or simply someone who appreciates exceptional musicianship, Eric Lind