About this event
**OUTDOOR SOCIALLY DISTANCED PODS - LIVE CONCERT** at the Historic Rural Hill; 4431 Neck Road, Huntersville, NC (less than 20 miles NE of uptown Charlotte!)
Select your reserved area on the Pod Pass chart. Bring your own chairs and/or blankets! *Tents, umbrellas, flags or similar items that obstruct the view of others are not permitted. No coolers, outside food or beverages are permitted - see more details below*.
Gates open at 5:00PM
This is an outdoor pod event and the artist will appear live on stage. Each pod pass allows for up to 2 people (additional person passes are available for purchase as an add-on). *6 people max for each reserved pod area*. All Pod Pass guests/extras need to arrive/check-in together. It is a vehicle check-in then you will proceed to parking and walk to concert area (no re-entry to parking area). Pod Passes are non-transferable. Your reserved pod area is approximately 10 feet wide x 10 feet deep. Alternating rows will be staggered for optimum viewing. Music will be broadcast using a full PA from the stage.
All sales are final. No refunds or exchanges. Ticket Valid for event day only.
Code of Conduct
All guests are expected to adhere to CDC and North Carolina guidelines in relation to social distancing while attending pod events. Refusal to respect the safety of other attendees by adhering to these guidelines is grounds for ejection from the event.
*The area in front of the stage is reserved for stage staff and security only. This is not a dance floor.*
Rules/Notes
This is a socially distanced pod event, Attendees will only need to leave their 10'x10' reserved pod to visit portable toilets. Please wear masks upon exiting and until returning to your reserved pod. Masks may be removed while enjoying performance in reserved pod.
Please do not enter anyone else's reserved space or stand in any aisles or near the stage.
Please wear masks when communicating with staff such as box office/gate check-in, parking attendants, security or food/beverage delivery staff.
Please follow safe distancing and mask protocols. We want this to be a safe and enjoyable experience for all.
We will allow a maximum of 6 attendees per pod.
The event is All Ages. Anyone under the age of 17 must be accompanied by a parent or legal guardian. Promoter reserves the right to ask for proof of age.
The ticket purchaser will receive advance email from the promoter's team detailing instructions for the event. Each ticket purchaser will be responsible for providing contact information (email) for each attendee in their vehicle to facilitate contact tracing and for distributing pre-emailed Covid disclaimers. Please help us by returning prior to the event to expedite entrance & parking.
Artist merchandise, food & drink (including alcohol) will be available on site and will be delivered to the attendee's reserved pod. All items will be available for pre-order using the FANFOOD App on the day of show. (Location: Rural Hill - MaxxMusic)
No coolers. Outside food & drink (including alcohol) will not be permitted. Additionally, no grills, fireworks, umbrellas, tents, pets, drones, or glass will be allowed.
Please leave your reserved pod area as you found it. No trash should be left behind for any reason! Each reserved area will be provided with a trash bag, please use it! If you really want to help us, take it home and place in your receptacle. Otherwise, leave it beside your space marker and we'll get it at the end of the night!
The promoter and venue assume no liability for any loss, theft, damage, or injury to property or persons, including death, whether arising in contract, negligence, equity, tort or otherwise.
Pursuant to Mecklenburg County Ordinance, Rural Hill is now a tobacco-free zone. This includes both smoking, smokeless tobacco, e-cigarettes, vaporizers and other such devices. This is a Mecklenburg County Law that Rural Hill must follow.
Overnight camping will not be available for this Rural Hill event.
We look forward to having you at the event. #STAYHEALTHY #SAVEOURSTAGES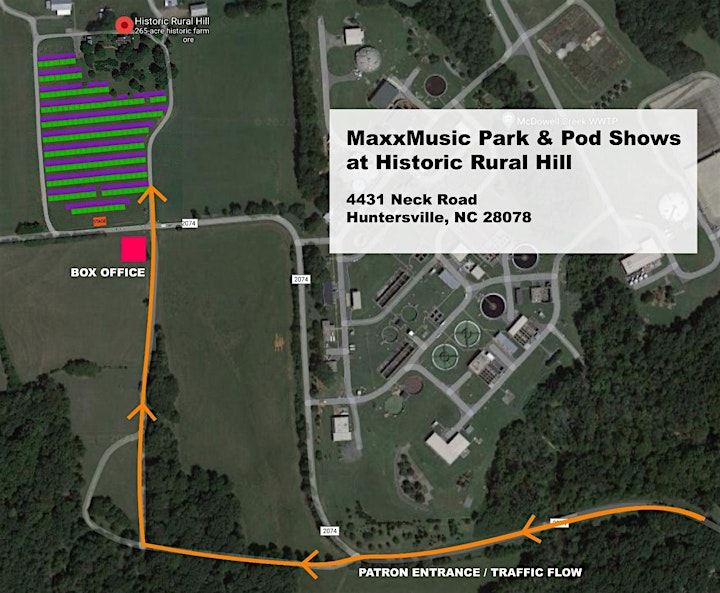 "One of the best, if not the best guitar player in the world" Joe Bonamassa
"He is absolutely incredible" Carlos Santana
"How Eric Gales isn't the hugest name in rock guitar is a total mystery" Dave Navarro
"This guy could be the best player on Earth" Mark Tremonti
Growing up in a religious household, his brothers Eugene and Manuel used to blast out Jimi Hendrix, Cream, Muddy Waters, Blue Cheer, Albert King, John Lee Hooker, King's X and Stevie Ray Vaughan. Whilst their mother was at church and little Eric was aged just 4 , he was soaking it all up and this is where he had his incredible grounding of blues, hard rock and psychedelia. Naturally right handed, Eric learned his distinctive left handed upside down playing from his older brothers Eugene, his 'mentor' and Little Jimmy King, who was later adopted as Albert King's godson.
His talents caught the eye of Elektra Records, who released his debut album The Eric Gales Band in 1991 when he was only 16 years old. The band was made up of Eric, his older brother Eugene and drummer Huwbert Crawford. Picture of a Thousand Faces followed in 1993, then Manuel Gales (aka Little Jimmy King) joined his two brothers for 1995s Left Hand Band as The Gales Brothers. Over the next few years he worked on varioud projects including performing as Lil E with Hip Hop collectives Prophet Posse and Triple 6 Mafia.
In 2001 he returned and released his first album on MCA records 'That's What I Am' before moving to Mike Varney's legendary shredder label, Shrapnel Records for 'Crystal Vision' (2006) and 'The Psychedelic Underground' (2007). Four album on Blues Bureau Internation followed; 'The Story of My Life' (2008), 'Layin' Down The Blues' (2009), 'Relentless' (2010) and 'Transformation' (2010).
In 2009 he spent in jail serving at the Shelby County Correction Center in 2009 for possession of drugs and a weapon. Talking about this he says; "While I was in there all the officers and guards were like, 'bro you know this isn't where you're supposed to be. When you get out of here, go take the world by the horns and ride it all the way out.' It took a couple of years after but, I'm here." Whilst he was incarcerated he was able to play shows, for the Mayor, the city and festivals, his own version of Johnny Cash Walk the Line.
The all instrumental 'Ghost Notes' (Tone Center Records) came in 2013 along with 'Pinnick Gales Pridgen' (Magna Carta). The latter was a collaboration with dUg Pinnick (Kings X) and Thomas Pridgen (Mars Volta, Suicidal Tendencies) and the sequal come in 2014 with another fusion of psychedelic blues, hard rock and progressive soul/R&B. He then released 'Good for Sumthin' in 2014 (Cleopatra Records)in addition to live album 'A Night on the Sunset Strip' (2016).
As a renowned guitarist he has performed with: Carlos Santana at Woodstock in 1994 and in July 2016, Zakk Wylde who also appeared on 2014s Good For Sumthin' and Eric Johnson who also appeared on the same album. He also toured as part of the Experience Hendrix tour with legend after legend including Bootsy Collins & Robert Randolph and has also collaborated with Lauryn Hill many times.
During the Experience Hendrix tour he had the opportunity to hold his own against some of the greatest guitarists in the world. "The tours were a great experience, but what ultimately what that done for me is to help me make me get myself together. So, I can go out and pack out those venues myself, that other guitarists on that tour were packing out."
"I try to push myself as hard as I can, especially live, it's like an extreme work out for me, it's like something else takes over. When I hit the stage, some other person is on that stage for some reason, I'm there physically as a witness, but mentally it's another person."
In 2017 Provogue/Mascot Label Group released 'Middle of the Road' which he describes as his "rebirth" following issues with drink and drugs and had collaborations with Gary Clark Jr., young guitarist Christone 'Kingfish' Ingram, Eugene Gales and Lauryn Hill.
"It's about being fully focussed and centred in the middle of the road. If you're on the wrong side and in the gravel you're not too good and if you're on the median strip that's not too good either, so being in the middle of the road is the best place to be."
'Middle of the Road', was released in February 2017 and reached #1 on the iTunes Blues chart and #4 on the Billboard Blues chart. In the UK it made Classic Rock Magazine and Total Guitar albums of the year with the latter saying it was "the album that should define his career." Classic Rock said "the notes drip from Gales' fretboard like warm honey", The Guitar Magazine exclaimed it's the "the injection of danger and unpredictability that the blues-rock scene desperately needs", Blues Matters professed "truly the man is blessed", whilst Powerplay said "the more you listen to it the more the brilliance of Eric Gales becomes apparent."
Since then he has toured almost non-stop; playing shows with Gary Clark Jr., Beth Hart, Gov't Mule and called through Australia, Argentina, Chile, US and Europe - including the Rockin' The Blues run with Gary Hoey, Quinn Sullivan and Lance Lopez. He played his first ever headline tour in the UK and Ireland to sold out crowds, took a starring role as part of Supersonic Blues Machine at the UKs Ramblin' Man Fair and also found time to play a one off reunion show as The Eric Gales Band. This is not to mention his collaborations with funk royalty Bootsy Collins ('World Wide Funk'), The Apocalypse Blues Revue (Shannon Larkin/Tony Rombola of Godsmack) and Supersonic Blues Machine ('Californisoul').
It's no wonder why he is the guitarists' favourite guitarist, counting fans in the likes of Tony Rombola (Godsmack), Tosin Abasi (Animals as Leaders), Joe Bonamassa and Carlos Santana. Dave Navarro (Jane's Addiction) said "how Eric Gales isn't the hugest name in rock guitar is a total mystery" and Mark Tremonti (Alter Bridge) also claimed "this guy could be the best player on Earth."
Gales proudly tells his story every night before every show, now over two years sober he is creating some of the most breath-taking music he has ever made. Talking about his approach to song writing in this time he reflects. "I guess the songs would answer the question more or less, I definitely don't have anything clouding my view and it's definitely a much more pure place its coming from."
In December 2018, he annouced that he will be releasing his new studio album 'The Bookends' (Provogue/Mascot Label Group) on 8th February 2019. The album was recorded with Matt Wallace (Maroon 5, Faith No More, The Replacements) and features collaborations with Beth Hart, Doyle Bramhall II and B. Slade.
Eric Gales band is: Eric Gales (Guitar, Vocals), Mono Neon (Bass), Aaron Haggerty (Drums), LaDonna Gales (Backing vocals, Percussion) and Dylan Wiggins (Organ).
Ana Popovic celebrating 20 years as a touring musician. The award-winning guitar player, singer and songwriter therefor releases 'Live for LIVE', an exciting hour and a half CD & DVD demonstrating why she's proudly looking back at a career of thousands of shows worldwide. This high-energy concert showcases not only Ana's mesmerizing guitar skills but also her fabulous band, successfully merging musical styles. Ana's passion on stage is so evident that the title sums it up, this IS what she lives for.
"It's really hard to believe that twenty years ago, I gave up a career in graphic design, formed the Ana Popovic band, and decided to be a full-time musician. Soon after, I traveled to Memphis to record HUSH!, my first solo release," says the hard-touring guitar slinger speaking from her home in Los Angeles. "I had big dreams back then and I still dream big today."
"Around that time, I appeared as a special guest on tour with Michael Hill. It was my first North American tour and that springboarded me to the point where today, two decades later, I can proudly look back at a career of thousands of shows over five continents. I've successfully merged musical styles and inspired a new generation of guitar players male and female to start pursuing their dreams, regardless of where they were born. Sometimes, the clichés about (music) business are right. If you work hard enough and want it bad enough, you can make anything happen."
"It feels like just yesterday, I started this project in a garage in Belgrade. Friends and family where supportive, a try-out show at a local bar became a steady gig, and through perseverance and hard work, here we are now. To celebrate the occasion, my six-piece band is walking down memory lane playing music of all of my albums. I'm excited to play older tunes I haven't played in a while, giving 'fans of the first hour' that sweet 'a-ha feel'.
Ana estimates that over the years she has done about 2500 shows, and easily has another 2500 in the making. "I never get tired of it." That unconditional drive shows on 'Live for LIVE'. About the recording Popovic says: "I have the best job in the world that allows me to lose myself in music. Performing with a fabulous band that musically connects to every move and every idea I bring to the stage, while sparking their own musical background to bring out the best in all of us."
Today, you'll find Popovic in a select group of excellent modern blues guitar players. One reason could be the fact that she's always willing to work a little harder and travel a little further to hone her craft. That dedication has resulted in twelve albums, two DVDs and six nationwide Experience Hendrix tours. She's called "one helluva a guitar-player" by Bruce Springsteen and nominated for seven Blues Music Awards nominations. Ana has appeared on the covers of Vintage Guitar and Guitar Player magazine. Her albums 'Can You Stand The Heat' and 'Unconditional' were USA Today Picks-Of-The-Week and featured on NPR Weekend Edition, who praised her "Fiery technique on the Stratocaster". Nearly all of Ana's albums reached the top of the Billboard Blues Charts. She and her six-piece band have toured tirelessly, sharing stages with B.B. King, Buddy Guy, Jeff Beck, Joe Bonamassa and many others.
Moving west
Ana has been moving west all her life. She fell in love with American blues as a kid, starting back home in Belgrade, Serbia. Then moved to the Netherlands to study at the conservatory of jazz and world-music. After living in Amsterdam for over ten years, she relocated to Memphis, TN to record and work with Southern musicians. Finally in 2016, she moved her family to Los Angeles, California where she now lives.
He may be one of the most lauded artists in the contemporary blues arena today, and rightfully so, but for Mike Zito, the thing that counts the most is maintaining his honesty, authenticity and integrity. Those are the qualities that have steered Zito's career since the beginning and continue to define every effort he's offered since.
"I have nothing to hide; it seems my honesty is what people relate to most," he once told Vintage Guitar magazine. "Anders (Osborne) told me early on, 'If you don't believe what you're singing, you'll never be a good singer.' I try not to write fluff; I try to make every word count."
Zito's album descriptively titled Rock N Roll: A Tribute to Chuck Berry, found him broadening his boundaries still further even as it marks a return to his roots. The album consists of 20 Chuck Berry classics performed by Zito and an impressive array of 21 guest guitarists, among them Joe Bonamassa, Walter Trout, Eric Gales, Robben Ford, Sonny Landreth, Luther Dickinson, Albert Castiglia, Anders Osborne and, significantly, Chuck's grandson, Charles Berry III.
"This was a very special project for me," Zito says. "I lived in Chuck's hometown of St. Louis for 32 years, and I worked at a small musical instrument store where his drummer also happened to be employed. Chuck's son would drop by on occasion as well. He was an icon, and rightfully so. I've been playing his songs since I was a kid. Needless to say, he was a tremendous influence on my career, and, of course, on many other musicians' as well."
Naturally, patience and perseverance have been Zito's stock and trade since the beginning. He began playing guitar at the age of five, and by the time he reached his late teens, he was already a fixture on the local St. Louis music scene. He initially released his music independently and then signed with Eclecto Groove Records in 2008. "Pearl River," the title track of his 2009 album for the label, won Song of the Year at the Blues Music Awards and marked his first collaboration with Cyril Nevill, with whom he'd later work in the Royal Southern Brotherhood. A steady succession of critically acclaimed albums followed, culminating in 2011's Greyhound, which was nominated for Best Rock Blues Album at that year's Blue Music Awards ceremony in Memphis. Two years later, he signed with Ruf Records and released Gone to Texas, the story of how he gained his sobriety, offered an emotional homage to the state that left an indelible imprint on his entire life. It also marked the debut of his band, the Wheel.
From 2010 to 2014, Zito also played an integral role in the super group of sorts, Royal Southern Brotherhood. The group released two albums and a DVD, Songs from the Road - Live in Germany, winner of the year's Blues Music Award for Best DVD. He also made his mark behind the boards by producing albums for Samantha Fish, Albert Castiglia, Ally Venable, Jeremiah Johnson, Jimmy Carpenter, and many others.
Meanwhile, the accolades keep coming. His album Make Blues Not War debuted on the Billboard Blues Album Chart at number one and garnered him recognition as the 2018 Rock Blues Artist of the Year at the Blues Music Awards. First Class Life followed suit, also entering the charts at number one. Alternate Root magazine insisted that "The First Class Life that Mike Zito titles his upcoming album can be heard in the sweet sound of Blue Soul rising like heat waves from his guitar and his vocal." American Blues Scene said "Mike Zito's return to the blues is, in a word, triumphant!" No Depression declared, "Once again, Zito has delivered the goods, a first class package with no postage due."
In 2018, Mike Zito and Guy Hale founded the new record label Gulf Coast Records. A label dedicated to focusing on Regional Roots, Blues, and Americana genres. Gulf Coast Records has signed a number of artists including Albert Castiglia, Billy Price, Kat Riggins, and more.
Now, with Rock N Roll: A Tribute to Chuck Berry, Mike Zito again does what he does best, making an album that's humble, heartfelt, skilled and sublime....and, to paraphrase Chuck himself, letting it rock all at the same time. Mike Zito and his album Rock N Roll: A Tribute to Chuck Berry have both been nominated for Blues Music Awards in the categories of Blues Rock Artist of the Year and Blues Rock Album 2021.