Eric Andersen on The Bowery Stage with Scarlet Rivera and Cheryl Prashker
Description
Earlier this year we had to cancel a concert by Eric Andersen. This very gracious man has worked with us since then to make this a postponement rather than a cancellation. He lives in the Netherlands and is in the US just a couple times a year. We are very pleased to announce that Eric's next tour will be in April - beginning in NYC and ending in Texas including a stop at The Bowery Stage on April 27th. He will be accompanied by Scarlet Rivera, violinist and Cheryl Prashker on percussion.

"Eric Andersen is widely regarded as one of the most poetic songwriters that sprang from the Greenwich Village folk scene of the 1960s. His artful mélange of love, despair, hope and stirred memory has earned him a passionate international following and the respect and admiration of artists ranging from Joni Mitchell and Leonard Cohen to Lou Reed and Wyclef Jean. The upcoming documentary "Songpoet" offers a look into the mind, soul and creative process of this multifaceted, complex and singularly driven artist whose career saw great expectations waylaid by misfortune."
See the trailer of the upcoming documentary about Eric here.
His 1977 album "Best of Eric Andersen" includes:
Is It Really Love At All
Moonchild River Song
Time Run Like A Freight Train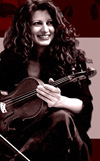 Scarlet Rivera - Bob Dylan is said to have discovered Rivera and he invited her to play on the Rolling Thunder Revue tour.as well as on his album "Desire". She has multiple CDs as a composer in numerous styles, instrumental, new-age, Celtic and world music and has performed in the US, Europe and Japan with her Celtic group. She also recorded and performed with Tracy Chapman, Indigo Girls, Kori Linae Carothers, Keb Mo and others. Rivera was a soloist with the Duke Ellington Orchestra at Carnegie Hall, the Kennedy Center, and the Carnival of Venice, Italy. She continues to be an active recording artist, performer and composer

Cheryl Prashker studied classical percussion at McGill University in Montreal, Canada, where she was born and raised. She has toured Canada, U.S. Europe and Russia. She spent many years in NY City where she honed her skills of playing anything from Rock and Roll, Klezmer, to Celtic as well as Middle Eastern music. She now uses her special style of percussion to enhance the music of such artists as Eric Andersen, Jonathan Edwards, Pat Wictor, Tracy Grammer, Full Frontal Folk and her own Celtic Roots Music group RUNA. Cheryl is now the Artistic Director of the Goderich Celtic Roots Festival in Ontario, Canada
Organizer of Eric Andersen on The Bowery Stage with Scarlet Rivera and Cheryl Prashker
Winnsboro Center for the Arts
The Heart of the Arts in The Winnsboro Cultural Arts District

is YOUR Art Center
Vision Statement:  To integrate the arts into community life.  We believe that participating in the arts promotes creativity, entrepreneurship, and spiritual well-being which are essential for community and economic vitality.   Our long-term goal is to insure a stable infrastructure and financial security for the organization.  As the "heart of the arts" in Winnsboro, we will continue to work with the city and associated organizations to develop Winnsboro as a desirable destination for residents and visitors alike