"ERG & Me" ERG Symposium @ National Leadership Academy
About this Event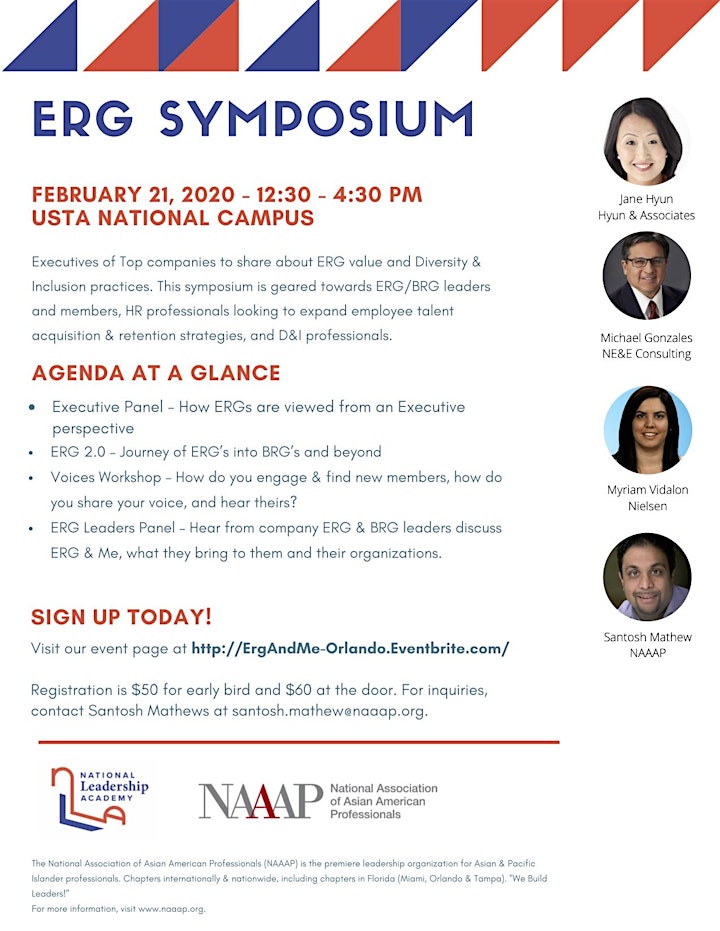 Since 2014, NAAAP has organized the ERG Symposium in various cities to serve ERG and BRG leaders who are growing or sustaining their ERG programs. The event in Orlando is open to all members of the public, regardless of race, ethnicity, and membership in NAAAP. ERGs and BRGs have been recognized in companies of different sizes for promoting goals of recruitment, talent inclusion, retention, and even economic performance.
The "ERG & Me" theme will explore the personal benefits of an ERG or BRG to the professional and/or ERG leader.
AGENDA for Feb. 21, 2020
12:00-12:30 : Check-in & Networking
12:30-12:35 : Opening Remarks
12:35-12:45 : Introductions from Author of Breaking the Bamboo Ceiling & Flex, Jane Hyun (Hyun & Associates)
12:45 -1:15 : Executive fireside chat, moderated by Jane Hyun w/ Michael Gonzales & Betty Lo. Q&A Session.
1:15- 2:05 : "ERG 2.0" led by Myriam Vidalon (Nielsen).
**Networking & Coffee Break**
2:15- 3:15 : Voices Workshop, led by Santosh Mathew (NAAAP).
3:15- 4:15 : ERG/BRG Leader Panel - TEK Systems, USTA & Hallmark.
4:15- 4:30 : Debrief & Closing Remarks
4:30- : NLA Reception (Join us! All ERG Symposium attendees are welcome!)
Fee for symposium is $50 (until Feb. 20th), $60 Day-of. A welcome reception after the symposium is included.
All events will take place at the USTA National Training Campus. Parking is Free.