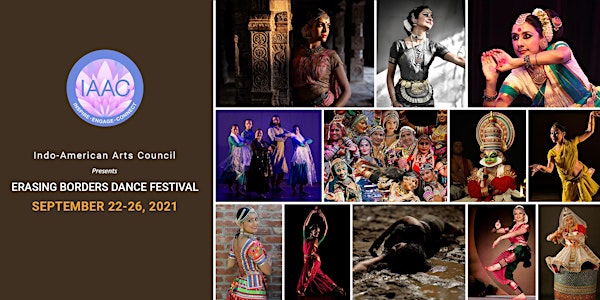 Erasing Borders Dance Festival 2021
INDO-AMERICAN ARTS COUNCIL, INC. PRESENTS 2021 ERASING BORDERS DANCE FESTIVAL SEPTEMBER 22-26, 2021
Refund Policy
Contact the organizer to request a refund.
Eventbrite's fee is nonrefundable.
About this event
IAAC has announced its annual Erasing Borders Dance Festival, from September 22-26, 2021 at 8:30 P.M. EST. Now in its 14th year, the Erasing Borders Dance Festival will be all-virtual in its presentation. Ten artists trained in Indian dance forms from across the world will be brought together in a virtual borderless festival. The dance festival is one among Indo-American Arts Council's other flagship events featuring music, film, and literature, all dedicated to furthering the knowledge and living practices of the arts of the Indian sub-continent. More information is available at iaac.us/erasing-borders-dance-festival-2021/
A full schedule of the 2021 Erasing Borders Dance Festival follows:
*Sept 22, 2021*, Wednesday,
Rukmini Vijayakumar in Bharatanatyam, Preethi Athreya in Contemporary, Sonali Skandan in Bharatanatyam
*Sept 23, 2021*, Thursday, Kalbeliya World Rajasthani folk, Kalamandalam Adithyan Kathakali
*Sept 24, 2021*, Friday,
Kaustavi Sarkar Odissi,
Jyotsna Vaidee Bharatanatyam group
*Sept 25, 2021*, Saturday,
Vaishali Trivedi Kathak group,
Bindu Rajendren Mohiniyattam, Meera Sreenarayanan Bharatanatyam
*Sept 25, 2021*, Saturday,
Morning workshop:
Dr. Krishnakali Dasgupta Manipuri
*Sept 26, 2021*, Sunday,
Morning workshop:
Aakansha Maheshwari Rajasthani folk workshop.
Register here to get festival updates and concert livestream links. The concerts will be available to playback till October 6 2021.