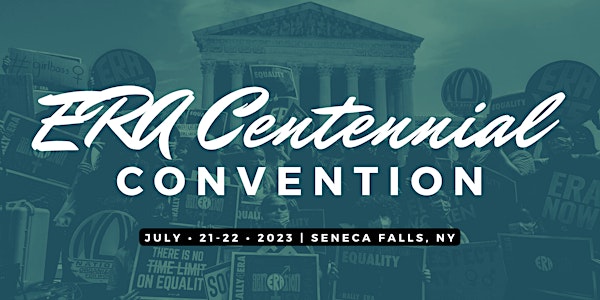 ERA Centennial Convention
The ERA Centennial Convention is an intergenerational convening on July 21-22, 2023 in Seneca Falls, NY—on its exact 100-year anniversary.
Date and time
July 21 · 10am - July 22 · 5pm EDT
Location
The First Presbyterian Church of Seneca Falls 23 Cayuga Street Seneca Falls, NY 13148
Refund Policy
Contact the organizer to request a refund.
Eventbrite's fee is nonrefundable.
About this event
1 day 7 hours

Mobile eTicket
JOIN US JULY 21-22, 2023 TO COMMEMORATE THE 100-YEAR LONG STRUGGLE TO RATIFY THE EQUAL RIGHTS AMENDMENT!
Purpose: The ERA Centennial Convention seeks to mark the important historic milestone of the ERA Centennial, celebrate the women and queer people who have fought for the ERA for 100 years, push for finalizing the federal ERA, and launch the grassroots fight for a New York state-level ERA ballot initiative. The goal is to mark the century-long fight to get the ERA into the Constitution by ending it.
Objective: The objective of the ERA Centennial Convention is to hold an intergenerational convening on July 21-22, 2023 in Seneca Falls, NY at the First Presbyterian Church of Seneca Falls where the National Woman's Party first unveiled the ERA—at the exact same podium Alice Paul gave her speech that day, 100 years ago. The event will be focused on cultivating the next generation of ERA activists and helping them see their place in history as constitution makers. The target will be to have at least one ERA activist from all 50 states attend the in-person event to build a nationwide network of advocates, and set goals for constitutional equality for the next year.
The Convention will be action-oriented. We will ground ourselves in a critical examination of the past in order to make choices for the future that will help create a more diverse, inclusive, effective ERA movement going forward.
Organizations: The lead organizations carrying out the Centennial Convention are Equal Rights Action, Columbia Law School's ERA Project and Generation Ratify. The fiscal sponsor of this event is the Alice Paul Institute. That means, all of the money you donate to sponsor youth to attend this event is tax-deductible. These organizations will work in collaboration with a large coalition of youth-centered and gender equity organizations to recruit a diverse group of convention delegates, plan the weekend's events and produce a declaration and collective action plan to work together to finalize the federal ERA and get state ERAs passed in all 23 remaining states.
Convention Schedule (will be continually updated):
Every Wednesday June7th - July 5th, 2023
Convention delegates will be asked to participate in a 5-week curriculum in preparation for our convening. This curriculum will help everyone be prepared to hit the ground running when we arrive in-person in Seneca Falls. It will be prepared and delivered by scholars and ERA advocates in collaboration with Columbia Law School's ERA Project. The curriculum will be accessible for people of all ages and experience levels, and be conducted via 5 online Zoom sessions.
Thursday July 20, 2023
Arrival of Convention delegates in Seneca Falls
8:00pm
*Optional* Interfaith Service at First Presbyterian Church of Seneca Falls (23 Cayuga St, Seneca Falls, NY 13148) with:
Allyson McKinney Timm, Founder and Executive Director of Justice Revival, leader of the #FaithForERA campaign
Ani Zonneveld, President of Muslims for Progressive Values
Jamie Manson, President Catholics for Choice
Lauren Perl, Generation Ratify
Friday July 21, 2023
9:00am Grounding Session
Opening of the Convention at the First Presbyterian Church of Seneca Falls (23 Cayuga St, Seneca Falls, NY 13148)
Establishing our shared values & re-framing a modern approach to the ERA
10:00am
Breakout Sessions:
—Direct Action Bootcamp: Effective Organizing for Equality
—The ERA is Queer & Why LGTBQIA+ Communities Will Benefit Most from Constitutional Equality
—The Best Way to Protect Abortion Rights? Federal & State ERAs!
11:30am
Lunch provided on site: Interactive Get to Know your Neighbor
12:30pm
Plenary Session: Convention Declaration & ERA advocacy road map drafting
2:00pm
Breakout Sessions:
—Gender justice as a voting rights issue/ State ERA Battles & Intersectional organizing
—Youth Movement Coalition Building
Under 25 Session: How to galvanize youth movements
Over 25 Session: Effective allyship and centering youth voices in movement work
—Global Solidarity, learning from effective feminist movements around the world
3:30pm
Convention declaration/ ERA road map drafting Session 2
Breakout groups by region revisit collective document and add revisions
4:30pm
Day 1 Closing Remarks
5:00pm
Take historic 100-Year ERA Anniversary Photo in front of the First Presbyterian Church of Seneca Falls
5:30 - 6:30 March and ERA Rally with Central New York NOW, Rochester NOW, Women's March Seneca FallsWomen in Leadership and Learning (Academy Square, Seneca Falls)
8:00pm
It's Representative Cori Bush's birthday (July 21st is her actual birthday!) AND Generation Ratify's 4th Birthday Party! Celebrate the birth of an ERA Champion and the modern youth-led movement for the ERA with birthday cake, party games and feminist fun!
(Academy Square - North Park, 12 N Park St. Seneca Falls, NY 13148)
Saturday July 22, 2023
Opening of Day 2 at the Wesleyan Methodist Chapel, located in the Women's Rights National Historical Park
This intergenerational panel on the ERA will be hosted by Friends of the Women's Rights National Park, Rochester National Organization for Women (NOW) and Central New York NOW, Feminist Majority, Generation Ratify and Equal Rights Action.
The panel will take place in the exact location as the 1848 Women's Rights Convention on the 175th Anniversary of that convention. This engaging, interactive panel will discuss the past, present and future of the movement for the Equal Rights Amendment.
10:00-10:30 am Convention Days Keynote (Letitia James, Attorney General of New York invited)
10:45-11 Park Rangers Intro Talk & ERA History
11-Noon Intergenerational Panel on the Equal Rights Amendment
Panel:
Christian F. Nunes, President National Organization for Women (NOW)
Carolyn B. Maloney, President NY NOW, former Congresswoman (NY-12), Board Co-Chair ERA Coalition
Ellie Smeal, CEO Feminist Majority
Rosie Couture, Co-Founder Generation Ratify & student at Harvard College
Belan Yeshigeta, Co-Founder Generation Ratify & student at Columbia
Ting Ting Cheng, Director of Columbia Law School's ERA Project
Moderator: Kate Kelly attorney and author of "Ordinary Equality: The Fearless Women and Queer People Who Shaped the U.S. Constitution and the Equal Rights"
11:00am
Group tour of the Women's Rights National Historical Park
1:00pm
Working Lunch (Path forward on ERA discussion groups)
Picnic at Suffrage Park on the river (27 Fall St, Seneca Falls, NY 13148)
2:00pm
First Presbyterian Church of Seneca Falls (23 Cayuga St, Seneca Falls, NY 13148)
Report back to full convention and finalize group draft plan
3:00pm
Official vote on convention declaration
4:30pm
Closing ceremony
5:00pm
End Convention
5:30pm
Event: Cross New York state relay ending in Seneca Falls with American historic marathon runner Kathrine Switzer— National Women's Hall of Fame
Optional Feminist History Tours
Sunday July 23, 2023
—Harriet Tubman National Historical Park (180 South St, Auburn, NY 13021)
—New York State Equal Rights Heritage Center (25 South St, Auburn, NY 13021)
—Matilda Joslyn Gage Museum and Dialogue Center (210 E Genesee St, Fayetteville, NY 13066)
—Seneca Art & Culture Center at Ganondagan/ Seneca Bark Longhouse (7000 Co Rd 41, Victor, NY 14564)
—Susan B. Anthony and Frederick Douglass gravesites (Mt. Hope Cemetery Rochester, NY)