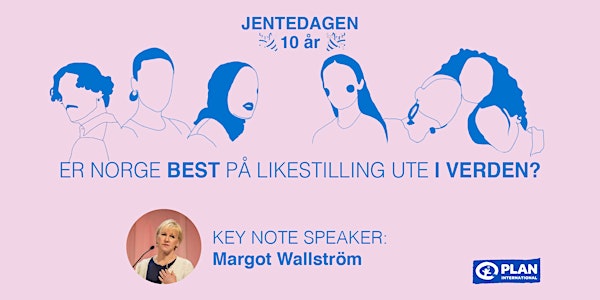 Er Norge best på likestilling ute i verden?
I anledning 10 års-markering av den internasjonale jentedagen inviterer vi til seminar og debatt om Norges prioritering av likestilling.
When and where
Location
Brenneriveien 9 9 Brenneriveien 0182 Grünerløkka Norway
About this event
Har det blitt lettere å være jente i verden i dag? I løpet av de siste 10 årene har vi sett noe fremgang for jenters muligheter, men en økende ung befolkning i kombinasjon med kriser og Covid-19 pandemien har forsterket fattigdomskløftene. Slik har ett skritt frem blitt til to skritt tilbake. Dessverre har antallet jenter som blir nektet tilgang til sine rettigheter har økt.
De strukturelle årsakene til at jenter stiller bakerst i køen er fortsatt ikke tatt tak i. Så hva må til? La oss se nærmere på hvordan står det til med Norges prioritering av likestilling i utviklingssamarbeidet. Er vi best på likestilling ute i verden?
OECD rapporterer at Norge ligger nærmere bunn når det gjelder å prioritere likestilling i målene for bistand. Fem på topp er Sverige, Irland, Island, Canada og Nederland (2016/2017). I Sverige hadde 87% av all bistand likestilling som hoved- eller delmål i 2021. I Norge gikk 42% av bistanden til kvinners rettigheter og likestilling i 2020.
Vi vil sette fokus på årsakene til hvorfor det er en betydelig forskjell i andelen bistand som går til likestilling mellom Norge og Sverige. Hvorfor har ikke Norge høyere ambisjoner på vegne av jenter?
I 2014 introduserte Sverige som det første landet i verden en feministisk utenrikspolitikk. Tidligere utenriksminister, Margot Wallstrøm, deltar som key note speaker for å gi oss et innblikk i hvordan dette har preget utenriks-og utviklingspolitikken mens hun var statsråd.
Arrangementet avrundes av en politisk minidebatt mellom stortingsrepresentanter om Norges fremtidige prioritering av likestilling i utenriks- og utviklingspolitikken.
Øvrige bidragsytere:
Eivind Vad Petersson, statssekretær i Utenriksdepartementet
Mari Norbakk, postdoktor, CMI
Ritika Dhall, leder av likestillingsseksjonen i Norad
Ordstyrer: Kari Helene Partapuoli, Generalsekretær i Plan International Norge
Velkommen til seminar og politisk debatt.
Servering av frokost og forfriskninger fra kl 0945.