Event Information
Location
Ranch Near Pismo Beach, CA
Description
Experience the Transformative Power of Equus Coaching

™
Finding Calm in the Midst of Chaos
"PEACE does not mean to be in a place where there is no noise, trouble or hard work. It means to be in the midst of those things and still be calm in your heart." ~ Unknown
No matter what circumstances hold for you right now, this workshop will help you find clarity and create a shift in the way you move through the challenges of change. Join Master Coaches Dixie St. John and Renee Sievert for a Day of Equus on November 6, 2017. Discover a new level of awareness. Find your deep sense of calm. Reconnect with your own inner wisdom - with help from your four-legged friends!
Cost: The cost of this workshop is $475 per person and includes materials, refreshments, and lunch. This workshop is limited to 20 participants to ensure a rich, transformational experience. Ranch address will be sent with confirmation of registration. *Transportation to the ranch is not included in registration fee.
RSVP today to reserve you spot!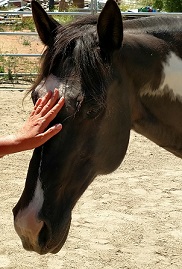 Equus Coaching™ is an efficient, precise, and quite magical personal development experience that helps you clarify your intentions and refine your own authentic communication style. Because horses are extremely sensitive prey animals, they provide immediate feedback for the way you communicate with the world around you. Your time with a horse and skilled Equus Coaches will illuminate strengths, patterns and reveal where you may feel stuck.
What will my investment include? This day-long workshop will include individual and group activities (with horses). Lunch will be provided and healthy snacks, drinks, and bottled water will be available throughout the day.
Will riding be involved? No. All workshop exercises and interactions with the horse will be on the ground.
Is horse experience necessary? No experience necessary! Whether you're a "horse person" or a novice, you will find Equus Coaching™ to be a unique, transformative experience. We will be partnering with gentle horses and safety measures will be demonstrated and employed. You'll learn to read their feedback and practice new ways of inspiring cooperation in other beings of every species. That said, throughout the day we will encourage you to lead your own experience by participating as little or as much as you are comfortable with.
What do I need to bring/wear? Wear casual, seasonal clothes like jeans or sweat pants. Bring layers that you don't mind getting dusty or dirty. Comfortable, CLOSED-TOED shoes such as tennis shoes or light boots are required. No open-toed shoes! A hat, sunglasses, and sunscreen are recommended. Bring an umbrella and/or pancho in the event of rain.
What if the weather is bad? Fingers and toes crossed for a sunny day, however, barring lightening/heavy rain the workshop will go on. We will be working outdoors, so plan accordingly clothing-wise. There is shelter where we meet and eat, but the horse work will be outside.
Questions? Email Dixie at dixiestjohn@gmail.com or Renee at SievertServices@aol.com
Date and Time
Location
Ranch Near Pismo Beach, CA