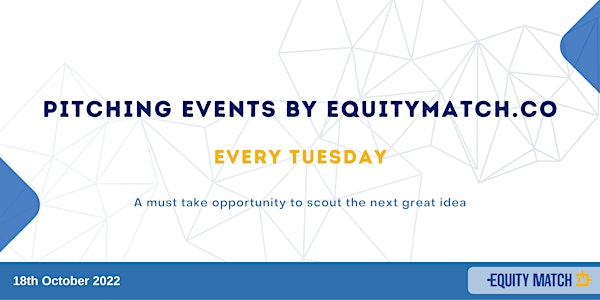 EquityMatch Weekly Pitch Event - Venture Capital, Business Angels, Startups
An event for Startups handpicked by EquityMatch.co to pitch to venture capitalists and angel investors.
About this event
This is a pitch session dedicated to founders raising their early, growth stage round.
Event schedule
Introduction to the event made by the moderator, Massimiliano Sulpizi, "Max", Founder & CEO of EquityMatch.co.
Intro to the Founders.
Founders will be pitching for 5 minutes following few questions from Max and the attendees.
Additional Q&A session with attendees.
Closing message from Founders.
Thank you and final remarks.
Regards,
EquityMatch.co Team.

The most intuitive and simple platform to raise funds globally and get knowledge on the Venture Capital ecosystem with articles, videos, interviews and events.
Our experience in working closely with Start-ups has been the basis of the development of our platform which helps you raise the funds to turn your 'vision' into a reality.
Not only do we help you get funded, the rich content also helps you get a better understanding of the Venture Capital ecosystem with articles, videos and events. It's simple, intuitive and FREE.
Companies can search for the right investor and investors can scout for the next unicorn with confidence, knowing that our team has individually vetted all the companies on our platform.
We are constantly in touch with founders, we understand their needs and how to fulfil them. We can help you navigate the challenging journey of raising capital.
For more information please visit our website