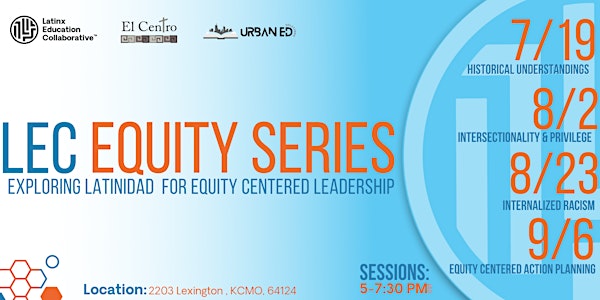 Equity Series: Exploring Intersectionality & Privilege
UrbanEd Solutions is pleased to partner with The Latinx Education Collaborative on a four-part workshop series for the KC Latinx community!
When and where
Location
Latinx Education Collaborative 2203 Lexington Ave. Kansas City, MO 64124
About this event
These culturally relevant, cohort-style workshops will focus on four main goals:
● Building a historical understanding of Latinx values and the ways in which it has contributed to systemic oppression in the U.S. and Kansas City specifically.
● Exploring the intersection of identity and privilege to better understand the ways in which to support students, staff, and the greater Latinx community.
● Discussing the ways in which anti-Blackness, colorism, and internalized racism show up in our lives and the Latinx community.
● Developing a personal action plan for equity-centered leadership development, goal-setting, and coalition-building in the Latinx community.
Our goal is for the group to attend all four sessions to build community and strive for a well-rounded experience.